Rising demand for high range gaming laptops to boost the market growth
The global gaming laptops market worldwide is expected to grow with a CAGR of 21.6% during the forecast period from 2019 to 2027, starting from US$ 18.1 Bn in 2018. Because e-sports create an ecosystem for viewers to experience real-life gaming, there has been a significant increase in e-sports market growth in recent years. In addition, the huge amount of prize money involved in the different gaming tournaments that create high career prospects for gamers is increasing the number of gamers that aspire to become professional gamers. This will increase the number of risk capitalists investing in the e-sports market, thus boosting demand for gaming and gaming peripherals laptops.
The Americas will be the major market contributor in terms of geographical regions throughout the forecast period. This is mainly due to the presence in developed countries like the US of numerous gamers. Increased capacity for spending and an increase in the number of hardcore gamers in countries like Brazil and Mexico will also fuel the growth prospects of the gaming laptop market in this region.
Market Synopsis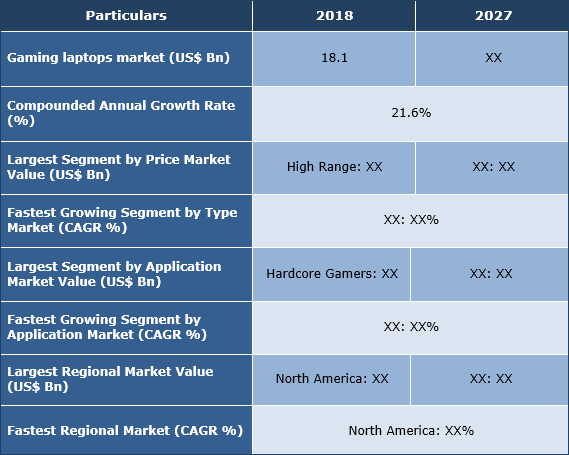 Get a sample copy for more information
High range to witness the fastest growth over the projected timeframe
Laptops with high range held significant global market share in 2018. They are also expected to be the fastest growing sub-segment over the foreseeable years. The wide range of significant specifications available at a noticeably reasonable price makes them the consumer's favored price range. They are appropriate for various applications apart from gaming applications. They also come with a large screen display, long battery backup, attractive design and robust processor.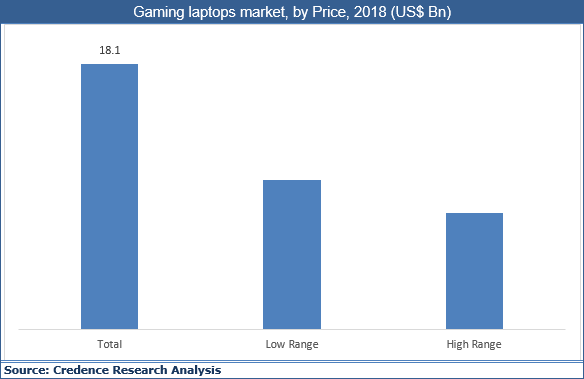 Get a sample copy for more information
Asia Pacific to Register the Fastest Growth Due to High Demand from China and India
Together, Europe and North America accounted for over 50.0 percent of the total market value in 2018. However, over the forecast period, the two geographies are expected to witness a sluggish trends in revenue. The North America and Europe gaming laptops markets are mature, having most categories of products at or close to saturation. Some of the major aspects hindering the sales of laptops are limited technological developments in present products along with lengthier replacement cycles.
The device's sales in Asia Pacific are projected to increase in revenue over the forecast period at the highest CAGR. Government initiatives for decreasing import duties on spare parts are capable of having a positive impact on the market in this region. In addition, increased government initiatives such as Made in China 2025, Make in India as well as Digital India, coupled with increasing foreign direct retail and e-commerce investments, are expected to boost the regional laptop sales. In addition, it is expected that Middle East & Africa and Latin America shall progress with a positive growth rate through the forecast period due to rising population disposable income in the region. It is estimated that government policies towards digital economy and enhance internet infrastructure will stimulate regional market growth.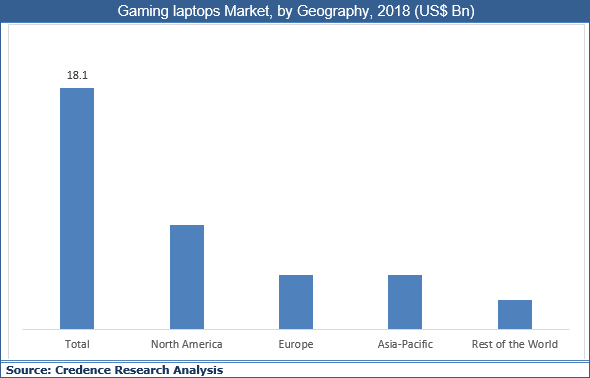 Get a sample copy for more information
Some of the prominent players operating in the gaming laptops market HP Development Company, Dell; ASUSTeK Computer Inc.; L.P., Acer Inc. and Apple Inc. among others.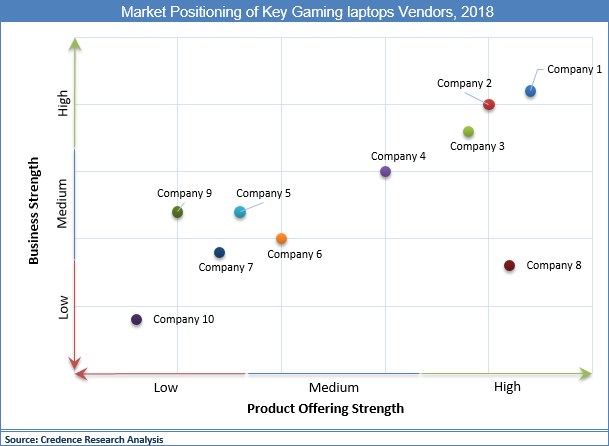 Historical & Forecast Period
This research report presents the analysis of each segment from 2017 to 2027 considering 2018 as the base year for the research. Compounded Annual Growth Rate (CAGR) for each respective segment calculated for the forecast period from 2019 to 2027.
Report Scope by Segments
The gaming laptops market report provides market size and estimates based on market dynamics and key trends observed in the industry. The report provides a holistic view of global gaming laptops market based on application, price and geography. Key segments covered in the report are as follows:
ATTRIBUTE
DETAILS
Research Period
2017-2027
Base Year
2018
Forecast Period
2019-2027
Historical Year
2017
Unit
USD Billion
Segmentation

Price Segment (2017–2027; US$ Bn)
• Low Range
• High Range

Application Segment (2017–2027; US$ Bn)
• Hardcore Gamers
• Professional Gamers
• Others

Geography Segment (2017–2027; US$ Bn)
• North America (U.S., Rest of North America,
• Europe (U.K., Germany, France, Rest of Europe)
• Asia Pacific (China, Japan, India, Rest of Asia Pacific)
• Rest of the World (Middle East & Africa, Latin America)
Key questions answered in this report
What region or segment will drive or lead the market growth?
What is the top player positioning in the global gaming laptops market
What are the major sustainability strategies adopted by major players in the global market?
What will be the impact of major drivers and restraints on the growth of the global gaming laptops market?
Unique data points of this report
Key growth factors, challenges and current trends pertaining in the global market
Major strategies adopted by market giants
Qualitative analysis through SWOT, and industry chain analyses
Comprehensive quantitative analysis of key segments and regions