Graphite is flexible and has both metallic and non-metallic properties making it suitable for diverse industrial applications. The non-metallic properties include chemical inertness, high thermal resistance and lubricity, whereas metallic properties include thermal and electrical conductivity. The global graphite market is segmented into natural graphite and synthetic graphite. Based on the application global graphite market is divided into refractories, lubricants & crucible, foundry facing, batteries and others. According to industry experts, refractories is expected to remain the key driver for graphite market coupled with increasing demand for batteries and foundry facing owing to rapid industrialization especially in Asian countries. Other factors such as growing demand of graphite in steel industry, and increasing use of graphite in automotive industry, power generation, conductor, battery, electronics industries and other applications are also expected to drive the growth of graphite during the forecast period. Global graphite market is segmented by geography into North America, Europe, Asia Pacific, Latin America and Middle East & Africa regions. In 2015, Asia pacific was observed as the largest and fastest growing market for graphite. Due increasing industrialization, development in automotive sector from China, India, Japan and South Korea; over past few years graphite is gaining popularity in Asian countries. According to United States Geological Survey (USGS) China is the world's leading supplier of natural graphite (flake and amorphous) with approximately 67% of global production followed by India, Brazil, Canada and North Korea cumulatively accounting around 25% of the global graphite production. Chinese flake graphite developments, rising synthetic graphite production, ongoing shift to alternative energy influences world market for graphite, global graphite market is expected to increase steadily, rise of technologically advanced applications of graphite, etc. are the key trends observed in the industry.
AMG Advanced Metallurgical Group N.V., Graphite India Limited, GrafTech International Limited, HEG Ltd, Toyo Tanso Co. Ltd., Tokai Carbon Co. Ltd., Showa Denko K.K., SGL Carbon SE., SEC Carbon Ltd. are few key manufacturers in Graphite market.
Graphite market is expected to reach over US$ 20.8 Bn by 2023, growing at a CAGR of 3.8% during the forecast period 2016-2023.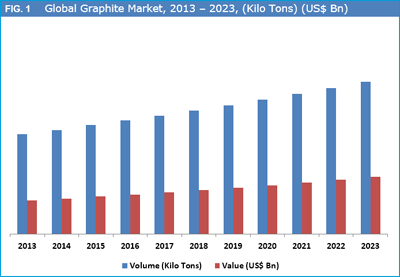 Purpose of the Report
The purpose of this strategic research study titled "Global Graphite Market – Growth, Future Prospects and Competitive Analysis, 2016 – 2023" is to offer industry investors, company executives, and industry participants with in-depth insights to enable them make informed strategic decisions related to the opportunities in the global Graphite market.
Target Audience
Industry Investors
Procurement Managers from End user Companies
Graphite Manufacturers
Distributors
USP and Key Offerings
The report titled "Global Graphite Market – Growth, Future Prospects and Competitive Analysis, 2016 – 2023" offers strategic insights into the overall graphite market along with the market size and estimates for the duration 2016 to 2023. The said research study covers in-depth analysis of multiple market segments based on, product type, application type and cross-sectional study across different regions.
In order to help strategic decision makers, the report also includes competitive profiling of the leading players in graphite market and key strategies adopted by them. Other in-depth analysis provided in the report includes:
Current and future market trends to justify the forthcoming attractive markets within the graphite industry
Market drivers, market impediments, and their impact on the market growth
In-depth competitive environment analysis
Historical 2-Years market size data (2013 – 2014)
SRC (Segment-Region-Country) Analysis
Overall, the research study provides a holistic view of the global graphite market, offering market size and estimates for the period from 2016 to 2023, keeping in mind the above mentioned factors.