"Healthcare e-Commerce to Emerge as the Fastest Growing Sector"
The healthcare e-commerce market worldwide is expected to grow with a CAGR of 17.6% during the forecast period from 2019 to 2027. Global e-commerce market registered a staggering revenue of more than US$ 2.8 Tn sales which is around 15 percent of the overall retail sales. With e-commerce gaining huge momentum across other segments such as electronics and apparels, market players are now increasingly focusing on healthcare segment as their next big business. Rise in internet penetration, greater range of products & services offered and convenience is giving boost to the e-commerce industry. Due to lower prices, free home delivery and other benefits, customers prefer to buy their healthcare needs online.
Market Synopsis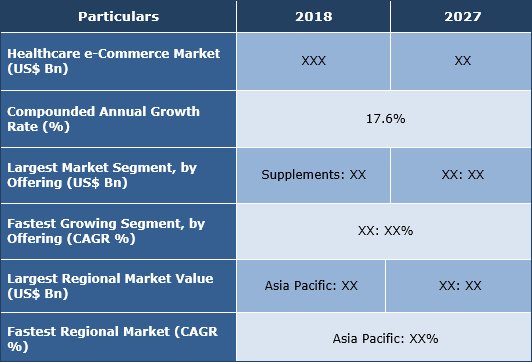 Get a sample copy for more information
"Supplements to continue as the market leader"
Based on the offering, healthcare e-commerce market is led by drug type segment comprising prescription drugs, over the counter drugs and supplements. Of these, supplements is the largest and fastest growing e-commerce segment, accounting for nearly 1/3rd of the total market revenue generated worldwide followed by over the counter drugs and prescription drugs, respectively. Sales of supplements has increased more than 38% in 2018 as compared to the year 2017. Supplements are products designed to augment the daily intake of nutrients, including vitamins and minerals, thereby witnessing consistent demand worldwide.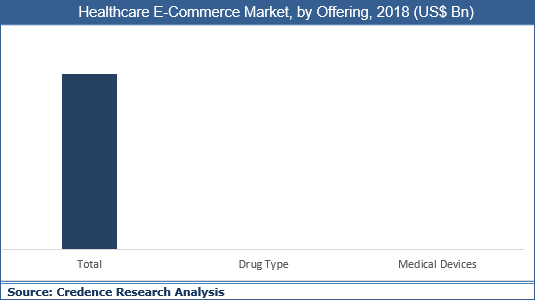 Get a sample copy for more information
"Asia Pacific to Emerge as the Market Leader in the Forecast Period"
In 2018, Asia Pacific held the highest sales in overall e-Commerce market with more than US$ 750.0 Bn, followed by the North America and Europe with more than US$ 550.0 Bn and US$ 300.0 Bn respectively. Due to the effect of one child policy in China, an imbalanced population structure is emerging. As a result, the number of people aged over 65 keeps growing, thereby fueling the need for related medical products and services. Ever-growing internet penetration in Asia Pacific too has been one of the major factors supporting the healthcare e-commerce market growth. Enforcement of new e-Commerce policies such as in China, government made policy in which they have specified that to provide e-healthcare services companies have to collaborate with licensed medical institutions. As a result, the e-Commerce companies are more regulated, raising customers' confidence in healthcare e-Commerce.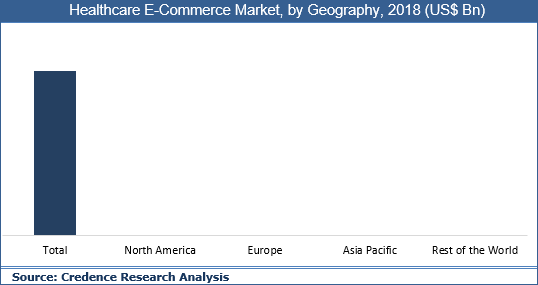 Get a sample copy for more information
Some of the prominent players operating in the healthcare e-Commerce market include Amazon.com, Inc., PillPack, Inc., Exactcare Pharmacy, Flipkart Pvt. Ltd., Alibaba Group Holding Ltd., eBay Inc., Remdi SeniorCare, Lloyds Pharmacy Ltd., McCabes Pharmacy, Walgreens Boots Alliance Inc., CVS Health, FSA Store.com, The Kroger Co., Doc Morris, Netmeds.com, MedLife.com and others.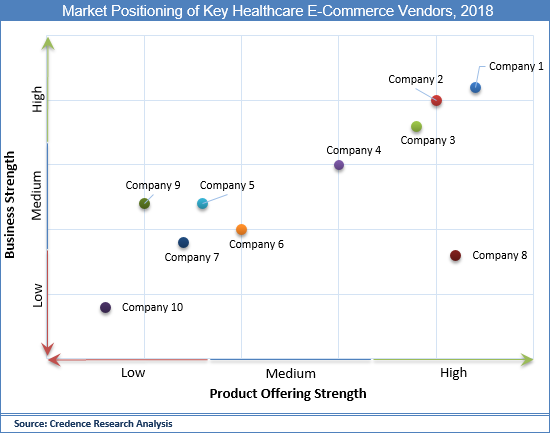 Historical & Forecast Period
This research report presents the analysis of each segment from 2017 to 2027 considering 2018 as the base year for the research. Compounded Annual Growth Rate (CAGR) for each respective segments calculated for the forecast period from 2019 to 2027.
Report Scope by Segments
The healthcare e-commerce market report provides market size and estimates based on market dynamics and key trends observed in the industry. The report provides a holistic view of global healthcare e-commerce market based on offering and geography. Key segments covered in the report are as follows:
ATTRIBUTE
DETAILS
Research Period
2017-2027
Base Year
2018
Forecast Period
2019-2027
Historical Year
2017
Unit
USD Billion
Segmentation

Offering (2019–2027; US$ Bn)
• By Drug Type
o Prescription Drugs
o Over the Counter Drugs
o Supplements
• By Medical Devices
o Surgical Accessories
o Measurements and Supporters

Geography Segment (2019–2027; US$ Bn)
• North America (U.S., Rest of North America)
• Europe (U.K., Germany, France, Rest of Europe)
• Asia Pacific (China, Japan, India, Rest of Asia Pacific)
• Rest of the World (Middle East & Africa, Latin America)
Key questions answered in this report
What was the market size of healthcare e-commerce in 2018 and forecast up to 2027?
Which is the largest regional market for healthcare e-commerce?
What are the major trends followed in overall healthcare e-commerce across different regions?
What are the key market trends and high-growth opportunities observed in the healthcare e-commerce market?
What are the drivers of the healthcare e-commerce market?
Who are the key healthcare e-commerce companies leading the market?
What are the key strategies adopted by the leading healthcare e-commerce companies in market?
Unique data points of this report
Statistics on healthcare e-commerce worldwide
Recent trends across different regions in terms of adoption of healthcare e-commerce
Notable developments going on in the healthcare e-commerce industry
Attractive investment proposition for healthcare e-commerce segment as well as geography
Comparative scenario for all the segments for years 2018 (actual) and 2027 (forecast)