Enterprise mobility in healthcare includes the use of mobile technology, enterprise platforms, and applications to communicate and exchange clinical information among healthcare service providers (payers and providers) and patients (individuals). The mobile technology has power to completely transform the healthcare industry, enabling lesser hospital readmissions and superior patient outcomes. By availing the benefits of an integrated and secure mobile technology, healthcare service providers are able to offer patient care cost effectively, advance response time, boost patient throughput, and reduce additional infrastructure risks and expenses.
The healthcare organizations and facilities across the globe have been dedicated in finding a cost effective and innovative medium to reach and connect with their customers, clients, and employees. This quest has helped enterprise mobility to get the necessary impetus and emerge as the major factor shaping the healthcare industry. The mobility solutions have been instrumental in enabling healthcare service providers rise above the challenges of the traditional ways of operating and achieve greater responsiveness, reach, flexibility, productivity, and effective transformation of business processes. Favorable initiatives by the governments promoting improved accessibility to healthcare data and increasing need to achieve mobility of patient information are some of the major factors driving greater acceptance of mobility solutions among healthcare fraternity.
Some of the major challenges faced by the healthcare industry include:
Escalating cost of healthcare services
Affordability
Limited health care access / coverage
Quality of healthcare offered
Inconsistencies based on income and geography
Balancing quality of healthcare service offered with the cost by making the optimum us of the available resources
Regulatory compliance
Declining profitability for clinics, hospitals, diagnostic service providers, etc.
Technology costs
Mobility solutions provide an efficient way to address the above mentioned challenges by restructuring business process in a more cost effective way, thereby benefitting various participants involved in the healthcare eco-system. Mobile health (mHealth) solutions have been influential ever since their introduction in the healthcare ecosystem. The delivery of healthcare services through mobile devices such as smartphones, tablets, personal digital assistants (PDA), and other mobile devices realize cost effective delivery of public healthcare. This is mainly on account of their ability to enable healthcare service providers gain seamless access to patient's health information, and hospital services across geographically dispersed locations.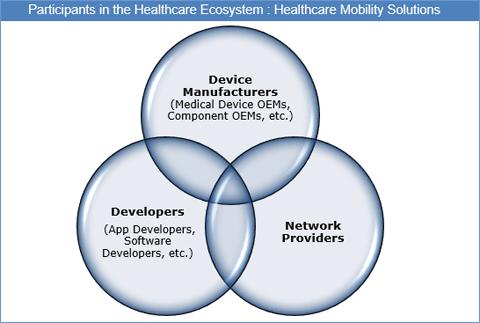 Healthcare mobility solutions including mobile health applications, medical devices, enterprise platforms, etc., offer opportunity to significantly improve healthcare in a cost effective manner by connecting patients with healthcare service providers and assisting in seamless delivery of healthcare services. These solutions allow patients (individual) as well as providers to gain easy access to the health reference material/information, medical records, and lab tests among others.
The emerging markets across Asia Pacific and RoW offer potential investment opportunities for the market growth, majorly on account of the low physician density in these regions, creating a platform for greater penetration of mobility solutions. However, limited interoperability among platforms and healthcare applications coupled with the patent protection issues associated with connected medical devices may offer some kind of resistance to the market growth in the coming years.