Medical robotics have been in use in the medical sector for various applications since early 1980s. Nevertheless, due to reliability and safety concerns, the adoption of medical robotics have been relatively slow. With the expanding capabilities and the ongoing trend of automation across different application sector, medical robotics have found widespread application in the healthcare sector, over the period of time. Today, medical robots have been developed for performing various surgical procedures including neurological, orthopedics, minimally invasive surgeries and others. Popular types of medical robots, designed as per the application, include surgical robots, rehabilitation robots, minimally invasive robots, hospital and pharmacy robots and others.
The most significant factor fueling the market growth is the overall superior economic and social advantages of medical robotics over traditional human operation. Medical robotics are designed for better precision, faster procedure and safer surgical procedure. In addition, medical robotics are suitable for use in hybrid operating room, one of the rapidly growing technologies in the medical sector. Subsequently, medical robotics market is estimated to register strong growth during the forecast period. Another significant factor fueling the market growth is the encouragement and funding provided by various national governments. Market players are hence, more inclined towards research and development, thereby producing more reliable and safer robotic systems.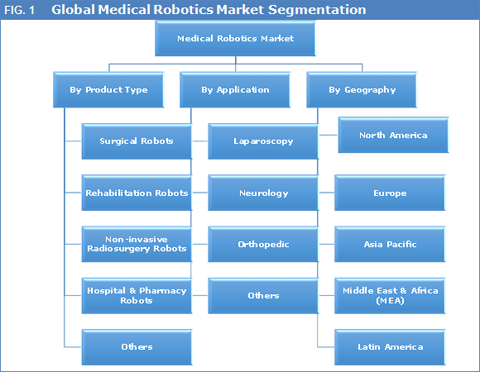 The report titled "GlobalMedical RoboticsMarket- Growth, Share, Opportunities and Competitive Analysis, 2016 – 2023" offers strategic insights into the global medical robotics system industry along with the market sizeand estimates for the duration 2014 to 2023. The said research study covers in-depth analysis of multiple market segments based on product types, applications and cross-sectional study across different geographies and sub-geographical segments. The study covers the comparative analysis of different segments for the years 2015&2023. The report also provides a prolific view on market dynamics such as market drivers, restraints and opportunities.
In order to help strategic decision makers, the report also includes competitive profiling of the leading medical robots vendors, their SCOT (Strength, Challenges, Opportunities and Weaknesses) analysis, market positioning and key developments. Some of the major players profiled in the report are iRobot Corporation, Renishaw Plc., Titan Medical Inc., Medrobotics Corporation, Accuray, Inc., Varian Medical Systems, Intuitive Surgical, Inc.,OR Productivity Plc.and others.
Other in-depth analysis provided in the report includes:
Current and future market trends to justify the forthcoming attractive markets within the robotics industry
Market fuelers, market impediments, and their impact on the market growth
In-depth competitive environment analysis
Trailing 2-Year market size data (2014 – 2015)
SRC (Segment-Region-Country) Analysis
Overall, the research study provides a holistic view of the global medical robotics market, offering market size and estimates for the period from 2016 to 2023, keeping in mind the above mentioned factors.