Key Market Insights:
"Rising adoption of recycled plastic products worldwide will boost the market growth"
The global plastic recycling market is growing substantially, projected to grow at a CAGR of 6.6% during the projected period from 2019 to 2027, starting from US$ 41.73 Bn in 2018. The global plastic recycling market volume is rising significantly, anticipated to expand with a CAGR of 8.9% during the estimated period from 2019 to 2027, starting from 29,438 kilotons in 2018.
The global plastic recycling market is majorly driven by the growing adoption of recycled plastic products worldwide. Growing penetration of recycled plastics in numerous industries (includes food & beverages, packaging, personal care and others) is expected to further drive the market growth throughout the forecast period. The demand for plastic recycling is anticipated to surge at a rapid pace in years to come due to abysmal statistics about the plastic waste generation in the atmosphere. The plastic production has reached over 350 Bn metric tons in 2018 from 1.5 Mn metric tons in 1950.
Rising government initiatives worldwide for plastic recycling is another major factor responsible for market growth during the forecast period. For instance, in some states of the U.S. such as California, Delaware, Connecticut, and others 'Bottle Bill or Container Deposit Law' has passed in which states refund 5 or 10 cents per bottle to encourage recycling and reusing of beverage plastic containers. Growing hygiene concerns and initiatives by major companies for the use of recycled plastics are some other factors expected to drive the market in years to come. For instance, in 2015, Adidas partners with Parley an environmental organization to convert marine trash to sportswear. Adidas sold around 5 Mn pairs of shoes in 2018 and it is expected that the number will reach around 20 Mn by 2021.
Market Synopsis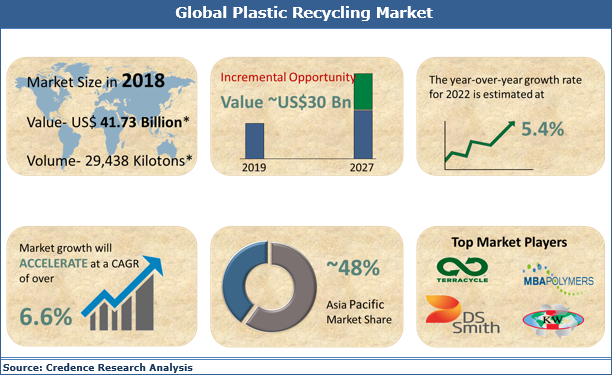 Get a sample copy for more information
Application Analysis:
"Expansion of the packaging industry to spur the segment growth"
The packaging segment has highest share in the global plastic recycling market in 2018 in value terms and volume terms. The segment contributed to more than 38% market share in revenue terms and over 45% of the market share in volume terms in 2018. The segment was dominant in 2018 owing to expansion in the packaging industry, and stringent industry regulations for environment- friendly processes. The packaging industry was valued over US$ 840 Bn in 2018 and anticipated to reach around US$ 1.0 Tn by 2021 with a CAGR of nearly 6%.
"Growing need for packaging anticipated boosting the segment revenue"
The growing need for packaging due to the rapidly increasing e-commerce industry and a surge in the food delivery industry worldwide are anticipated to support the segment growth. Growing technological advancements to use recycled plastic for packaging and rising awareness to use recycled plastic for packaging are some other factors expected to enhance the market growth in years to come. Thus, the packaging segment is projected to continue its dominance in terms of both value and volume during the forecast period.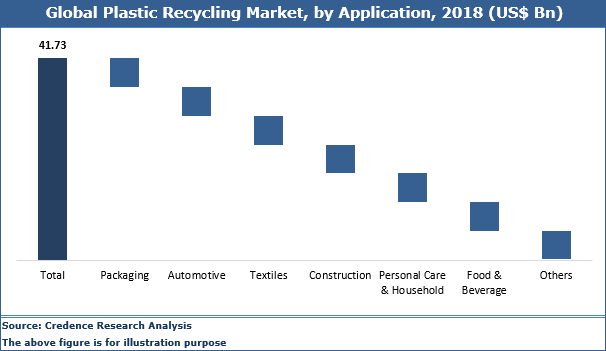 Get a sample copy for more information
Regional Analysis:
"Rising import of plastic waste is expected to enhance the Asia Pacific growth"
In 2018, Asia Pacific has a major share in terms of both volume and value. The region contributed to around 48% market share in value and nearly 55% market share in volume. The region has the highest share owing to growing plastic waste imports in the South Asian economies such as India, Indonesia, Malaysia, Thailand and others. Growing small scale recycling plants along with the growth of the packaging industry in Asia Pacific are some other factors anticipated to enhance the market growth during the forecast period. Growing awareness accompanied by rising government initiatives for plastic recycling is some other factor expected to drive regional growth in years to come. For instance, in 2018, the Indian government installed 'Reverse Vending Machines' at different places to discard plastic bottles.
"Rising adoption of plastic recycling will spur the market in Europe"
Europe is anticipated to grow with the highest CAGR in terms of volume owing to the enhancement of domestic recycling facilities, increased use of recycled plastic across the packaging industry and growing environmental stability targets. For instance, in 2017, the European Union (EU) tightened recycling targets to 55% of plastic packaging waste by 2030 compared with 41% in 2016 for its member states.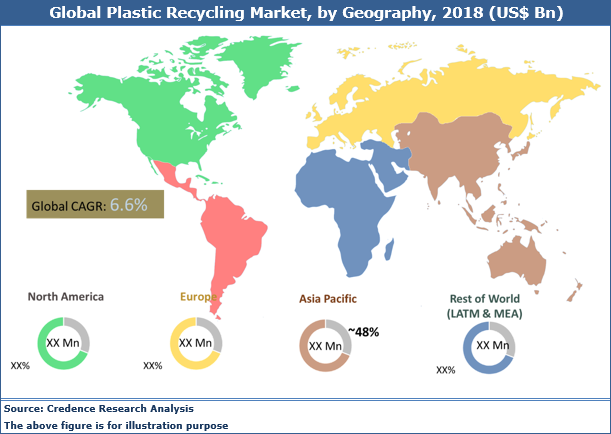 Get a sample copy for more information
Key Industry Developments:
In April 2019, MBA Polymers, Inc. acquired Europe based automotive plastic recycler PPR Wipag. This acquisition is expected to support MBA Polymers, Inc. to enhance the product portfolio and increase market opportunities.
In October 2019, Terracycle US, Inc. partners with Gerber Products Company a subsidiary of Nestle S.A. for retrieval of recycling baby food packaging across the U.S. This partnership will help Terracycle US, Inc. to increase its market share.
In February 2020, DS Smith Plc partnered with Keep Scotland Beautiful to recycle coffee cups. DS Smith Plc will provide Coffee Cup Drop Box made from 100% recycled ingredients.
List of Companies Covered:
MBA Polymers, Inc.
MOL Group
Plasgran Ltd
Novolex
Phoenix Technologies International LLC
Vikoz Enterprises, Inc.
Plastic Recycling, Inc.
Terracycle US, Inc.
KW Plastics
DS Smith Plc
PETCO
Waste Connections, Inc.
Custom Polymers, Inc.
Envision Plastics
Kuusakoski Group Oy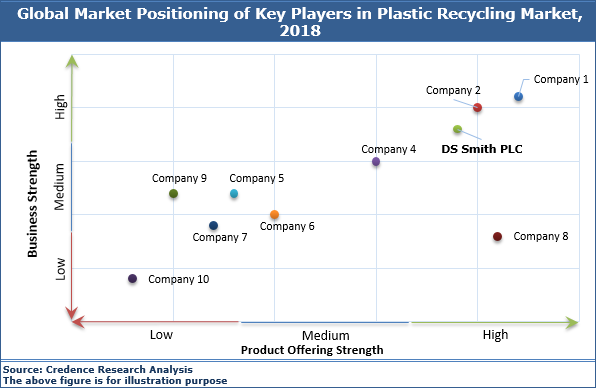 Historical & Forecast Period
This study report represents analysis for each segment from 2017 to 2027 considering 2018 to be the base year. Compounded Annual Growth Rate (CAGR) for each of the respective segments estimated for the forecast period from 2019 to 2027.
Market Segmentation:
ATTRIBUTE
DETAILS
Research Period
2017-2027
Base Year
2018
Forecast Period
2019-2027
Historical Year
2017
Unit
USD Billion

Segmentation

Material Type (2017–2027; US$ Bn)

• Polyethylene Terephthalate (PET)
• Polypropylene (PP)
• High-Density Polyethylene (HDPE)
• Low-Density Polyethylene (LDPE)
• Polystyrene (PS)
• Polyvinyl Chloride (PVC)
• Others (Polyurethane, Polycarbonate, Polylactide, etc.)

Source (2017–2027; US$ Bn)
• Bottles
• Films
• Fibers
• Foams
• Pipes
• Others (Wires & Cables, Molded Products, etc.)

Application (2017–2027; US$ Bn)
• Packaging
• Automotive
• Textiles
• Construction
• Personal Care & Household
• Food & Beverage
• Others (Electronics, Industrial Machinery, etc.)

Geography (2017–2027; US$ Bn)
• North America (U.S., Canada)
• Europe (U.K., Germany, France, Spain, Italy, Rest of Europe)
• Asia Pacific (Japan, China, India, Rest of Asia Pacific)
• Rest of the World (Latin America, Middle East & Africa)
The current report also comprehends qualitative and qualitative market valuation factors such as key market drivers, market trends, restraints and opportunities that give a better market understanding of the overall plastic recycling market. Additionally, the global report also comprises graphical representation of competitive landscape based on their market initiatives and strategies, product portfolio and business strengths.
Key questions answered in this report:
What are the current market trends and dynamics in the plastic recycling market and valuable opportunities for emerging players?
Which segment accounts for the fastest CAGR during the forecast period?
What are the drivers of the plastic recycling market?
Notable developments going on in the plastic recycling market.
What is the market trend and dynamics in emerging markets such as Asia Pacific, Latin America, and Middle East & Africa?
Comparative scenario for all the segments for years 2018 (actual) and 2027 (forecast)