Industry Outlook
Rotomoulding Powder market was valued at USD 8,268.5 Bn in 2017 and expected to grow at a CAGR of 18.2% from 2018 to 2026. Rotomoulding powder is prepared from ethylene, one of the extract obtained during the refining of crude oil. It is used in manufacturing of various plastic products such as plastic water tanks, plastic septic tanks, automotive components, plastic packaging products, plastic furniture, decorative items, and other product. Rotomoulding powder is widely used in manufacturing of tanks used in water supply water storage. Rotomoulding powder tanks are also used in sewage disposal systems and agriculture irrigation systems.
Surging demand from developed economies such as North America and Europe owing to rapid urbanization, increase in household earning and infrastructural development expected to boost the growth of the global rotomoulding powder market. The growth of rotomoulding powder market in the recent years is fueled by factors such as low cost, improved life cycle and growing array applications of rotomoulding powder. Rotomoulding powder cost about 15% to 20% less than extrusion blow moulding and twin-sheet thermoforming which has direct impact on the product cost. Further, easy raw material availability and low cost of raw material makes the rotomoulded powder products cheaper as compared to traditional products. Growing demand for cheap flexible packaging and plastic products from end use industries expected to spur the demand for rotomoulding powder over the forecast period. However, factors such as volatile raw material prices coupled with stringent environmental regulation regarding disposing and recycling of plastic products hampering the overall market growth.
Companies' focus are focusing on low cost manufacturing using advance technology and expansion of manufactruing across key consuming regions across the globe. However, enviromental concerns for disposal and recylcing of plastic products is expected to hamper the market growth over the forecast period.
Market Synopsis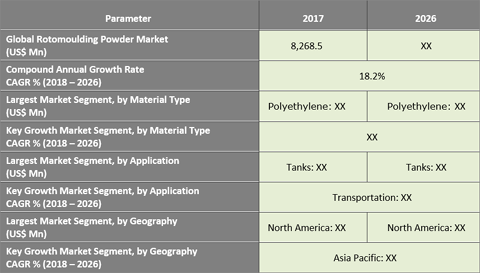 Huge Demand for Polyethylene from Packaging Industry Making It the Leading Material Type
In 2017, Polyethylene segment led the material type with share of 70% owing to growing demand for polyethylene for the packaging of various food and industrial products especially in Europe, North America and Asia Pacific. Growing popularity of polyethylene products due its low cost and high durability making it preferred choice among various applications. Thus, segment is projected to witness significant growth of 18.1% over the forecast period.
PVC Plastisols segment projected to witness the fastest growth during the forecast period. Increasing use of PVC plastisols as textile ink for screen-printing and as a coating for outdoor applications anticipated to drive the growth of the segment during the forecast period. Further, low cost, easy availability, excellent insulating properties and resistant to UV Light degradation & electricity are among few properties encouraging the use of PVC across various applications.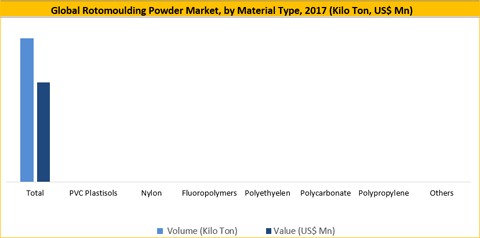 Tanks Segment Dominated the Rotomoulding Powder Market and Expected to Maintain its Dominance during Forecast Period
In 2017, Tanks segment represented the largest share of global rotomoulding powder market in terms of value and volume both. Growing demand for water and septic tanks in especially in China, India and South Africa due to rapid growth in commerical and residential infrastructure projected to drive the growth of the segment during the forecast period. Speedy economic recovery of Western European countries boosting the infrastructure development in the region and resurgence of construction and building activities globally, resulting in high demand for rotomoulding powder.
Industrial & Transportation segment projected to exhibit the significant market growth during the forecast period. Automotive industry is under constant development of lightweight and transport systems, as light vehicles require far less energy. Excellent UV resistant and flame retardant capabilities of rotomoulding materials makes it an ideal material for producing automotive component.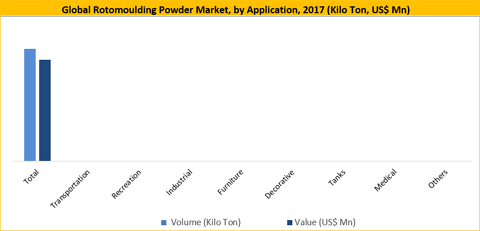 Asia-Pacific Projected to be the Fastest Growing Market
In 2017, North America accounted to be the largest market share in global rotomoulding powder market. Growing demand for agricultural and industrial tanks is projected to drive the demand for rotomoulding powder in the region during the forecast period. Asia Pacific projected to be the fastest growing region owing to flourishing end-use industries such as transportation, industrial, medical etc. fuelling the demand for rotomoulding powder in the region.
Europe is estimated to hold significant revenue share in global rotomoulding powder market. Strong demand for rotomoudling powder packaging products from food and agriculture industry in the region is expected to drive the demand for rotomoudling powder during the forecast period. Further, increasing demand for rotomoulding products in automobile components and industrial packaging products from the automobile and manufacturing industry propelling the overall market growth.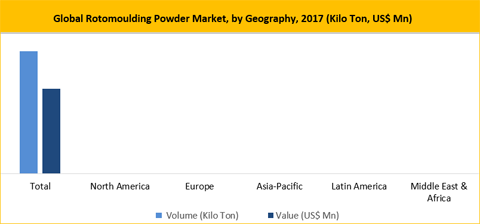 Merger & Acquisition is the Preferred Strategy Adopted by Key Players in Rotomoulding Powder Market
Rotomoulding powder market is highly competitive market due to the presence of large number of established players across the globe. To get an edge over the other competitors, major players are resorting to merger & acquisition and joint venture strategies. For instance, In February 2017, BASF SE announced the acquisition of Solvay SA's nylon business in order to complement its engineering plastics portfolio and enhance the company's position as a leading solution provider for the transportation, construction, industrial applications and consumer industries. Key manufacturers of rotomoulding powder market includes BASF SE, Reliance Industries, DowDupont, Phychem Technologies, Matrix Polymers, and Exxon Mobil Corporation among others.
Historical & Forecast Period
2016 – Historical Year
2017 – Base Year
2018-2026 – Forecast Period
Each market segment is analyzed in our study for the period of 2016 to 2026 with 2017 as the base year while period from 2018 to 2026 is considered for the CAGR calculation.
Report Scope
The report enlightens the thorough outline of global rotomoulding powder market by categorizing the market in different segment given below:
Rotomoulding Powder Market, By Material Type (2016–2026; Kilo Ton, US$ Mn)
Polyethylene
PVC Plastisols
Polycarbonate
Nylon
Polypropylene
Fluoropolymers
Others (polybutylene, acetal, acrylic, cellulosic, etc.)
Rotomoulding Powder Market, By Application (2016–2026; Kilo Ton, US$ Mn)
Transportation
Recreation
Industrial
Furniture
Decorative
Tanks
Medical
Others
Geography Segment (2016–2026; Kilo Ton, US$ Mn)
North America

Europe


E.U.7
C.I.S
Rest of Europe

Asia Pacific (APAC)


China
India
Japan
Rest of Asia-Pacific

Latin America (LATAM)


Brazil
Mexico
Rest of Latin America

Middle East and Africa (MEA)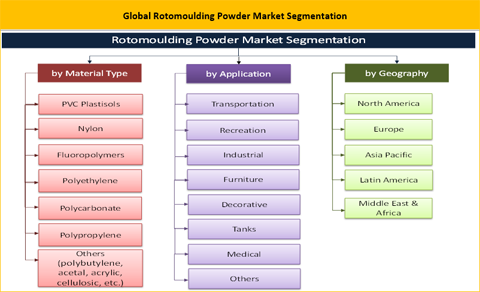 This research report describes leading continents and their major countries, along with profiles of key players operating in overall market and their planned developments. Our report further defines the overall market dynamics such as drivers, challenges, and opportunities prevalent in the market to understand global rotomoulding powder market more explicitly. Our in-depth quantitative and qualitative analysis of each segment up to country level highlights investment opportunities and revenue pockets in the market.
Key questions answered in this report
What are the current market trends in the rotomoulding powder market and valuable opportunities for the players?
How the environmental regulations affect global as well as the regional markets?
Which is the most lucrative region for investment?
What is the market size and trends in emerging markets?
Which are the major application market of rotomoulding powder across different geographies?
Which are the major material types of rotomoulding powder and their market sizes?
Which are the leading players and their market position?