Demand for Sewing Machines with Enhanced Functionalities to be on the Rise in Coming Years
The sewing machines market was valued at US$ 62.35 Bn in 2017 and expected to be growing at a compounded annual growth rate (CAGR) of 4.6% from 2018 to 2026. After decades of struggle, the sewing machine market is finally experiencing a boost mainly owing to renewed interest in the DIY (do-it-yourself) culture. Home arts, such as sewing and knitting are gaining popularity among people in order to give a more personalized touch to garments, either by adding appliques to their clothing or by reconstructing old items to achieve vintage looks. With advancements of sewing machines, sewing has become easier and less time consuming than in the past. The role of electronic sewing machines in this context has been vital as it facilitates amateur tailors to make the most of modern features such as automatic intricate embroidering, automatic size adjusting and "cruise control" options. Moreover, the fact that electronic sewing machines have become less expensive as compared to the past, has further contributed to the market growth and aided its adoption even among modest households. Another major factor supporting the sewing machines market growth can be attributed to the rising demand for industrial sewing machines. Garment manufacturers are preferring high end sewing machines as it enables to save time, energy and at the same time also reduces complexities. Moreover, for leading garment manufactures, producing high quality products in the least possible time with standardized precision is of prime importance, a factor further fuelling the demand for industrial sewing machines.
Market Synopsis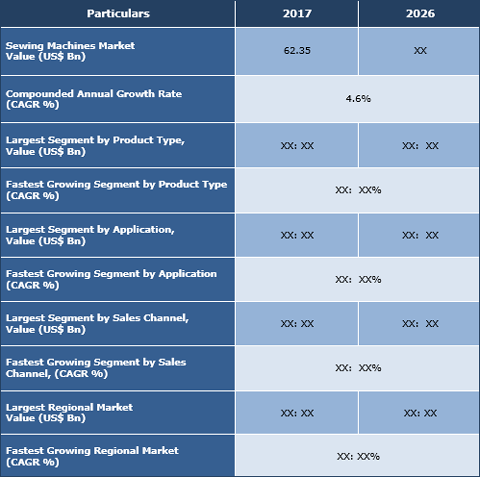 Digital Sewing Machine, Is this the Future of Sewing Machines?
With the outburst of Industry 4.0, the apparel industry is witnessing the outbreak of innovations in sewing process. These innovations are transitioning the status of apparel manufacturers from being manually relied to tech and digitally focused. Sewing machines have witnessed massive technological innovation in recent years with a focus to shorten time to market on the part of manufacturers. For instance, recently, Xi' an Typical won the Texprocess Innovation Award for developing the first sensor-based technology offering entire control over industrial sewing machines without pedals. Another recent trend is the concept of vision sewing, which enables to obtain flawless decorative stitches where there is a scarcity of high skill set. Key benefits of vision system includes automatic sewing of patterns, consistent sewing speed for multiple patch sewing, improved/less handling of garment or fabric and no operator sewing skills. Automatic bobbin changer is another trend that is gaining in popularity. One of the first companies to commercialize the use of automatic bobbin changers was Kinoshita and it stocks eight bobbins in the exchange plate. Leading sewing machine manufacturers are investing heavily on research and development activities and the results are visible in the form of technological advancements. Some of the other recent developments witnessed in the market includes, real-time monitoring in sewing machines, convertibility in sewing machines, modular sewing machines, smart sewing machines, digital feed system in sewing machines and USB port in sewing machines among others.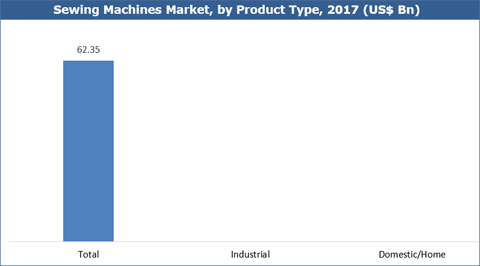 Technological Advancements to Positively Influence the Demand for Industrial Sewing Machines in Coming Years
The demand for industrial sewing machines has witnessed a steady rise in recent years mainly owing to increasing demand for high-end industrial sewing machines. These sewing machines are increasingly being preferred by garment manufacturers as it facilitates to save time and energy, and reduce complexity of the manufacturing process due to their enhanced features. Another important factor aiding the growth of industrial sewing machines can be attributed to the fact that these sewing machines enable to produce high quality products with standardized precision in less time. Moreover, technological advancements have facilitated the development of light weight, small, durable and energy efficient industrial sewing machines, a factor further complimenting the market growth of industrial sewing machines. Recent developments in industrial sewing machines includes, multi-needle positioning, high powered motors, laser technologies, touchscreens and LED lighting among others.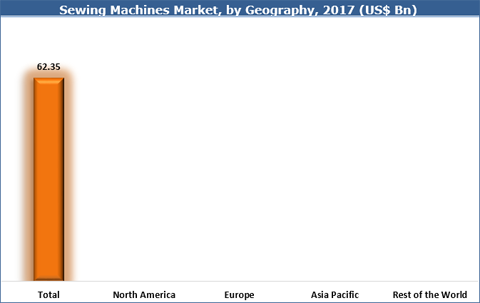 Asia Pacific to remain the largest Market throughout the Forecast Period
Asia Pacific represents the largest market for sewing machines worldwide. Owing to low manufacturing cost, the manufacturing of products especially through industrial sewing machines has shifted from developed regions such as Europe and North America to developing countries of Asia Pacific. Favorable government policies, cheap labor and raw material are some of the important factors that makes the region a hub for apparel and non-apparel manufacturers. This factor has positively influenced the demand for sewing machines across the Asia Pacific region. Moreover, the fact that a large number of sewing machine manufacturers are headquartered in the region further contributes to the market growth in the region.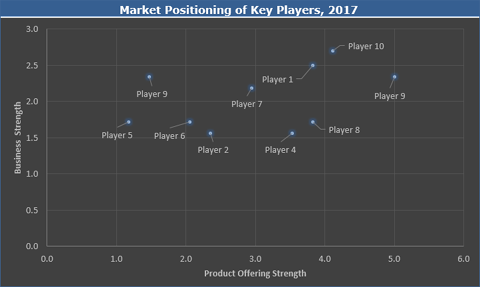 Historical & Forecast Period
2016 – Historical Year
2017 – Base Year
2018-2026 – Forecast Period
This research report presents the analysis of each segment from 2016 to 2026 considering 2017 as the base year for the research. Compounded Annual Growth Rate (CAGR) for each respective segments are calculated for the forecast period from 2018 to 2026.
Report Scope by Segments
The report elucidates the detailed outline of global sewing machines market by categorizing the market in terms of product type, application, sales channel and geography.
Product Type (2016–2026; US$ Bn)
Industrial

Flat Bed
Post Bed
Cylinder Bed
Off the Arm

Home or Domestic

Manual Sewing Machine
Electric Sewing Machine
Computerized Sewing machine
Over Locker Sewing Machine
Application (2016–2026; US$ Bn)
Apparels
Shoes
Bags
Others
Sales Channel (2016–2026; US$ Bn)
Geography Segment (2016–2026; US$ Bn)
North America

Europe


United Kingdom
Germany
France
Rest of Europe

Asia Pacific (APAC)


China
Japan
India
Rest of APAC

Rest of the World (RoW)


Middle East & Africa (MEA)
Latin America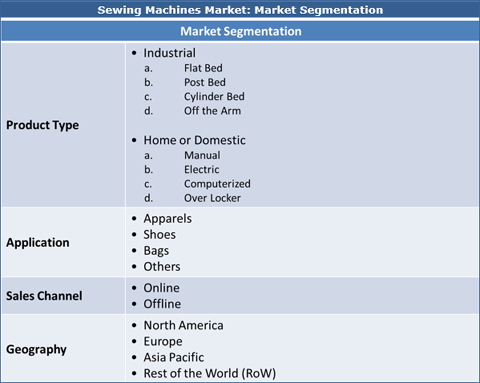 Key players profiled in the report include China Feiyue, Brother Industries, Juki Corporation, Jack Sewing Corporation, SVP Worldwide, Singer, Bernina International AG, Pegasus Sewing Machine Mfg. Co. Ltd., PFAFF Industriesysteme und Maschinen GmbH and Million Special Industries Co. Ltd. among others.
Key questions answered in this report
What was the global sewing machines market size in 2017 and forecast for 2026?
What are the current trends in the sewing machines market?
What are the various valuable opportunities for the players in the market?
Which is the largest regional market for sewing machines?
Which region expected to be the fastest growing and why?
What are the future prospects for the sewing machines market?
What are the major drivers and restraints influencing the market growth?
What are the new innovations by the leading players?
What are the key strategies adopted by the leading players in market?