"Rising Demand for Protection of Machines by Absorbing the Vibration Is Driving Machine Mounts Market"
Globally, the machine mounts market is expected to grow with a CAGR of 6.8% during the forecast period from 2019 to 2027 and is expected to record a market value of US$ 2.56 Bn by 2027. Machine Mounts are defined as an attachment for a machine, which is made up of rubber or metal are usually, attached on the bottom of the machine with the help of bolts. These are used to absorb vibration. The machine mounts have a wide range of industrial applications and are used in compressors, air conditioners, military equipment, power generators, medical equipment, and others.
There are several benefits of using machine mounts due to their ability to absorb the vibration of the machines so that there is no disturbance in the outer environment and to maintain the internal functionality of the machine. Additionally, there are high-tech mounts that offer safety features, which protects the mounting, and the machine that it is attached to. Such features increases the adoption of machine mounts and thus drives the growth of this market during the forecast period. End use industries such as oil and gas, and mining industries are experiencing an impact of automation, which boosts the machine mounts market.
Market Synopsis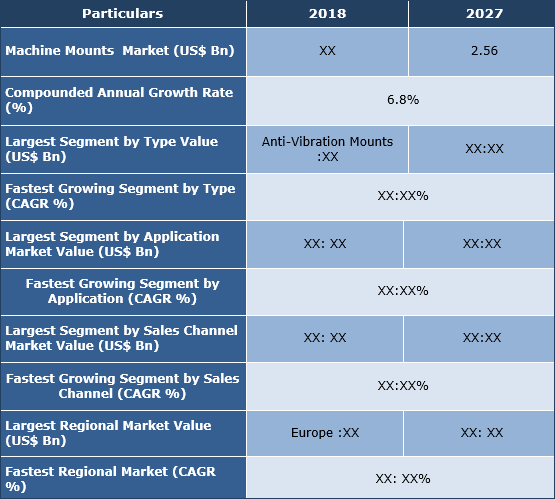 Get a sample copy for more information
"Machine Mounts with Anti-Vibration Mounts its Type Segment Continue Dominating the Market"
In 2018, the overall machine mounts market was led by the anti-vibration mounts segment that held more than 1/3rd of the market share and is expected to dominate the market in near future. The anti-vibration mounts are used for various applications such as an HAVC system, compressors, huge machines and process machines and others to absorb the vibration of the machines so that there is no effect on the functionality and performance of the machines. Moreover, the segment is expected to be the fastest growing segment during the forecast period.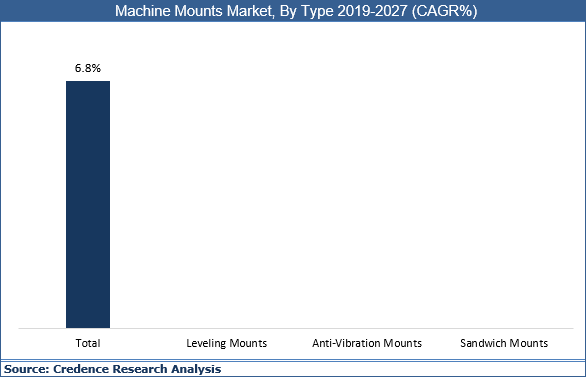 Get a sample copy for more information
"Europe Dominates the Market by Region"
The global machine mounts market was led by Europe by holding around 1/3rd of the overall market share, due to developments in various industrial sectors such as manufacturing, healthcare, automotive, consumer products, textile, chemicals and others. These sectors require heavy machines for production process, which drives the demand for machine mounts. Based on the countries, Germany dominates the market due to presence of various manufacturing industries in the market.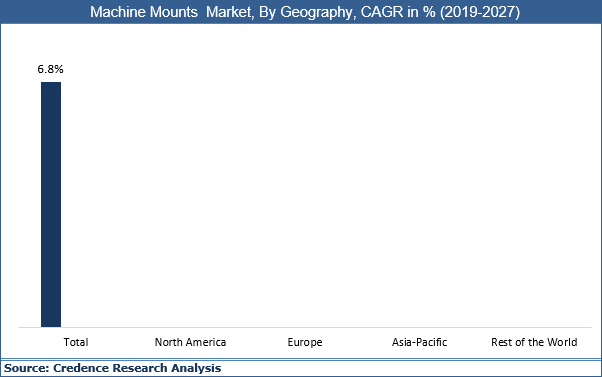 Get a sample copy for more information
Some of the prominent players operating in the machine mounts market includes Cummins Inc., Trelleborg AB, LORD Corporation, Total Vibration Solutions Ltd., Hutchinson SA, VibraSystems Inc., NHK Group, Nu-Tech Engineering Services Ltd., Sunnex Group, Rosta AG, Industrial Components Group, Vishwaraj Rubber Industries, Fibet Group, IAC Acoustics, and Kurashiki Kako Co., Ltd.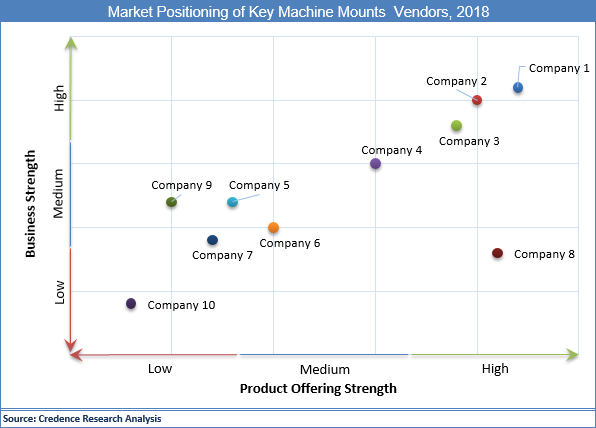 Historical & Forecast Period
This research report presents the analysis of each segment from 2017 to 2027 considering 2018 as the base year for the research. Compounded Annual Growth Rate (CAGR) for each respective segment calculated for the forecast period from 2019 to 2027.
Report Scope by Segments
The machine mounts market report provides market size and estimates based on market dynamics and key trends observed in the industry. The report provides a holistic view of global machine mount market based on type, sales channel, application and geography. Key segments covered in the report are as follows:
ATTRIBUTE
DETAILS
Research Period
2017-2027
Base Year
2018
Forecast Period
2019-2027
Historical Year
2017
Unit
USD Billion
Segmentation

Type Segment (2017–2027; US$ Bn)
• Leveling Mounts
• Anti-Vibration Mounts
• Sandwich Mounts

Sales Channel Segment (2017–2027; US$ Bn)
• OEM
• After Market

Application Segment (2017–2027; US$ Bn)
• CNC Machines
• General Machine Tools
• Cutting Machines
• Injection Molding Machines
• Forming Presses
• EDM Machines
• Air Compressor

Geography Segment (2017–2027; US$ Bn)
• North America (U.S. and Rest of North America)
• Europe (U.K., Germany, France, and Rest of Europe)
• Asia Pacific (Japan, China, India, and Rest of Asia Pacific)
• Rest of World (Middle East & Africa (MEA), Latin America)
Key questions answered in this report
What was the market size of machine mounts in 2018 and forecast up to 2027?
Which is the largest regional market anti-vibration mounts in type segment?
What are the major trends followed in machine mounts market across different regions?
Who is the key machine mounts companies leading the market?
What are the key strategies adopted by the leading machine mounts companies in market?
Unique data points of this report
Statistics on machine mounts penetration and spending worldwide
Recent trends across different regions in terms of adoption of machine mounts for various applications
Notable developments going on in machine mounts market
Attractive investment proposition for segments as well as geography
Comparative scenario for all the segments for years 2018 (actual) and 2027 (forecast)