Key Market Insights
"To improve productivity, industries are adopting smart fabric"
The fabrics that have digital and electronics components entrenched in them are referred as E-textiles or electronic textiles or smart fabrics. These fabrics have the ability to recognize and sense stimuli from the surroundings and adapt & respond to those stimuli in a pre-programmed way. Their capability to grow, correspond, transform, and even conduct energy makes them different from the normal textiles, thus adding worth to the wearer. With the technological advancement in electronics industry such as nanotechnology, the smart fabric market is a budding market, created as a result of the tininess of electronics and drop in the costs of electronics as well as manufacturing charges, of both semiconductors and textiles.
The rising usage of electronic devices in everyday life is impelling the worldwide smart fabrics market as a result of the foremost implementation of the smart textiles as an electronics device. With the integration of electronic components in smart textiles, they are used in various applications such as health management, actuation, response, and communication. These textiles help to control muscle vibrations, regulate body temperatures, and protect from environmental hazards such as radiation.
On the other hand, the major restraint for the smart textile market is the high cost of production. Smart textiles require high-end materials and are highly sophisticated due to which perfect cost-price balance is not achieved by manufacturers. The market is hindered due to the cost of electronic devices and components, which further increases the prices of the smart textiles.
Overall, the global smart fabric market was US$ 876.3 Mn in 2018 and expected to reach US$ 7,425.5 Mn by 2027, growing at a CAGR of 26.8% from 2019 to 2027.
Market Snapshot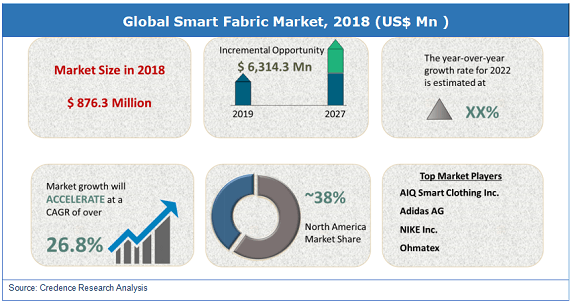 Get a sample copy for more information
Fabric Type Segment Analysis
"Passive segment dominating the market"
Passive smart fabrics capture the major share of the global market in 2018. The passive smart fabrics are wearable clothing that can sense the user movement and surrounding environment. This segment led the market in 2018 due to low product prices compared to other two sub-segments and less complex functionalities than other variants. However, active & ultra-smart fabric has the ability to sense, react, and adapt its behavior to the given circumstances. With the advancement in AI and nanotechnology both these segments expected to witness the highest CAGR over the forecast period on account of its ability to effectively deal with life threatening circumstances, such as accidents or battlefield or to maintain high levels of comfort even during extreme environmental changes.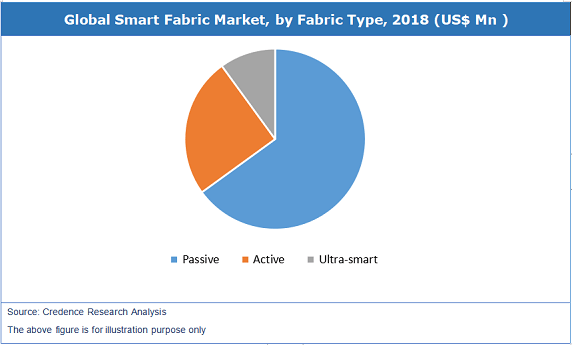 Get a sample copy for more information
Regional Analysis
"North America dominating the global market by region"
North America is expected to hold the largest share of the global market by 2025 and is also projected to be the fastest-growing regional market. This can be attributed to the increasing product demand in the transportation and healthcare industries in North America. Asia Pacific is also anticipated to witness a steady growth in the years to come. Along with it, presence of major companies such as Nike and Adidas have further added advantage to the regional growth of the market.
Availability of low-cost raw materials and labor in the Asian countries, such as China, Japan, and India, has transformed it into a manufacturing hub for such technology. This has led to the decline in the overall production of smart fabrics in the European region. However, increasing number of R&D activities for such intelligent fabrics sponsored within the EU FP6 and FP7 programs is revitalizing the industry in the European countries.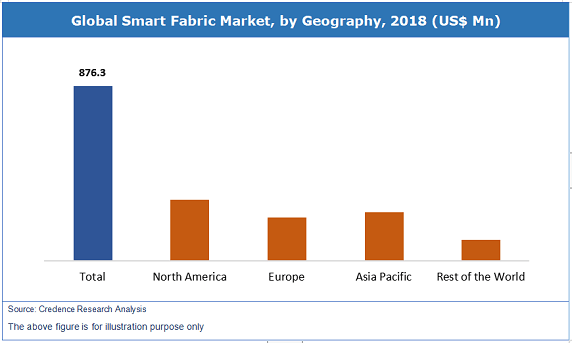 Get a sample copy for more information
"Technological advancement is keeping the market competitive"
The global smart fabric market is competitive. Prominent players operating in the smart fabric market are adopting strategies such as a partnership with other companies, acquisition of smaller players to increase their production capacity and geographical reach. Following is the list of players included in the published reports.
List of Companies Covered:
AIQ Smart Clothing Inc.
Adidas AG
NIKE Inc.
ThermoSoft International Corporation
Kolon Industries Inc.
Interactive Wear AG
Ohmatex
Schoeller Textil AG
Sensoria Inc.
OTEX Specialty Narrow Fabrics Inc.
Others
Key Industry Development:
In September 2019, Levi's has announced that new jackets with Google's Project Jacquard technology, which turns a portion of the fabric on the sleeve into a touch-sensitive remote control for phones. Both versions are less expensive and much more like the original versions of the Levi's jackets.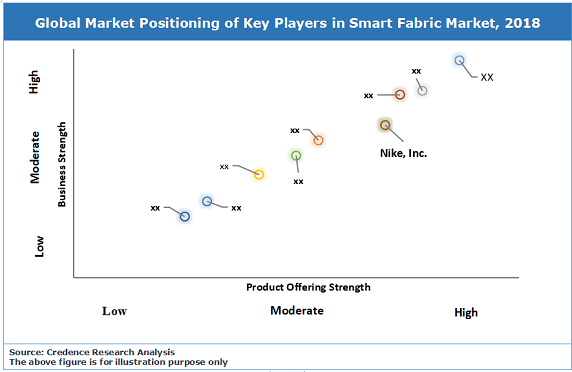 Historical & Forecast Period
The research report presents the analysis of each segment from 2017 to 2027 considering 2018 as the base year for the research. Compounded annual growth rate (CAGR) for each respective segments calculated for the forecast period from 2019 to 2027.
Market Segmentation
ATTRIBUTE
DETAILS
Research Period
2017-2027
Base Year
2018
Forecast Period
2019-2027
Historical Year
2017
Unit
USD Million
Segmentation

Fabric Type Segment (2017-2027; US$ Mn)
• Passive Smart Fabrics
• Active Fabrics
• Ultra-smart Fabrics

Functionality Segment (2017-2027; US$ Mn)
• Sensing
• Energy Harvesting
• Luminescence & Aesthetics
• Thermoelectricity
• Others

Application Segment (2017-2027; US$ Mn)
• Protection & Military
• Fashion & Entertainment
• Sports & Fitness
• Medical
• Transportation
• Architecture

Geography Segment (2017–2027; US$ Mn)
• North America (U.S. and Rest of North America)
• Europe (U.K., Germany, France, and Rest of Europe)
• Asia Pacific (Japan, China, India, and Rest of Asia Pacific)
• Rest of World (Middle East & Africa (MEA), Latin America)
The current report also comprehends qualitative market valuation factors such as key market drivers, market trends, restraints and opportunities that give a better market understanding of the global smart fabric market. Additionally, the global report also comprises a graphical representation of a competitive landscape based on their market initiatives and strategies, product portfolio and business strengths.
Unique data points of this report
Recent trends across different regions in terms of development of smart fabric market
Attractive investment proposition for application segment as well as geography
Key questions answered in this report
What was the market size of smart fabric market in 2018 and forecast up to 2027?
What are the key factors driving the global smart fabric market?
What are the key market trends and high-growth opportunities observed in the smart fabric market?
Which is the largest regional market for smart fabric market?
Which segment will grow at a faster pace? Why?
Which region will drive the market growth? Why?
Which players are leading the smart fabric market?
What are the key strategies adopted by the leading players operating in the market?