Overview:
The global smart sensors market was valued at US$ 34.61 Bn in 2018 and is projected to witness remarkable growth, expanding at a CAGR of 15.8% during the forecast period from 2019 to 2027. Sensors play a vital role in modern technology, particularly with the advent of the internet of things (IoT), the demand and adoption of these has increased significantly. From inertial celestial navigation solutions in mobile phones and smart wearable solutions for health monitoring to autonomous driving, demand for sensors has been growing at a rapid pace. Smart sensors are innovative platforms with involved technologies such as storage, microprocessors, connectivity and diagnostics tools that help transforming conventional feedback signals into true digital insights. These sensors provide valuable and timely data underpinnings to power analytical insights that can in turn drive improvements in performance, cost and customer experience. Rising penetration and utilization of internet of things (IoT) along with growing automation in vehicles and smart wearables are some of the major factors expected to boost the market for smart sensors worldwide.
Smart sensor computing capabilities have strengthened substantially over a period of time. This, thereby is aiding data processing, analysis at or nearby the source and is plummeting the amount of data that is transmitted between the device and platform. In addition, emergence of micro-electro-mechanical systems (MEMS) technology have permitted high functioning and introduction of compact smart sensors by effectually incorporating microelectronic functions in minimal space. Smart sensors are capable of automatically detecting faults during a particular operation and actively help in troubleshooting problems that may arise in the near future. Smart sensors depict a remarkable advancement over the conventional sensors, as they empower the automatically generated information about the environment, with fundamentally minimal mistake rate.
Market Snapshot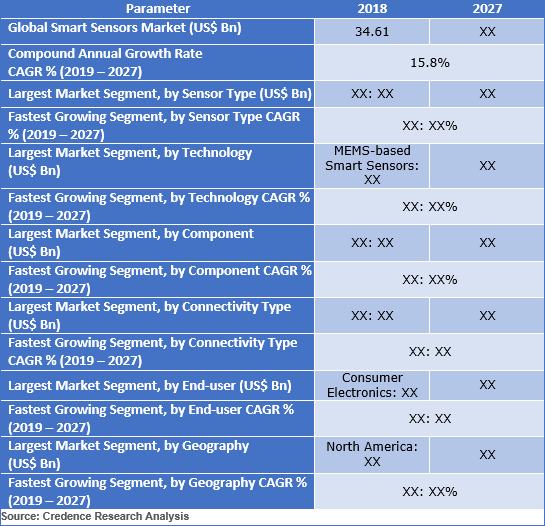 Get a sample copy for more information
"Consumer Electronics to Augment the Growth of the Market during the Forecast Period from 2019 to 2027"
Rapid advancements in the semiconductor technology has led to the speedy development of smart sensor technologies that are used in various end-use verticals such as automotive, consumer electronics, healthcare, industrial, infrastructure, etc. In 2018, consumer electronics garnered largest market share in the global smart sensors market. The segment is likely to grow at a substantial rate during the forecast period from 2019 to 2027. Smart sensors are being widely implemented in tablets, smartphones and in several other handheld & wearable devices. These sensors are used to measure various parameters such as temperature, motion, pressure, etc. in various consumer electronic devices. As a result, rising penetration of various electronic devices with cutting-edge features is projected to propel the adoption of smart sensors in consumer electronics. With the advent of internet of things (IoT) coupled with expanding automation in automobiles and smart wearable frameworks to keep a track on health-related factors, is relied upon to further widen the expansion of smart sensors in the automotive and healthcare industries in the years to come.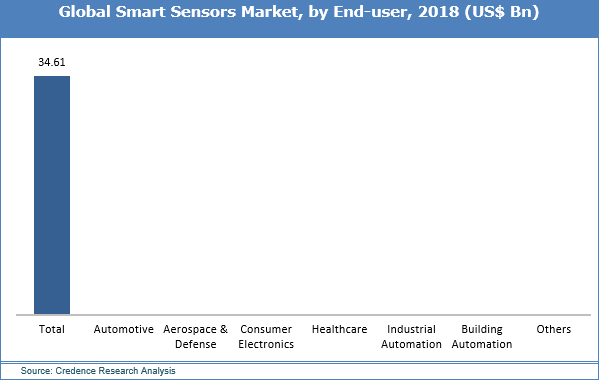 Get a sample copy for more information
"North America held Largest Market Share in 2018, while Asia Pacific to Emerge as the Fastest Growing Region during the Forecast Period"
Based on geography, North America dominated the smart sensors market in 2018 and is likely to reign during the forecast period from 2019 to 2027. Growing demand for smart homes and IoT is one of the major factor driving the regional growth. The U.S. market led the North American market in 2018 and expected to retain its position in the years to come. Asia Pacific is expected to emerge as the fastest growing region during the forecast period. The use of smart sensors in several consumer electronic devices is projected to grow at a higher growth rate in the near future. Evolving consumer electronics sector is poised to thrive the growth prospects of smart sensors market in the region. Also, automotive industry in Asia Pacific is likely to develop at a rapid pace, thereby boosting the demand and providing growth opportunities to the smart sensors in the region.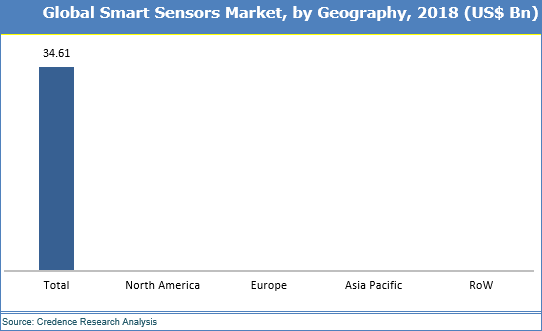 Get a sample copy for more information
Competitive Insights
The major players identified in the smart sensors market include Honeywell International Inc., NXP Semiconductors N.V., Texas Instruments Inc., ABB Ltd., Emerson Electric Company, Eaton Corporation Plc, Renesas Electronic Corporation, Yokogawa Electric Corporation, Omron Corporation, Analog Devices, Inc., STMicroelectronics, TE Connectivity, Siemens AG, TDK Corporation, Robert Bosch GmbH, General Electric, and Sensirion AG among others. These players are continually focusing on strengthening their product portfolio in order to cater the rising needs of the customers. New product development and partnership remains some of the major strategies adopted by the leading players to have an edge over their counterparts.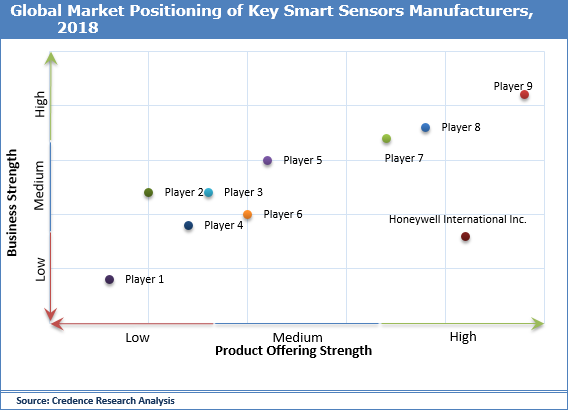 Historical & Forecast Period
The research report presents the analysis of each segment from 2017 to 2027 considering 2018 as the base year for the research. Compounded Annual Growth Rate (CAGR) for each respective segments calculated for the forecast period from 2019 to 2027.
Report Scope by Segments
Smart electronics market report provides market size and estimates based on market dynamics and key trends observed in the industry. The report provides a holistic view of global smart sensors market based on sensor type, technology, component, connectivity type, end-user, and geography. Key segments covered in the report are as follows:
ATTRIBUTE
DETAILS
Research Period
2017-2027
Base Year
2018
Forecast Period
2019-2027
Historical Year
2017
Unit
USD Billion
Segmentation

Sensor Type Segment (2017-2027; US$ Bn)
• Motion Sensors
• Temperature & Humidity Sensors
• Light Sensors
• Position Sensors
• Pressure Sensors
• Touch Sensors
• Image Sensors
• Others (Leak Sensors, Chemical Sensors, Air Quality Sensors, etc.)

Technology Segment (2017 – 2027; US$ Bn)
• MEMS-based Smart Sensors
• CMOS-based Smart Sensors
• Others (Optical Spectroscopy, etc.)

Component Segment (2017 – 2027; US$ Bn)
• Analog-to-Digital Converter
• Digital-to-Analog Converter
• Amplifiers
• Transceivers
• Microcontrollers
• Others (Transistors, Microprocessors, Transducers, etc.)

Connectivity Segment (2017 – 2027; US$ Bn)
• Wired
• Wireless

End-user Segment (2017 – 2027; US$ Bn)
• Automotive
• Aerospace & Defense
• Consumer Electronics
• Healthcare
• Industrial Automation
• Building Automation
• Others (Robotics, Education, Agriculture, etc.)

Geography Segment (2017-2027; US$ Bn)
• North America (U.S., Rest of North America)
• Europe (U.K., Germany, France, Rest of Europe)
• Asia Pacific (Japan, China, India, Rest of APAC)
• Rest of the World (Middle East & Africa, Latin America)
Key questions answered in this report
What was the market size of smart sensors market in 2018 and forecast up to 2027?
What are the key factors driving the global smart sensors market?
What are the key market trends and high-growth opportunities observed in the smart sensors market?
What are the drivers of the smart sensors market?
Which is the largest regional market for smart sensors market?
Which segment will grow at a faster pace? Why?
Which region will drive the market growth? Why?
Which players are leading the smart sensors market?
What are the sustainability strategies adopted by the key players operating in the market?