Key Market Insights
"Increasing government spending for power utilities along with growing energy demand will boost the market"
The global smart transformers market is growing proficiently, projected to grow at a CAGR of 14.9% during the expected period from 2019 to 2027, starting from US$ 1.86 Bn in 2018.
In view of raising the regional electrification index the ongoing preferences for the replacement of existing grid infrastructure is anticipated to fuel the global smart transformers market globally. Additionally, replacements of conventional single-phase power supply with upgraded three phase system networks by numerious utilities will further drive the product demand. As per the IEA in 2016, the global transmission and distribution (T&D) investments were valued for around US$ 260 billion, which was 14% higher compared to the statistics in 2015. Moreover, rising investments from public and private partnership will significantly cater demand-supply mismatch will completely stimulus the business dynamics. Favored government regulatory inclination, positive outlook for the establishment of sustainable energy mix will further boost up the market for smart transformer on a global scale.
Furthermore, grid integration along with adption for sustainable technologies is likely to leadvthe expansion of micro-grid networks, thereby fuel the product deployment in the up coming years. Several smart grid initiatives have been taken by numerous organizations like IEEE in order to upkeep the development of global distribution transformer market. For instance, in 2015, introduction of "Green Energy Corridor Project" by the Government of India (GoI) have proposed an total investment of around US$ 1 billion for the development of renewable energy transmission through a separate energy corridor network. The aforementioned factors are projected to drive the market for smart transformers over the forecast period.
Market Synopsis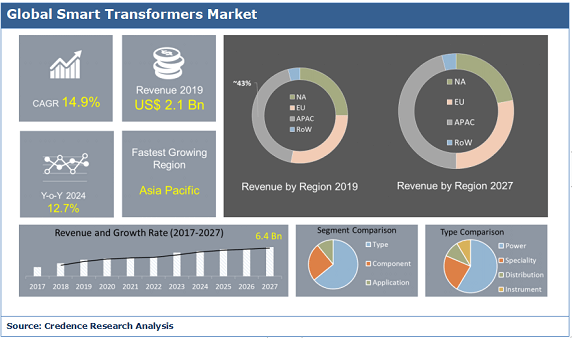 Get a sample copy for more information
Type Analysis
"Rising demand for capacity utilization along with implementation of government policies and schemes will drive the demand for distribution transformers globally"
Growing emphasis on renewable energy generation across the world, coupled with rising electrical infrastructure projects, is anticipated to drive the demand for distribution transformers in the coming years, which in turn will boost the smart transformers market globally. The smart transformers are being used in distribution grid to work independently for voltage regulation and monitoring while maintaining a connection with the smart grid. This enables the transfer of transformer information and supplied power to remote administration, thereby enabling a proper load management, resulting towards improved power quality and low power outages. Moreover, growing importance for renewable energy generation globally, coupled with increase in number of electrical infrastructure projects, is likely to propel the demand for distribution transformers over the forecast period, thereby boost the revenue growth for smart transformers.
For instance, Government of India is taking foremost steps in order to reinforce the power transmission and distribution network across the country and have undertaken initativeness like "UDAY Sceheme" for financial turn-around of power distribution companies. Additionally, the government has estimated an investment of around Rs. 146,000 crore.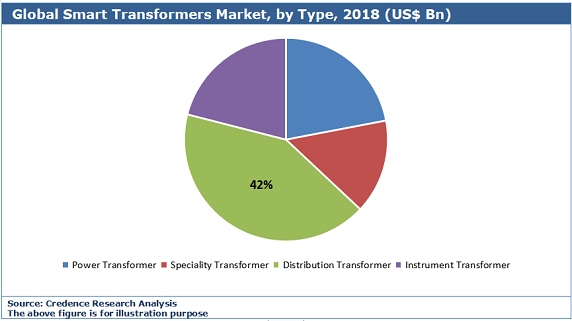 Get a sample copy for more information
Regional Analysis
"Dominance is led by rising power demand from residential and industrial communities coupled with intensifying utility investments to drive the market growth."
The smart transformers market is expected to grow at a faster rate with holding a market share of around 43% in the Asia-Pacific region, particularly in Japan, China, and South Korea. Growing energy demand across the region and presence of emerging economies like Japan, China, India, and Singapore is likely to propel the demand for smart transformers across the region. Additionally, in 2017 the Asia-Pacific tempted a capital investment of around 45%, thereby leading a potential for foreign direct investment (FDI) ona global scale. Moreover, increasing investments for improving infrastructure and urbanizing populations, particularly in emerging economies like India and China, is anticipated to drive the market for smart transformers across the region. Furthermore, growing investments and developments for smart cities and grid technologies like installation of smart meters, distribution grid automation, and demand response systems in countries such as South Korea, Japan, and Australia would generate an ample prospects for the smart transformers market.
For instance, in 2018, India was among the third-largest electricity-generating nation which generates power from both renewable and conventional sources across the globe. India has made numerous key developments in improving the power accessibility and reliability in rural and urban societies through several government-led schemes such as "Power for All", "Saubhagya Scheme", "Integrated Power Development Scheme (IPDS)", and many more. Moreover, deployment of renewable source of energy for power generation, electrification in remote localities becomes less expensive for the government of India.The aforementioned factors are projected to propel the revenue growth of smart transformers across the region.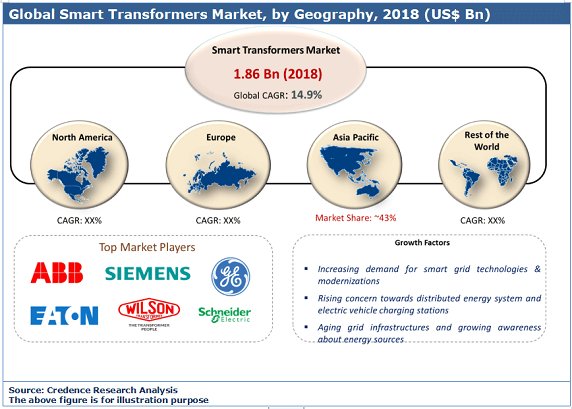 Get a sample copy for more information
List of Companies Covered:
ABB Ltd.
Siemens AG
Schneider Electric SE
Eaton Corporation PLC
General Electric Company
Wilson Transformer Co Pty Ltd
Mitsubishi Electric Corporation
Bharat Heavy Electricals Limited
CG Power and Industrial Solutions Ltd
Howard Industries Inc
SPX Corp
Alstom SA
Triad Magnetics
Powerstar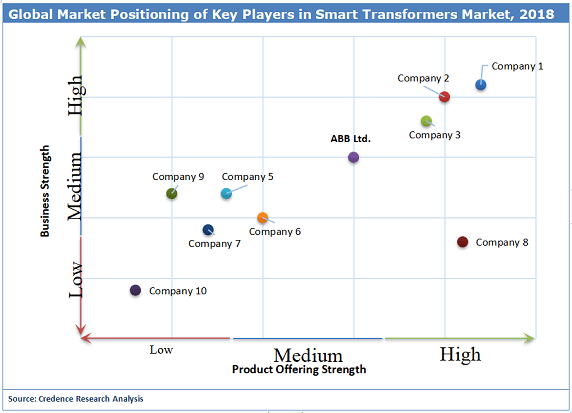 Key Industry Development:
In December 2019, ABB Ltd. won a four year contract framework for around US$ 100 million to strengthen the power transmission system of Italy, thereby responsible for securing and providing electricity throughtout the country.
In December 2019, ABB wins contract of US$ 157 million to supply power, Azipod® electric propulsion, and digital solutions for universal class Hong Kong cruise vessels.
In December 2018, Hitachi Ltd. announced its acquisition of 80.1% share of ABB's Power Grids units for an estimated cost of around US$ 11 billion. This acquisition will build an energy platform in order to realize more efficient use of electricity.
Historical & Forecast Period
This study report represents analysis for each segment from 2017 to 2027 considering 2018 to be the base year. Compounded Annual Growth Rate (CAGR) for each of the respective segments estimated for the forecast period from 2019 to 2027.
Market Segmentation
ATTRIBUTE
DETAILS
Research Period
2017-2027
Base Year
2018
Forecast Period
2019-2027
Historical Year
2017
Unit
USD Billion
Segmentation

Type (2017–2027; US$ Bn)
• Power Transformer
• Speciality Transformer
• Distribution Transformer
• Instrument Transformer

Component Type (2017–2027; US$ Bn)
• Switches
• Converters
• Transformers
• Others

Application (2017–2027; US$ Bn)
• Smart Grid
• Traction Locomotive
• Electric Vehicle Charging
• Others

Geography (2017–2027; US$ Bn)
• North America (U.S., Canada)
• Europe (U.K., Germany, Spain, Italy)
• Rest of Europe (Asia Pacific, Japan, China, India, Rest of Asia Pacific)
• Rest of the World (Latin America, Middle East & Africa)
The current report also comprehends qualitative and qualitative market valuation factors such as key market drivers, market trends, restraints and opportunities that give a better market understanding of the overall smart transformers market. Additionally, the global report also comprises graphical representation of competitive landscape based on their market initiatives and strategies, product portfolio and business strengths.
Key questions answered in this report
What are the current market trends and dynamics in the smart transformers market and valuable opportunities for emerging players?
Which segment accounts for the fastest CAGR during the forecast period?
Which type segment holds a larger market share and why?
Are low and middle-income economies investing in the smart transformers market?
What is the market trend and dynamics in emerging markets such as Asia Pacific, Latin America, and Middle East & Africa?