"Increasing awareness of water softening process is likely to fuel the growth of the water softening system market"
Globally, the water softening system market is expected to grow with a CAGR of more than 7.5% during the forecast period from 2019 to 2027, starting from US$ 2.52 Bn in 2018. Globally, the water consumption rate has increased drastically as the population is growing across the globe. It is essential to provide pure and clean water to the people in order to maintain good health and avoid spread of any infections or disease. This primarily drives the demand for water softening systems as these systems reduces the levels of harmful minerals from the water and supply pure water that can be consumed without any harm.
Furthermore, along with consumption of water in residential sector, increasing number of industrial and commercial activities and related water utilization is also increasing adoption of water softening systems. Rapid developments in the industries such pharmaceutical and healthcare, food and beverages, semiconductors and so on have created demand for ultra-pure water which is expected to fuel the growth of water softening system market over the forecast period.
Moreover, innovations in the water treatment techniques and emergence of automation in water treatment and softening process is also propelling the growth of this market. However, presence of substitute water treatment techniques, and lack of awareness in developing and underdeveloped countries is likely to hamper the market growth during the forecast period.
Market Synopsis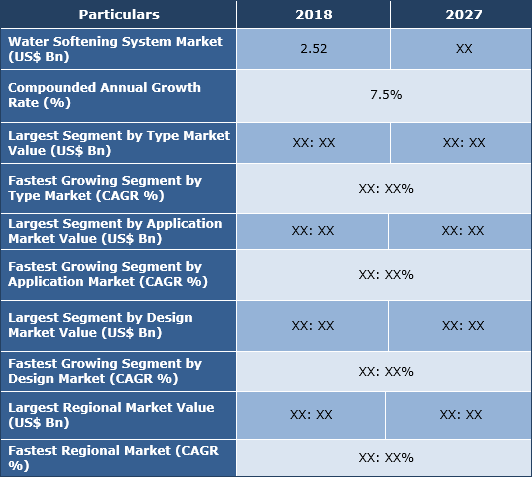 Get a sample copy for more information
"Salt free water softening system is expected witness a significant growth in coming years"
Based on type, the water softening systems market is segmented into salt-free and salt-based systems. The salt-free water softening systems are largely adopted as they are less expensive and more effective when it comes to purifying and supplying quality water. These systems do not use any chemicals or hard agents to soften the water and are easy to install and maintain in a long run. This is increasing the demand for salt-free systems and thus fueling the growth of this market. Based on application, the water softener systems are largely being used in residential sector. As these systems reduce corrosion of pipes and there is high requirement of pure water in homes compared to industries, this end use segment is experiencing a rapid growth.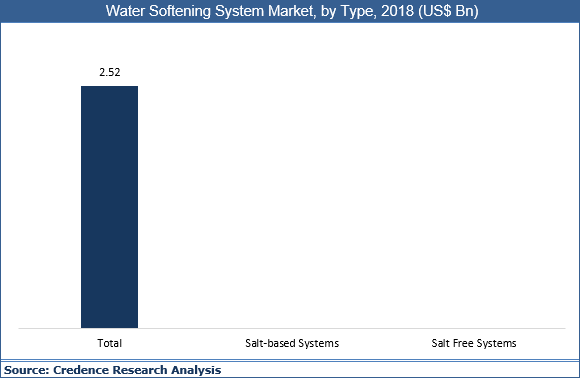 Get a sample copy for more information
"North America to dominate the Water Softening System Market"
In the global water softening system market, North America held the largest market share in 2018. This is primarily based on rapid developments of industrial sector, which enhanced the demand for water in this regional segment. Moreover, companies based in US and Canada are developing new technologies to develop the existing water treatment techniques. However, Asia-Pacific is expected to exhibit a rapid growth during the forecast period, as the demand for pure water is high in this region. Increasing awareness about water processing and growing need for providing clean water is fueling the growth of this regional segment. Also, rapid industrialization and growth in the residential sector is also driving the growth of water softening system market in this region.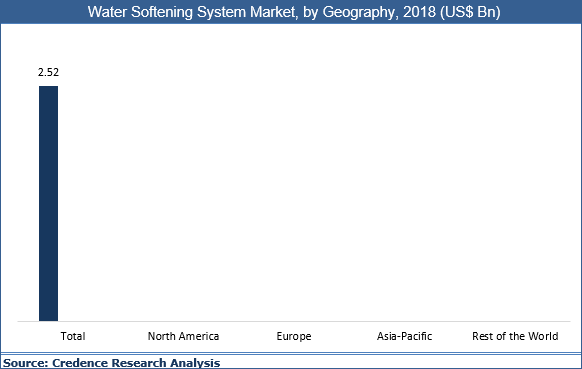 Get a sample copy for more information
Some of the prominent players operating in the water softening system market include Culligan International Company, EcoWater Systems LLC, Kinetico Incorporated, Envicare Technologies Pvt. Ltd., Hydroflux Marketing Pte. Ltd., Wychwood Water Systems Ltd., Pelican Water Systems, Harvey Water Softeners Ltd., Marlo Incorporated, and BWT AG, among others.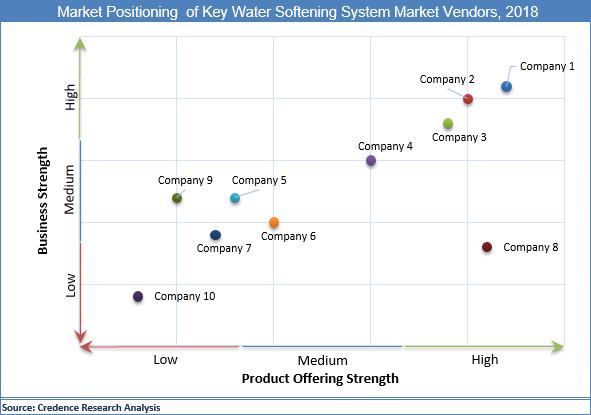 Historical & Forecast Period
This research report presents the analysis of each segment from 2017 to 2027 considering 2018 as the base year for the research. Compounded Annual Growth Rate (CAGR) for each respective segments calculated for the forecast period from 2019 to 2027.
Report Scope by Segments
The water softening system market report provides market size and estimates based on market dynamics and key trends observed in the industry. The report provides a holistic view of global water softening system market based on type, application, design and geography. Key segments covered in the report are as follows:
ATTRIBUTE
DETAILS
Research Period
2017-2027
Base Year
2018
Forecast Period
2019-2027
Historical Year
2017
Unit
USD Billion
Segmentation

Type Segment (2017–2027; US$ Bn)
• Salt-based
• Salt Free

Application Segment (2017–2027; US$ Bn)
• Residential
• Industrial
• Commercial

Design Segment (2017–2027; US$ Bn)
• Mono cylinder
• Twin Cylinder
• Multi cylinder

Geography Segment (2017–2027; US$ Bn)
• North America (U.S., Rest of North America)
• Europe (U.K., Germany, France, Rest of Europe)
• Asia Pacific (China, Japan, India, Rest of Asia Pacific)
• Rest of the World (Middle East & Africa, Latin America)
Key questions answered in this report
What was the market size of water softening system in 2018 and forecast up to 2027?
Which is the largest regional market for salt-free system segment?
What are the major trends followed in water softening system market across different regions?
Who are the key water softening system companies leading the market?
What are the key strategies adopted by the leading water softening system companies in market?
Unique data points of this report
Statistics on water softening system penetration and spending worldwide
Recent trends across different regions in terms of adoption of water softening system for various applications in various industries
Notable developments going on in water softening system industry
Attractive investment proposition for segments as well as geography
Comparative scenario for all the segments for years 2018 (actual) and 2027 (forecast)