Key Market Insights
"Rising demand for eco-friendly packaged products will boost the market"
The global water-soluble packaging market is growing competently, expected to grow at a CAGR of 4.8% during the estimated period from 2019 to 2027, starting from US$ 2.3 Bn in 2018.
The plastic used for packaging products is a considered as loss for the economy only after a single-use. According to the report of World Economic Forum 2016, 95% of the plastic used in packaging material, values for about $80-$120 billion annually is considered as waste for an economy only after one-time use. The report also suggests that nearly 8 tons of plastic are being discharged into the oceans. The aforesaid reasons will drive the water-soluble packaging market during the forecasted period. Moreover, efforts are taken by various companies to reduce plastic waste used in packaging also contributes to the growth of the market. For instance, Unilever has implemented The Unilever Sustainable Living Plan (USLP). USLP aims to reduce environmental impact by half. Procter & Gamble declared sustainability through a 30% reduction in plastic packaging in fabric care products.
The rising inclination of consumers towards recycled products is boosting the market. For instance, according to a research study and news during 2018 49% of the UK consumers preferred products made from recycled plastic and 72% preferred products that are packaged with recycled plastic.
Market Synopsis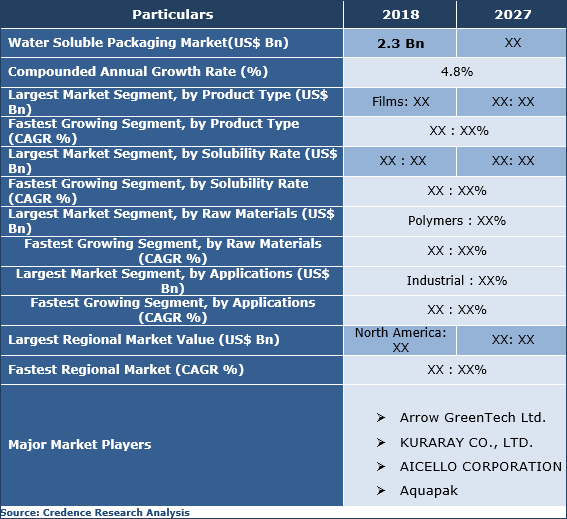 Get a sample copy for more information
Application Analysis
"Reduction of waste generation among industries worldwide will spark market growth"
The application segment is subdivided into industrial, residential and others. Industrial segment records to hold an utmost position in 2018. Industries are focusing to reduce plastic consumption to make the manufacturing process sustainable. Various initiatives by the government to reduce the consumption of plastic is a prominent factor driving the growth of the industrial segment. Various food industries started using edible and soluble packaging for their products. According to the report of World Economic Forum 2016, 8 million plastic is disposed into oceans every year, to elucidate the above problem detergent industries also commenced using water-soluble packaging.
"The growing government initiatives worldwide will boost the industrial segment"
The industrial segment will grow with the fastest CAGR owing to increasing government initiatives such as, in January 2019, a broadcasting company Sky has joined UK government. This collaboration aims to provide funds to start-ups that are devoting the plastic crisis. Moreover, government initiatives to ban single-use plastic is one of the key factor propelling the growth of the market. For instance, in March 2018, the government of Maharashtra (India) declared a ban on the use of plastic.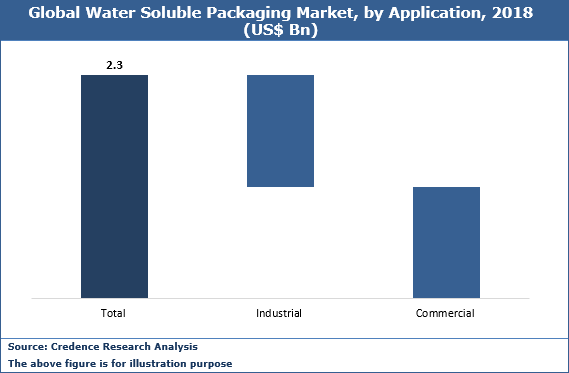 Get a sample copy for more information
Regional Analysis
"Dominance is led by the development of new products."
In 2018, North America led the water-soluble packaging market, increase awareness of the people towards the ill effects of plastic and environmental sustainability. Moreover, involvement of government to reduce plastic waste is pushing manufacturers to produce and use soluble plastic which one of the key factors driving the market. For instance, in May 2019, California government passed an act for reduction of plastic waste in the region. The California Circular Economy and Plastic Pollution Reduction Act, Act aims to reduce 75% of the waste generated from the single-use packaging products by 2030.
Major manufacturers in the North America region are developing new water-soluble plastic packaging and expanding their reach globally. The aforesaid reasons also contributing the growth of the market within the region.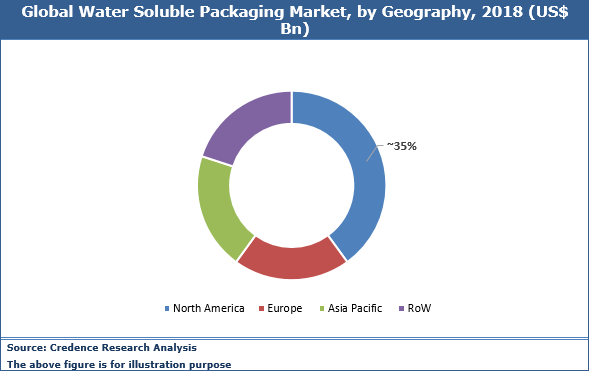 Get a sample copy for more information
List of Companies Covered:
Lithey Inc.
Mondi
KURARAY CO., LTD.
AICELLO CORPORATION
Aquapak
PACKSPEC
Watson Inc.
Arrow GreenTech Ltd.
Sekisui Specialty Chemicals America.
PRODOTTI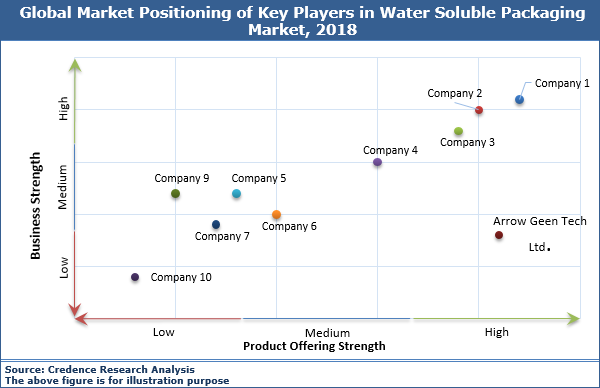 Key Industry Developments:
In January 2020, Aquapak launched hot-water soluble polymer. The hot-water soluble is made from polyvinylalchol by using the latest technology. The hot-water soluble bag is non-toxic and marine-safe.
In August 2017, Mondi launched a new water-soluble film. Mondi water-soluble film is designed for packing of powder, granules and tablets. Mondi's water-soluble film provides multiple layers of protection.
Historical & Forecast Period
This study report represents analysis for each segment from 2017 to 2027 considering 2018 to be the base year. Compounded Annual Growth Rate (CAGR) for each of the respective segments estimated for the forecast period from 2019 to 2027.
Market Segmentation
ATTRIBUTE
DETAILS
Research Period
2017-2027
Base Year
2018
Forecast Period
2019-2027
Historical Year
2017
Unit
USD Billion
Segmentation

Product Type (2017–2027; US$ Bn)
• Pouches
• Bags
• Films
• Others (Capsules and Pods)

Solubility Type (2017–2027; US$ Bn)
• Hot Water Soluble
• Cold Water Soluble
• Others

Raw Material (2017–2027; US$ Bn)
• Fibers
• Polymers
• Surfactants

Applications (2017–2027; US$ Bn)
• Industrial
• Residential

Geography (2017–2027; US$ Bn)
• North America (U.S., Canada)
• Europe (U.K., Germany, Spain, Italy, Rest of Europe)
• Asia Pacific (Japan, China, India, Rest of Asia Pacific)
• Rest of the World (Latin America, Middle East & Africa)
The current report also comprehends qualitative and qualitative market valuation factors such as key market drivers, market trends, restraints and opportunities that give a better market understanding of the overall water-soluble packaging market. Additionally, the global report also comprises graphical representation of competitive landscape based on their market initiatives and strategies, product portfolio and business strengths.
Key questions answered in this report
What are the current market trends and dynamics in the water-soluble packaging market and valuable opportunities for emerging players?
Which segment accounts for the fastest CAGR during the forecast period?
Which product type segment holds a larger market share and why?
Are low and middle-income economies investing in the water-soluble packaging market?
What is the market trend and dynamics in emerging markets such as Asia Pacific, Latin America, and Middle East & Africa?