Industry Outlook
Wood chipper machines market to grow and registered global market value of US$ 302.4 Mn in 2017 and anticipated to exhibit a growth with a CAGR of 2.3% from 2018 to 2026. Wood chipper machine or wood chipper reduce tree trunks and small branches into smaller woodchips and sawdust. The chips are extensively used paper and pulp industries, wood recycling and numerous other manufacturing processes. Besides, wood chipper machines are used by professionals including arborists (tree surgeons), landscapers, and gardeners. Wood chipper machine provides an environmental friendly and clean way to dispose of forest, agricultural, parks and garden wastes. Furthermore, use of wood chipper machines in construction industries, furniture making and cleaning-up of streets after natural calamities are boosting the demand for efficient and heavy duty wood chipper machines.
Market Synopsis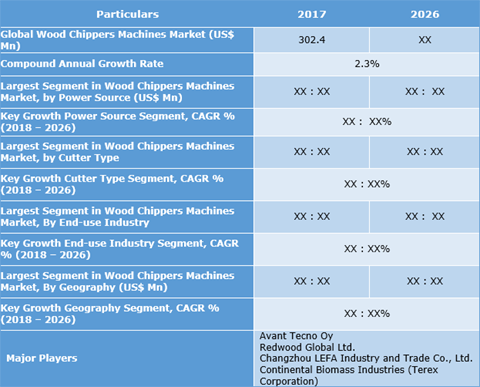 Get a sample copy for more information
"Electric Motors to Claims Share from IC Engines During the Forecast Period from 2018 to 2026"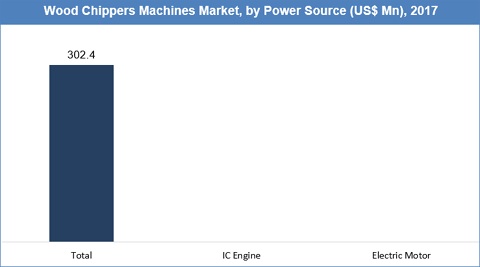 Get a sample copy for more information
In 2017, IC engine powered wood chipper machines lead the overall market in terms of market value. Most of the wood chipper machines are powered by IC engines and are available from 1 HP to 1,000 HP. Standalone wood chipper machines with hydraulic cranes are also used for heavy-duty applications such as timber processing and sawmills. However, factors such as environmental concerns, rising fuel prices and maintenance cost associated with IC engines are stimulating consumers to shift towards electric wood chipper machines. Electric motor is an efficient and environment friendly power source for wood chipper machines with a wide range of availability and power ranges. Owing to the merits over IC engine wood chippers, electric wood chipper machines are expected to claim a considerable share in the overall wood chipper machines market during the forecast period from 2018 to 2026.
"Drum Wood Chipper Machines used for Heavy Duty Applications lead the segment by Cutter Type"
In 2017, drum type wood chipper machines held the largest market share in the overall wood chipper machines market across globe. Heavy industries such as paper & pulp industries, forestry & biomass, and construction often prefer drum wood chipper machines because of high operational speed and efficient wood chipping in desired sizes. However, drum wood chipper are associated with some safety concerns and to avoid mishaps should br provided with proper safety measures. Disc type wood chipper machines trail drum type in terms of market value. The disc wood chipper machines are generally used for making of furniture and particleboards.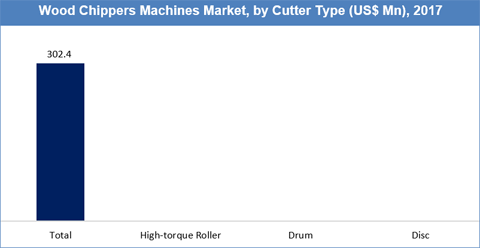 Get a sample copy for more information
"Growing Paper & Pulp Industry Portrayed North America as the Largest Market for Wood Chipper Machines in 2017"
Presence of vast number of paper & pulp industries, construction industries, forestry & biomass and timber factories & sawmills have encouraged the sales of wood chipper machines across the region. In addition, procurement by local municipal corporation in order to clear debris and fallen trees after natural calamities have supported the sales of wood chipper machines in this region. Europe is ranked second to North America and is expected to show similar growth trend with more than 40% of the total land area covered under forest. Optimistic growth in forest area provides ideal growth opportunities for wood chipper machines market.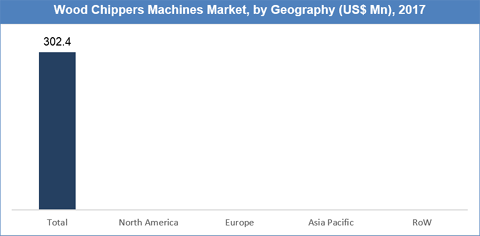 ATTRIBUTE
DETAILS
Research Period
2016-2026
Base Year
2017
Forecast Period
2018-2026
Historical Year
2016
Unit
USD Million
Segmentation

By Power Source (2016–2026; US$ Mn)
• IC Engine
• Electric Motor

By Cutter Type (2016–2026; US$ Mn)
• High-torque Roller
• Drum
• Disc

By End-use Industry (2016–2026; US$ Mn)
• Forestry and Biomass
• Paper and Pulp
• Timber Factories & Sawmills
• Construction
• Others (Landfilling, Landscaping, Furniture, etc.)

Geography Segment (2016–2026; US$ Mn)
• North America (U.S., Rest of North America)
• Europe (U.K., Germany, France, Rest of Europe)
• Asia Pacific (China, Japan, India, Rest of APAC)
• Rest of the World (Latin America, Middle East and Africa (MEA)
"Stiff Competition to Keep Major Wood Chipper Machine Manufacturers on their Toes"
Overall wood chipper machines market is highly competitive in nature characterized by several local as well as international players including Avant Tecno Oy, Redwood Global Ltd., Changzhou LEFA Industry and Trade Co., Ltd., Continental Biomass Industries (Terex Corporation), EMB MFG, INC., Trelan Manufacturing., UNTHA shredding technology GmbH, Salsco, Inc., Laitilan Metalli Laine Oy, Vermeer Corporation., Teknamotor Company, and Bandit Industries, Inc. Leading wood chipper machines manufacturers are continuously engaged in new product development offering high efficiency and more safety features. Manufacturers are providing extended warranties and dedicated backup and support to attract customers and expand their sales. Making long-term partnerships with municipal corporations, local contractors, arboricultural contractor, tree surgeons and forest department is another vital strategy adopted by wood chipper machine manufacturers to stay competitive in this fragmented market.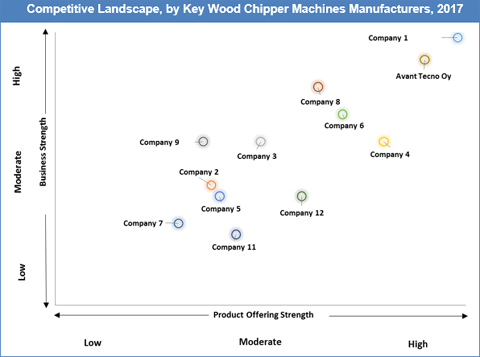 Key questions answered in this report
What are the latest market trends in the wood chipper machines market and valuable opportunities for the players?
How long-term agreements and partnerships with government agencies affect the global as well as regional wood chipper machines market?
Which are the prominent range of products that are manufactured by the key players?
Which is Largent and fastest growing segment in terms of power source, cutter type, and end-use industries?
Which is the most attractive geographical region/country for overall wood chipper machines market?
What is the market size and trend in developing markets such as Asia Pacific, Middle East & Africa and Latin America?