"Rapidly Transforming Investment Landscape to Stimulate the Demand for Alternative Data Market"
Alternative data market surpassed the market value of US$ 200 Mn in 2017, with an immense CAGR during the forecast period from 2018 to 2026. Essentially directed by North America, alternative data market majorly driven by its early adoption across different industry verticals. Any useful information that is not from financial statement classified as alternative data. Evolving consumer behavior and post-recession economy have created new market opportunity and necessity to reach consumers in ways that are more sophisticated. Greenwich Associates study of asset managers accounted that 90% of asset managers that are analyzing alternative data are witnessing return on their investment. To gain strategic advantage over competitors, organizations are widely adopting such modern way of data analysis for asset management. For instance, in May 2017, JPMorgan group stated the widespread agreement for vital importance of alternative data in transforming the investment landscape. Similarly, in October 2017 Deloitte published report announcing, firms that do not integrate alternative data into their investment process will be at risk of being strategic disadvantage.
Market Synopsis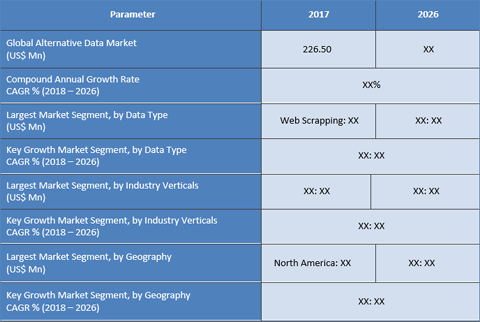 Get a sample copy for more information
"Web Scrapping Data Segment to Cement its Dominance in Alternative Data Market"
Web scrapping segment represented lion share in overall alternative data market value generated worldwide. Web scrapping data is frequently used to track e-commerce activities, public commentary, press releases, changes in corporate websites and government filings. Increasing competition across alternative data providers, demand for improved quality of data and rising outsourcing of web scrapping in order to effectively use of resources expected to surge the demand for web scrapping data. However, organizations utilizing web scrapping are constrained by associated compliance risk due to ever-growing regulations associated with practice aiming private data security. However, steady growth of web scrapping data is credited to practice of financial firms to calculate potential risks as well as the legal costs associated with web scrapping.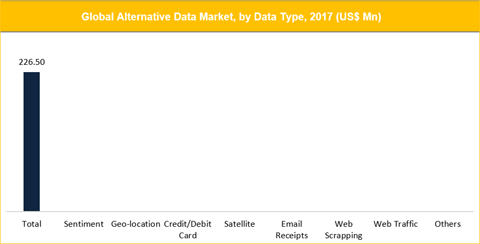 Get a sample copy for more information
"Early Adoption of Alternative Data for Investment Management to Ensure Dominating Position of North America Market"
Presently, North America is the front-runner of the overall alternative data market closely followed by the Europe. The U.S. with robust reliance on big data across the nation primarily drives the market here. According to Tabb Group, hedge funds based on alternative data account for 27% of overall U.S. stock trades by investors and these firms are closely searching for more effective and innovative sources of data. For instance, corporate jet tracks demonstrated the ability to predict investment decisions by tracking corporate aircraft activities. As alternative data continue to play vital role in investment decisions, the U.S. Securities and Exchange Commission (SEC) ensuring fair efficient markets in the changing financial landscape. Alternative data market here enjoys wide data protection under U.S. privacy and data security laws, while public personal information such as non-confidential information with non-intimate nature readily used. Furthermore, Asia Pacific accounted to witness higher growth rate throughout the forecast period. Steadily improving economy expected to drive the market here. The Organization for Economic Cooperation & Development Privacy Principles and the Asia Pacific Economic Corporation Privacy Framework serves as guide for fund managers to structure their data privacy policies.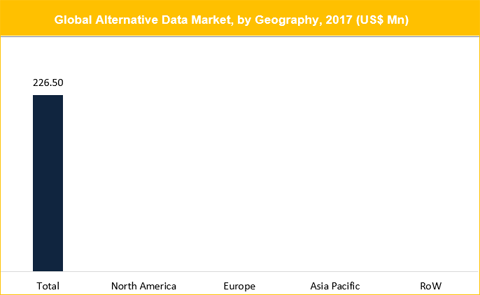 Get a sample copy for more information
"Outsourcing of Data Management to Remain Key Opportunity for Alternative Data Providers"
Alternative data market is moderately competitive in nature with presence of both domestic as well as international players. Maintaining significant amount of data in organized form is necessary to stimulate the rise of alternative data and analytics. In search of solution to manage data efficiently and effectively, organizations are outsourcing alternative data management services. Thus, growth of alternative data market along with trend of outsourcing services have created vital opportunity for market players. Key players of global alternative data market include Eagle Alpha Ltd., YipitData, 7Park Data, Inc., M Science LLC, App Annie Inc., Talkingdata, The nPD Group, Inc., 1010Data, Inc., Genscape, Inc., JWN Energy, Geotab Inc., Jumpshot, SimilarWeb Ltd., Quandl Inc., Convergence Inc. and others.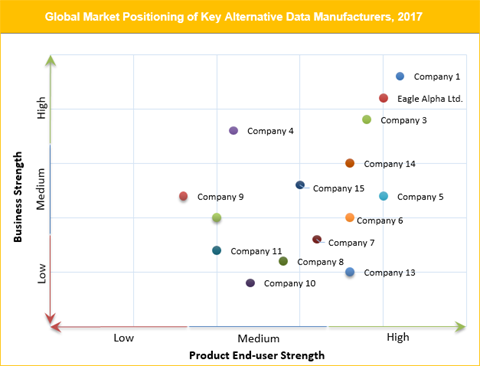 Historical & Forecast Period
This research report presents the analysis of each segment from 2016 to 2026 considering 2017 as the base year for the research. Compounded Annual Growth Rate (CAGR) for each respective segments calculated for the forecast period from 2018 to 2026.
Report Scope by Segments
Alternative data market report provides market size and estimates based on market dynamics and key trends observed in the industry. The report provides a holistic view of global alternative data market based on data type, industry Verticals and geography. Key segments covered in the report are as follows:
ATTRIBUTE
DETAILS
Research Period
2016-2026
Base Year
2017
Forecast Period
2018-2026
Historical Year
2016
Unit
USD Million
Segmentation

Data type Segment (2016–2026; US$ Mn)
• Sentiment Data
• Geo-location Data
• Credit/Debit Card Data
• Satellite Data
• Email Receipts
• Web Scrapping
• Web Traffic
• Others (Business Insights, Public Sector, Supply Chain Data, App Usage etc.)

Industry Vertical Segment (2016–2026; US$ Mn)
• Automotive
• Retail Market
• Energy
• IT & Telecommunications
• Transportation & Logistics
• Others (Travels, Real Estate etc.)

Geography Segment (2016–2026; US$ Mn)
• North America (U.S. and Rest of North America)
• Europe (U.K., Germany, France, and Rest of Europe)
• Asia Pacific (Japan, China, India, and Rest of Asia Pacific)
• Rest of World (Middle East & Africa (MEA), Latin America)
Key questions answered in this report
What was the market size of alternative data in 2017 and forecast up to 2026?
Which is largest regional market for alternative data?
What are the key market trends observed in the alternative data market and outlook for financial investment sector?
Which are the most promising data type and industry verticals in alternative data market?
Who are the key players leading the market?
What are the key strategies adopted by the leading players in market?
What are the key application industry trends across different geographies and sub-geographies?