Steel is being used as stamping among automakers globally, to achieve desired strength standards along with safety of vehicles at lower costs. The metallurgical designation of vehicles incorporates the use of low-strength steels, conventional high strength steel (HSS) and the new advanced high strength steel (AHSS). Emphasis on reduction of greenhouse gas as well as enhancing the fuel efficiency among the transportation industry has led to development of high strength steel with improved features such as formability and crash worthiness (performance of vehicles in protecting its occupants in terms of crash). There is increased use of advanced high strength steel owing to its excellent mechanical properties such as higher strain hardening capacity, toughness, ductility and fatigue properties. With the rapid adoption of steel, automotive manufacturers achieved certain standards of strength and safety of vehicles at lower costs.
There is increased demand of light weight steels among industry players in order to enhance the safety and fuel economy of vehicles. This has forced steel manufacturers to develop materials with properties such as manufacturability, durability, quality as well as costs. The development of AHSS (advanced high strength steel) has catered to the growing industry challenges of meeting strength for diverse performance of vehicle components. This growth of the market is also attributed to rapid need for reducing the vehicle mass by optimization of the vehicle designs and in turn enhancing the fuel efficiency. In addition to it, improved crash performance offered by the use of advanced high strength steel is another driving factor for the market. Regulations pertaining to pollutant emission limits of diesel and petrol vehicles as well as fuel economy standards to reduce energy consumption also surge the product demand and thereby drive the market. Growing car ownership and rising income levels imply strong growth potential in developing economies such as India and China. However, rising scope of aluminum in automobiles manufacturing owing to its light weightness and compliance to favorable regulatory environment is expected to hinder the global automotive steel market in coming years.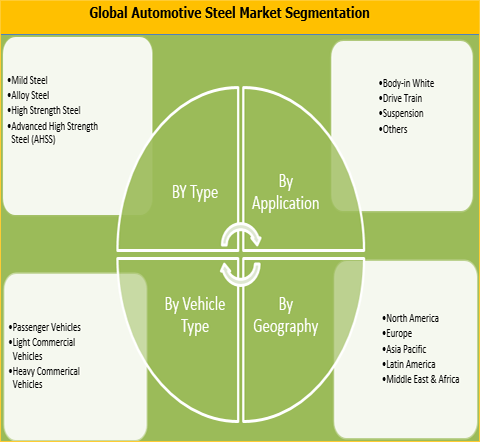 Geographically, Asia-Pacific, dominated the market in 2017 and is projected to continue its dominance during the forecast period on account of rising disposable income, new launches by original equipment manufacturers (OEM) as well as rising investments towards the development of infrastructure and growing need for commercial vehicles for transportation purposes. Additionally, increasing sales of low-priced cars which heavily incorporates steel and its components further propels the market growth. Apart from this, Europe and North America is expected to be the other major markets after Asia-Pacific owing to rapid industrialization, high urban population, improving GDP growth rate in countries such as U.S. and Canada, is projected to positively impact the automotive sector and in turn lead to increased steel demand. Latin America and Middle East and Africa are witnessing technological advancements as well as shift in consumer lifestyles which is bound to grow the market during the forecast period.
Some of the key players profiled in the market include include ArcelorMittal, United States Steel Corporation, Severstal, Baosteel, JFE Steel Corporation, Nippon Steel, POSCO, ThyssenKrupp, Hesteel Group and TimkenSteel.