Packaging films that prevent better and efficient permeation of water vapor, aroma, oxygen, water, light, gas, and flavor in the final product High barrier packaging films are referred to barrier packaging films. In food and beverage industry, barrier packaging owes significant adoption for encapsulation and thus, leads to major market share contribution in the overall packaging films market.
With increasing demand for technically advanced packaging material, barrier packaging is gaining significant adoption among pharmaceutical companies, food and beverage and consumer goods manufacturers. Among the different end users, demand for packaging or rather barrier packaging is witnessing increased adoption in food and beverage industry. This is majorly attributed to consumer awareness for healthy and safe product, long shelf-life, and product quality maintenance ensuring color, taste and freshness. There is extensive research going on development of barrier packaging for food and beverage, and pharmaceutical products.
Globally, barrier packaging market in Europe is expected to be largest in terms of value followed by Asia Pacific and North America. Increasing demand for convenience food and rising awareness of consumers regarding food products nutritional information has led food and beverage manufacturers to develop and focus on improving packaging of the food products. Also, barrier packaging film manufacturers are focused on development of multi-layer packaging films. This is attributed to demand for barrier particularly for vapor and gas contamination in food and pharmaceutical products. Asia Pacific is further anticipated to exhibit fastest CAGR during the forecast period, which is attributed to growing food and beverage industry in China and India leading towards demand for barrier packaging films.
Global barrier packaging market is expected to be valued at US$ 12.7 Bn by the end of 2023 and is projected to expand at a CAGR 5.1% during the forecast period 2016-2023.
Global Barrier Packaging Market: Segmentation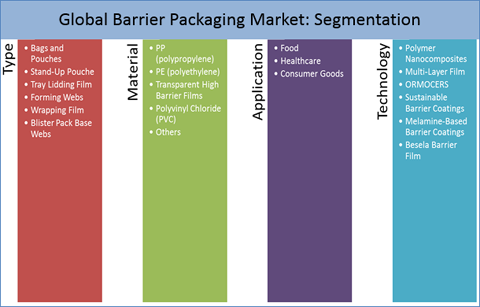 Purpose of the Report
The purpose of this strategic research study titled "Global barrier packaging market- Growth, Future Prospects, Competitive Analysis and Forecast, 2016 – 2023" is to provide company executives, industry investors, and industry participants with in-depth insights to enable them make informed strategic decisions regarding the opportunities in the global barrier packaging market.
Target Audience
Industry Investors
Research Professionals
Emerging Companies
Barrier packaging manufacturers
Oil & Gas exploration and production companies
Downstream & Midstream Companies
Research Institutes
USP and Key Offerings
The report titled "Global Barrier packaging Market- Growth, Future Prospects, Competitive Analysis and Forecast, 2016 – 2023" offers strategic insights into the barrier packaging market along with the market size and estimates for the duration 2013 to 2023. The said research study covers in-depth analysis of multiple market segments based on type, material, application, technology and cross-sectional study across different geographies. In order to help strategic decision makers, the report also includes competitive profiling of the leading barrier packaging manufacturers, their expansion strategies, market positioning, and latest developments. Other in-depth analyses provided in the report include:
Current and future market trends to validate the forthcoming attractive markets within packaging industry
Market fuelers, market impediments, and their impact on the market growth
In-depth competitive environment analysis
Trailing 3-Year market size data (2013 – 2015)
SRC (Segment-Region-Country) Analysis
Overall, the research study provides a holistic view of the global barrier packaging market growth, offering market size and estimates for the period from 2013 to 2023, keeping in mind the above mentioned factors.