Industry Outlook
As the global population is rapidly aging, the procedure rate of spinal surgeries is correspondingly increasing. The introduction of minimally invasive techniques in spinal surgery has also created scope for disposable kits and consumables. Growing incidence of healthcare associated infections is yet another factor contributing to growing demand for disposable instruments. These products are also high quality, while being cost efficient and adept at reducing the risk of acquiring infections. Disposable spinal instruments also reduce the costs linked with autoclave use for instrument sterilization; and also improve treatment outcomes with better patient care, quick recuperation time, less infection risk and efficient clinical management. Technological advancements in surgical treatments and introduction of disposable instruments have allowed better promote growth in adoption of such surgical interventions.
Market Synopsis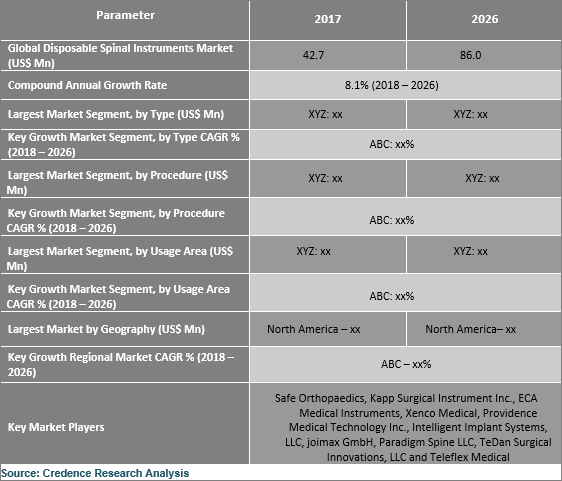 Get a sample copy for more information
"Kits segment to occupy the largest revenue share"
Based on the product types, the global disposable spinal instruments market is segmented into kits and pedicle screw systems, the kits segment further categorized into cervical kits and lumbar kits. Between these product types, the kits segment dominates the global market both in terms of revenue and volume. Due to the proven advantages of disposable instruments and the growing awareness among both surgeons and patients, the demand for kits shall be steadily growing. Cost efficiency over reusable kits and instruments additionally drives the market. The technologically advanced cervical and lumbar kits are also proven to be durable and safe therefore witnessing greater demand.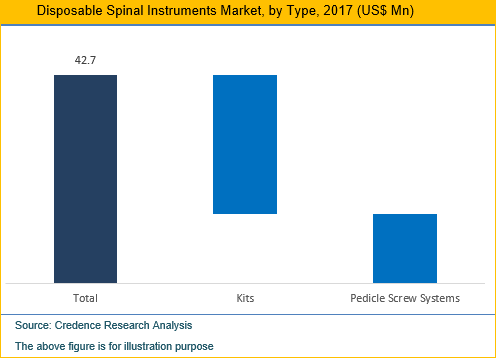 Get a sample copy for more information
"Spinal fusion to remain the largest application area throughout the forecast period"
The growth of disposable spinal instruments in spinal fusion procedure is majorly attributed to the increase in geriatric population and the corresponding growth in the incidence of spinal injuries and trauma in the general population. Another chief characteristic of this segment is the increasing number of indications where spinal fusion surgery is performed. Originally, spinal fusion was performed for spinal tuberculosis and scoliosis, which has now progressed to over conditions. Further improvement in reimbursements shall assist in augmenting the market growth. Conditions such as spinal stenosis are very common in the age group of 50 years and above. The geriatric population is also at a high risk of developing spinal ailments and comorbidities. Therefore, considering that by 2050, around 30.5% of the global population shall be over 65 years of age, the demand for spinal fusion and other such procedures shall consistently rise and therefore assist in market growth.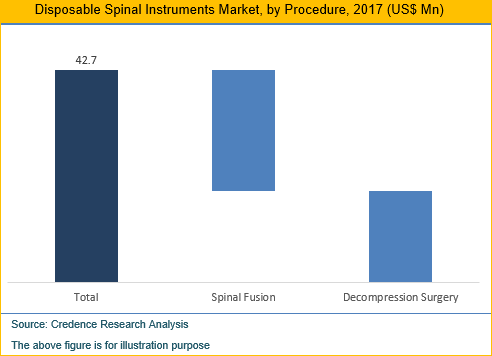 Get a sample copy for more information
"Significant market growth to be observed in ambulatory surgery centers segment"
Hospitals, ambulatory surgery centers and orthopedic centers are the usage areas where disposable spinal instruments are deployed. Among these, hospitals account for the largest share in the global market availability of better patient care facilities, presence of several transfer departments for patient convenience and better patient footfall are the key factors associated with the dominance of hospitals segments. On the other hand, ambulatory surgery centers and orthopedic centers will witness swift growth during the forecast period. the growth opportunities in these areas is significant, performing surgical procedures in ambulatory centers are reportedly more cost efficient in hospitals, and with growing reimbursements, the influx of patients in ambulatory surgery centers will correspondingly grow.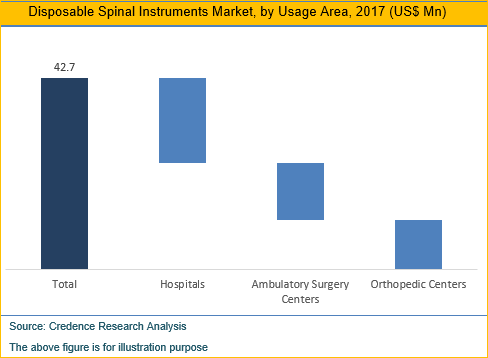 "North America shall continue to lead the global market"
Geographically, the global disposable spinal instruments market is segmented into North America, Europe, Asia Pacific, Latin America and Middle East & Africa. In the base year 2017, North America was the largest regional market for disposable spinal instruments, followed by Europe. Higher awareness and swift adoption of novel healthcare products contribute to the leading position of North America in the global market. Additionally, due to the presence of several untapped opportunities in the form of large potential patient base, improving skills of healthcare professionals, and rapidly evolving healthcare infrastructure, Asia Pacific market is estimated to progress at a rapid CAGR during the forecast period.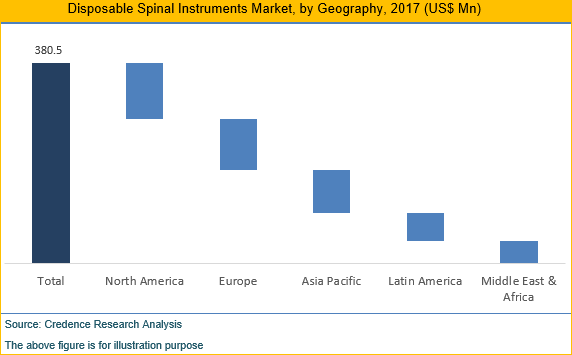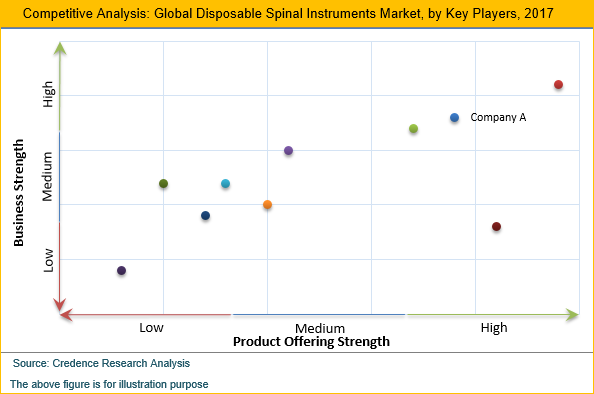 Historical & Forecast Period
This research report presents the analysis of each considered segment for the period from 2016 to 2026, having 2017 as the base year for estimations. Compounded annual growth rates (CAGRs) for each segment are calculated for the forecast period from 2018 to 2026.
Report Scope by Segments
The disposable spinal instruments market report provides quantitative assessment of the industry terms of current and forecasted market size, while also presenting the market dynamics. This market is segmented based on types, applications, and geography.
ATTRIBUTE
DETAILS
Research Period
2017-2027
Base Year
2018
Forecast Period
2019-2027
Historical Year
2017
Unit
USD Million
Segmentation

By Type (2016–2026; US$ Mn)
• Kits
o Cervical Kits
o Lumbar Kits
• Pedicle Screw Systems

By Procedures (2016–2026; US$ Mn)
• Spinal Fusion
• Decompression Surgery


By Usage Area (2016–2026; US$ Mn)
• Hospitals
• Ambulatory Surgery Centers
• Orthopedic Centers

Geography Segment (2016–2026; US$ Mn)
• North America (U.S., Canada)
• Europe (U.K., Germany, Italy, France, Spain, Rest of Europe)
• Asia Pacific (China, Japan, India, Australia, Rest of APAC)
• Latin America (Brazil, Mexico, Rest of Latin America)
• Middle East and Africa (GCC, South Africa, Rest of Middle East and Africa)
This report also includes company profiles section that gives insights on the company overview, product portfolio, financial information and key developments of major market players. The major players profiled in this report include Safe Orthopaedics, Kapp Surgical Instrument Inc., ECA Medical Instruments, Xenco Medical, Providence Medical Technology Inc., Intelligent Implant Systems, LLC, joimax GmbH, Paradigm Spine LLC, TeDan Surgical Innovations, LLC and Teleflex Medical.
Key questions answered in this report
What are the historical and projected market size of the global disposable spinal instruments market during the period from 2016 to 2026?
What are the major market drivers and challenges in the market that define the prevalent industrial trends?
Which are the key market factors that shall serve as potential opportunities to the existing and future market players?
Why the application of disposable instruments is significantly high in spinal fusion segment?
Which are the key market elements suggestive of the rapid growth of Asia Pacific market?