Standalone intraoral scanners are digital impression equipment used to scan the intraoral areas for dental treatment. These devices are based upon optical technologies such as laser and light emitting diodes (LED) which are used to scan the required intraoral portion. Standalone intraoral scanners are used to develop three-dimensional (3D) digital models which are highly precise and detailed. The scanned images/models are instantly available and are directly sent to the dental laboratory/chair-side CAD/CAM system. Standalone intraoral scanners are used in different dental applications including inlays, onlays, bridges, dentures and other orthodontic treatments. Since there is typically no contact between the patient's tooth and scanning device, these scanners offer comfortable and easy dental treatment as compared to the traditional techniques.
The standalone intraoral scanners market is largely driven by the numerous advantages of these scanners over traditional techniques. Using intraoral scanners nearly eliminates the need for repeated iterations in dental restorations. Digital intraoral scanning offers easy and accurate scanning with minimum efforts for both the dentist and patient. Additionally, the optical sources used in the scanning devices are safe and hence causes no harm to the patients. This is another factor fueling the adoption of these devices. Nevertheless, the high initial costs is major factor hindering the market growth. This is expected to subside with the declining prices of the scanners and alternatives such as lease payment options offered by the scanner vendors.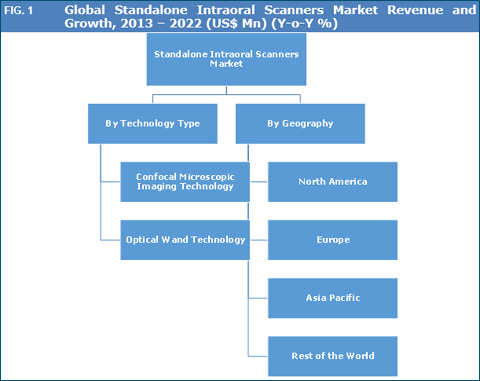 The report titled "Global Standalone Intraoral Scanners Market- Growth, Share, Opportunities and Competitive Analysis, 2015 – 2022" offers strategic insights into the global standalone intraoral scanners industry along with the market size and estimates for the duration 2013 to 2022. The said research study covers in-depth analysis of multiple market segments based on technology types and cross-sectional study across different geographies. The study covers the comparative analysis of different segments for the years 2014 & 2022. The report also provides a prolific view on market dynamics such as market drivers, restraints and opportunities.
In order to help strategic decision makers, the report also includes competitive profiling of the leading standalone intraoral scanner vendors, their SCOT (Strength, Challenges, Opportunities and Weaknesses) analysis, market positioning and key developments. Some of the major players profiled in the report are Sirona Dentals Systems, Inc., 3M ESPE, 3Shape A/S, Carestream Dental, Inc., Hint-Els GmbH, Densys3D Ltd., Align Technology, Inc., IOS Technologies, Inc., E4D Technologies, LLC., Planmeca Oy and others. Other in-depth analysis provided in the report includes:
Current and future market trends to justify the forthcoming attractive markets within the digital dentistry
Market fuelers, market impediments, and their impact on the market growth
In-depth competitive environment analysis
Trailing 2-Year market size data (2013 – 2014)
SRC (Segment-Region-Country) Analysis
Overall, the research study provides a holistic view of the global standalone intraoral scanners systems market, offering market size and estimates for the period from 2015 to 2022, keeping in mind the above mentioned factors.