Endobronchial Ultrasound (EBUS) Biopsy Devices Market to Exhibit Healthy Growth during the Forecast Period from 2018 to 2026
The global endobronchial ultrasound biopsy devices market accounted for a value of US$ 492.0 Mn in 2017 and expected to attain US$ 753.6 Mn by 2026. Worldwide growing elderly population coupled with increasing prevalence of respiratory diseases such as chronic obstructive pulmonary disease (COPD), lung cancer, pleural mesothelioma, and tuberculosis (TB) anticipated to foster the market growth over the forecast period. In addition, extensive technological developments in endobronchial ultrasound devices and rising patient preference for minimally invasive surgeries (MISs) expected to exhibit significant sales forecast in the near future. The World Health Organization (WHO) reported that global elderly population will surge from 841.0 Mn in 2013 to 962.3 million in 2017 to more than 2.0 Bn by 2050. The older population is more susceptible to develop respiratory diseases. As per the data published by World Cancer Research Fund (WCRF) International, currently, lung cancer caused 1.69 million deaths. According to the American Lung Association, presently, around 415,000 Americans are diagnosed with lung cancer. In 2016, about 224,390 new cases of lung cancer were diagnosed in America. In contrast, high cost of EBUS devices and the scarcity of reimbursement policies in few developing countries to limit the adoption of endobronchial ultrasound devices during the forecast period.
Market Synopsis
The EBUS-TBNA Systems & Needles Segment led the Market in 2017
The endobronchial ultrasound-guided transbronchial needle aspiration (EBUS-TBNA) systems & needles segment would continue the dominance during the forecast period owing to its rising use in staging lung cancer in malignant & benign tumors, sampling enlarged mediastinal lymph nodes, and diagnosing sarcoidosis or tuberculosis. On the other hand, the Others segment to register highest market growth from 2018 to 2026, which is attributed to its disposable nature and repetitive purchase of cleaning brushes, bite blocks, injection needles, and EBUS accessories.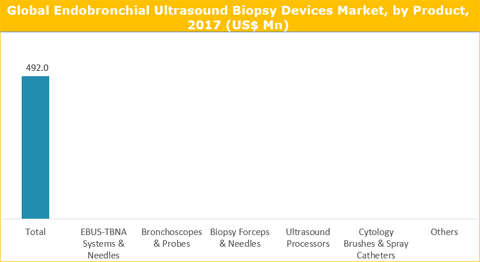 Based on Indication, Lung Cancer Diagnosis Segment forecast to Command the Market between 2018 and 2026
Among indication, the lung cancer diagnosis segment dominated the market due to extensive use of EBUS devices in diagnosing and staging lung cancer such as non-small cell lung cancer (NSCLC). EBUS is superior to other diagnostic modalities such as computed tomography (CT)-guided biopsy, positron emission tomography (PET) imaging, and pleural effusion cytology for detection and staging of lung cancer.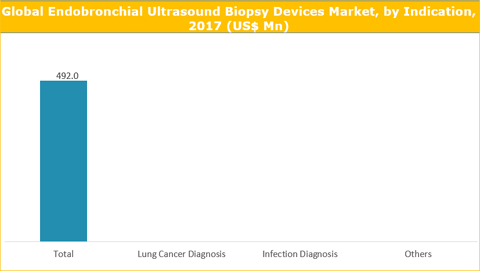 Hospitals Segment Contributes Maximum to the Overall Growth of Endobronchial Ultrasound Biopsy Devices Market
A gradual rise in the number of government & private hospitals in emerging countries such as China & India coupled with increase in the number of EBUS procedures performed in hospitals is assisting in the dominance of the hospitals' segment. In terms of value, the U.S. is holding large chunk of the market; however, diminishing number of hospitals in recent years is limiting the market growth. Ambulatory surgery centers (ASCs) likely to witness highest market growth during the next nine years as ASCs can enhance quality and customer service while concurrently reducing costs, and same day discharge after the treatment has resulted into the gradual rise in the number of EBUS procedures. Ambulatory surgery centers industry established itself to be ahead of the curve in identifying promising avenues for improving the healthcare delivery that is fostering this profitable market growth.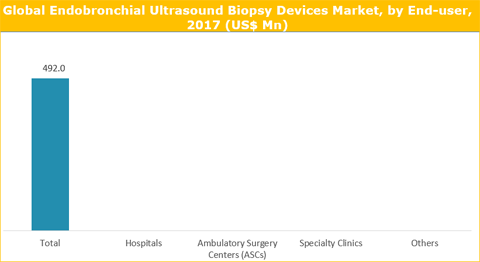 North America Holds Dominant Position Attributed to Higher Demand for Advanced Diagnostic Techniques in Gastroenterology, Pulmonology, and Oncology
North America led the market in 2017 due to the presence of major market participants, rising prevalence of lung cancer, and availability of advanced diagnostic techniques in the U.S. and Canada. Asia Pacific expected to exhibit lucrative sales forecast during the forecast period attributed to rising prevalence of lung cancer & COPD, increasing medical tourism and low manufacturing costs of medical devices in India and China. Additionally, the presence of medical imaging giants such as Olympus Corporation and FUJIFILM Corporation in Japan are significantly contributing to the regional market growth.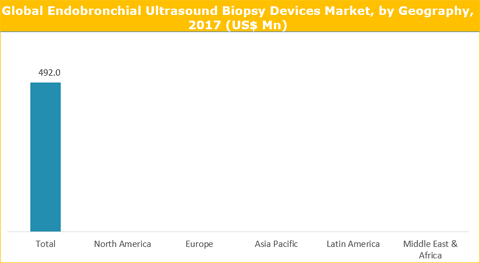 The Presence of Multinational Market Participants Makes Market Penetration Challenging for New Entrants
Major players in this space are Medtronic plc; Boston Scientific Corporation; Olympus Corporation; FUJIFILM Corporation; Cook Medical; CONMED Corporation; Medi-Globe GmbH; Veran Medical Technologies; and PENTAX Medical. These companies are adopting organic & inorganic growth strategies including new product launches, mergers & acquisitions, partnerships, collaborations in order to gain a competitive advantage. Market participants are establishing their position in the market and relishing brand loyalty amid customers. New market entrants are facing tough rivalry from established multinational players as they struggle with technological innovations or developments, product reliability, quality issues, and post-sale services.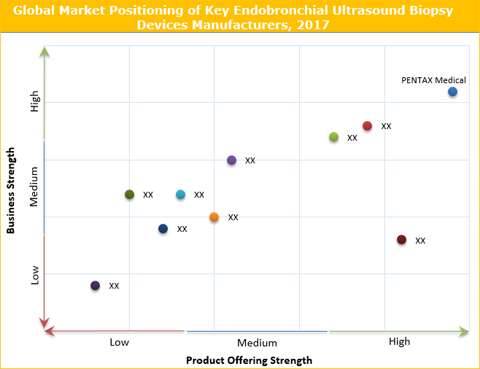 Historical & Forecast Period
2016 — Historical Year
2017 — Base Year
2018–2026 — Forecast Period
This study report represents analysis for each segment from 2016 to 2026 considering 2017 to be the base year. Compounded Annual Growth Rate (CAGR) for each of the respective segments estimated for the forecast period from 2018 to 2026.
Report Scope by Segments
Endobronchial ultrasound biopsy devices market covers qualitative analysis of current market dynamics & quantitative analysis of the global market. The report entails comprehensive information of global endobronchial ultrasound biopsy devices market by segmenting the market based on product, indication, end-user, and geography. This report will guide industry investors & associations, medical device vertical players, research & consulting firms, venture capitalists, and healthcare professionals (HCPs) in decision-making and strategizing the market position.
Product Segment (2016–2026; US$ Mn)
EBUS-TBNA Systems & Needles
Bronchoscopes & Probes
Ultrasound Processors
Biopsy Forceps & Needles
Cytology Brushes & Spray Catheters
Others (cleaning brushes, bite blocks, injection needles, and EBUS accessories)
Indication Segment (2016–2026; US$ Mn)
Lung Cancer Diagnosis
Infection Diagnosis
Others (mediastinal lesions, peripheral pulmonary nodules evaluation, and various interventions)
End-user Segment (2016–2026; US$ Mn)
Hospitals
Ambulatory Surgery Centers (ASCs)
Specialty Clinics
Others (diagnostic centers and research & academic institutes)
Geography Segment (2016–2026; US$ Mn)
North America
Europe

U.K.
Germany
Rest of Europe

Asia Pacific

Japan
China
Rest of Asia Pacific

Latin America

Brazil
Mexico
Rest of Latin America

Middle East & Africa

GCC
Rest of Middle East & Africa
The current report also encompasses qualitative analysis of market variables such as key market drivers, restraints, opportunities, and trends that provide better market information of the entire endobronchial ultrasound biopsy devices market. In addition, the report also encompasses graphical representation of competitive landscape based on their market initiatives & strategies, product portfolio, financial information, and key developments. Major market participants profiled in the study report are Medtronic plc; Olympus Corporation; Boston Scientific Corporation; Cook Medical; CONMED Corporation; Medi-Globe GmbH; Veran Medical Technologies; FUJIFILM Corporation; and PENTAX Medical.
Key questions answered in this report
What are the current market trends and dynamics in the endobronchial ultrasound biopsy devices market and valuable opportunities for emerging players?
Which product contributes to the maximum market share?
Which product accounts for the fastest CAGR during the forecast period?
Which indication held the major market share in 2017?
Which indication would be the fastest segment during the forecast period?
Which end-user holds a larger market share and why?
What is the impact of high cost EBUS devices on the market?
Are low and middle-income economies investing in the endobronchial ultrasound biopsy devices?
What is the market trend and dynamics in emerging markets such as Latin America, and Middle East & Africa?