Industry Outlook
Urology devices market accounted for a market value of US$ 31,647.8 Mn in 2017 and projected to grow at a CAGR of 6.7% during the forecast period from 2018 to 2026. Urology diseases are one of the most varied and common type of diseases found in all age groups. According to the World Health Organization (WHO), urinary tract infection (UTI) is one of the most prevalent diseases affecting around 150 million people every year. In women lifetime risk of developing urinary tract infection is 60% while in men the risk is mere 13%. Overall diagnosis and treatment rate of urological diseases is gradually increasing with increasing awareness in developing & under developed countries. The extended reach of companies and penetration of government initiative & supportive policies has assisted the significant growth of overall urology devices market in developing & under developed countries from Asia Pacific, South America, & Africa.
Market Synopsis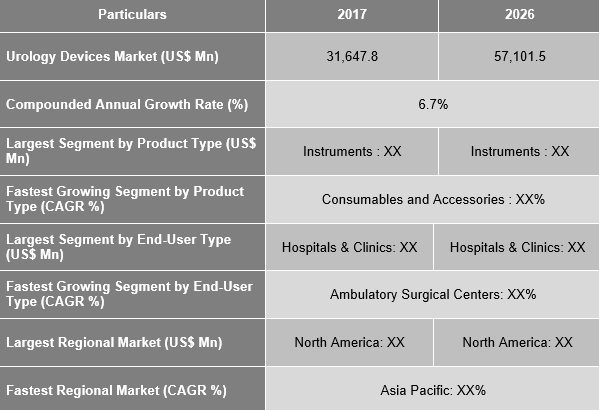 Get a sample copy for more information
"Increasing prevalence and awareness related to urology infections in developed and developing countries assisting the demand for urology diagnostics & treatment devices market"
In year 2017, instrument identified as the largest segment in urology devices market due to high prices compared to consumables and accessories, and increasing prevalence and awareness related to urology infections. Endoscopes and lasers & lithotripsy devices dominated the instruments segment, as these devices have wide range of applications in diagnosis as well as treatment of urological diseases. However, antibiotic resistance is also one of the major complication observed in bacterial infections affecting urinary system. In these cases, drugs and devices used in combination to deliver desired therapeutic effect.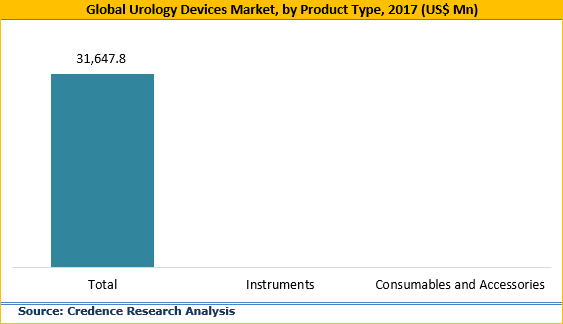 Get a sample copy for more information
"Rising awareness related to early disease diagnosis and improving adoption of novel diagnostic & therapeutic technologies against urology diseases in Asia Pacific would aid the market growth"
In 2017, North America identified as the largest urology devices market due to increasing prevalence of prostate & kidney cancer, urinary incontinence, & pediatric urologic diseases, developed diagnostic infrastructure, and incessant development in the field of urology devices. According to UCLA Health, urologic diseases such as urinary tract infections, kidney stones, and prostate cancer have a major economic burden on Americans, with huge health care costs of around $40 billion annually. During the forecast period from 2018 to 2026, Asia Pacific expected to be the fastest growing market for urology devices due to key factors such as rising prevalence & awareness related to the urological diseases, developing healthcare infrastructure & economic development, and supportive healthcare policies structured by government agencies. The ongoing development in the diagnostic infrastructure specifically in developing countries has increased the overall rate of prevalence & treatment and expected to grow in the near future.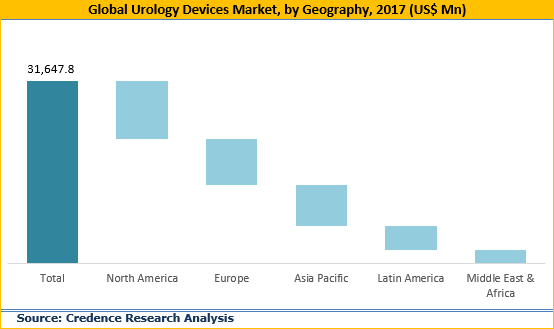 Get a sample copy for more information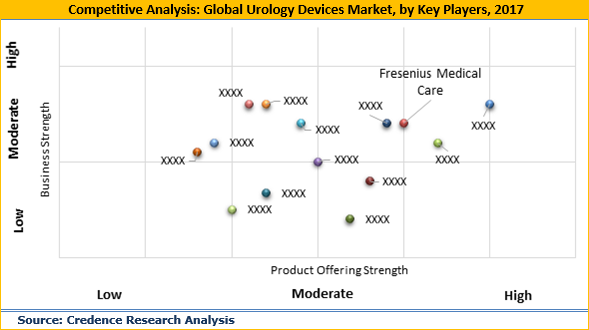 Historical & Forecast Period
The urology devices market analyzed considering current market trends for base year 2017 and based on future trends CAGRs calculated for the forecast period from 2018 to 2026.
Report Scope by Segments
This report on urology devices market provides an in-depth analysis specific to market dynamics such as drivers, restraints & opportunities that have prominent effect on the global and regional market. The report also covers comprehensive details of the global urology devices market segmented based on product type, end-users, and geography. The objective of publishing this syndicate research report is to aid the industry stakeholders to understand the current & future market scenario to strategize and implement policies.
ATTRIBUTE
DETAILS
Research Period
2017-2027
Base Year
2018
Forecast Period
2019-2027
Historical Year
2017
Unit
USD Million
Segmentation

Product Type Segment (2016–2026; US$ Mn)
• Instruments
o Endoscopes
o Dialysis Devices
o Peripheral Instruments
o Lasers & Lithotripsy Devices
o Robotic Systems
o Endovision Systems
o Urodynamic Systems
• Consumables and Accessories
o Dialysis Consumables
o Guidewires
o Catheters
o Stents
o Biopsy Devices
o Tubes and Distal Attachments
o Drainage Bags
o Other Consumables and Accessories

End-Users Segment (2016–2026; US$ Mn)
• Hospitals & Clinics
• Ambulatory Surgical Centers
• Dialysis Centers
• Home Healthcare

Geography Segment (2016–2026; US$ Mn)
• North America (U.S., Canada)
• Europe (U.K., Germany, Rest of Europe)
• Asia Pacific (Japan, China, Rest of APAC)
• Latin America (Brazil, Mexico, Rest of LATAM)
• Middle East and Africa (GCC, Rest of MEA)
This report further elucidates about the major qualitative aspects including data points such as major market trends, market dynamics, which will help to understand the global urology devices market. The major market players present in this market studied based on attributes such as financial overview, product portfolio, business strategies, and geographical reach. The report covers information related to the attractive investment proposition analyzed based on in-depth geographical analysis of economic, social, political, and demographics. Major players present in this report comprise Fresenius Medical Care, Baxter, KARL STORZ, Boston Scientific, Cook Medical, Olympus, Richard Wolf, and Medtronic among others.
Key questions answered in this report
What are urology devices and overall technological evolution?
What are the key products available to carryout diagnosis & treatment of urological diseases?
What are the recent & future market dynamics adopted or planned by the major companies present in urology devices market?
Which are the most attractive geographical markets for urology devices?
Which is the fastest growing product segment of urology devices?
Which is the largest end-user segment in urology devices market?
What is the competitive landscape of urology devices market?