The endodontic devices market is set to reach US$ 2,296.6 Mn by 2026 from US$ 1,460.3 Mn in 2017 at a compounded annual growth rate (CAGR) of 5.2% during the forecast period from 2018 to 2026. According to Center for Disease Control and Prevention (CDC), every adult will suffer with tooth decay once in a lifetime. Craving to sugary food, carbonated drinks, chewing of tobacco & betel nut products and excessive consumption of alcohol result in the deterioration of teeth and gums. Brushing of teeth twice a day, floss once a day and preference for a fluoride toothpaste enhances dental health and prevents dental cavities and plaque.
Market Synopsis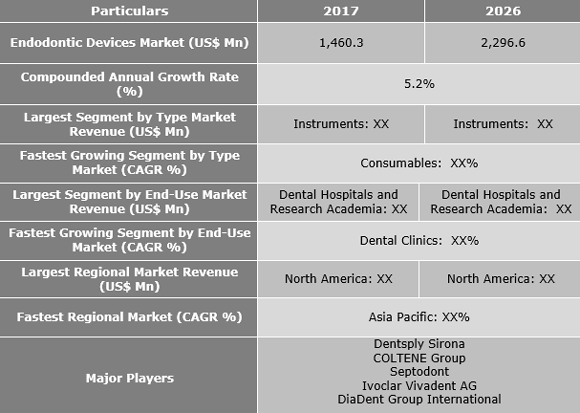 Get a sample copy for more information
"Increasing demand for nickel-titanium instruments and ability to perform safe and quick root canal procedure drive the instruments market growth"
Instruments are dominating the type segment for global endodontic devices market. The key attributes that contributes towards the flourishing market growth for dental instruments are the increasing demand for nickel-titanium material and motor equipment to perform quick and safe root canal dental procedures. Dental consumables will be the growing at a faster pace owing to availability of diverse variety of obturation and cleaning and shaping devices providing excellent dental aesthetics.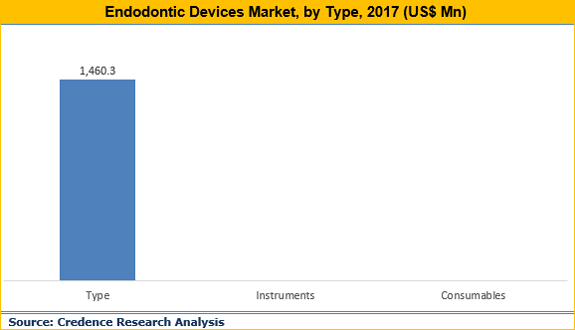 Get a sample copy for more information
"Rising public dental health awareness and affordable treatment drive the dental hospitals and research academia growth"
In the present scenario dental hospitals and research academia is reigning the end-use segment. Affordable treatment and rising dental health awareness drive the market growth of dental hospitals. Increasing government funding and regular maintenance of endodontic devices inventory further propel the dental hospitals and research academia market growth. Dental clinics will be trendsetter during the forecast period owing to rising dental health burden on government affiliated hospitals and untapped market in remote areas.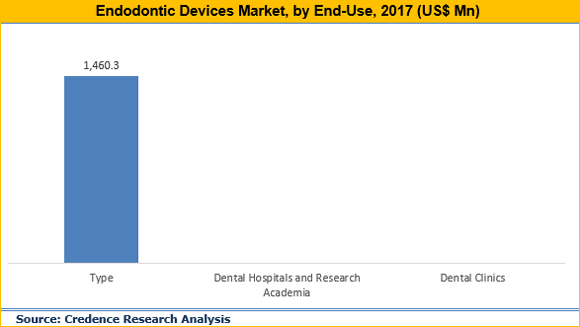 Get a sample copy for more information
"Rising prevalence of edentulism and dental plaque drive the market growth in North America"
North America currently holds a share of 36% in the global endodontic devices market. The impressive growth is due to factors such as rising prevalence of edentulism and dental plaque. According to American Dental Association (ADA), 20.3% of the North American population visits dentist once per year. Domicile of major players such as Dentsply Sirona, COLTENE Group, Septodont and Danaher Corporation etc. Europe represents a share of 30% and is the second largest market owing to the supportive regulatory environment for endodontic devices and rising dental caries in young population savoring sugar candies and caramel products. Asia Pacific holds a share of 20% and is set to register outstanding growth during the forecast period on account of rising prevalence of gingivitis in adult population, dental deformities caused due to chewing of betel nuts and tobacco products and rampant growth in medical tourism.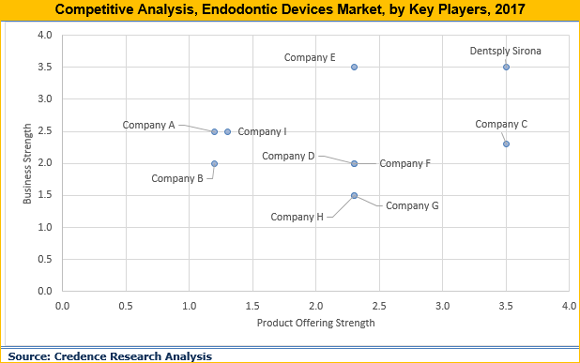 Historical & Forecast Period
This research report presents the analysis of each segment from 2016 to 2026 considering 2017 as the base year for the research. Compounded annual growth rate (CAGR) for each respective segments are calculated for the forecast period from 2018 to 2026.
Report Scope by Segments
The market segmentation consists of type, end-use and geography.
ATTRIBUTE
DETAILS
Research Period
2016-2026
Base Year
2017
Forecast Period
2018-2026
Historical Year
2016
Unit
USD Million
Segmentation

By Type (2016–2026; US$ Mn)
• Instruments
o Apex Locators
o Endodontic Scalers
o Endodontic Motors
o Endodontic Lasers
o Handpiece
o Others
• Consumables
o Access Preparation
o Shaping & Cleaning
o Obturation

By End-Use (2016–2026; US$ Mn)
• Dental Hospitals and Research Academia
• Dental Clinics

Geography Segment (2016–2026; US$ Mn)
• North America (United States and Canada)
• Europe (U.K., Germany, Rest of Europe)
• Asia Pacific (China, Japan, Rest of Asia Pacific)
• Latin America (Brazil, Mexico, Rest of Latin America)
• Middle East and Africa (GCC, Rest of MEA)
Endodontic product manufacturers providing dental care are Peter Brasseler Holdings, LLC., COLTENE Group., Danaher Corporation, Dentsply Sirona, DiaDent Group International, FKG Dentaire SA, Hu-Friedy Mfg. Co., LLC., Ivoclar Vivadent AG, Septodont and Ultradent Products.
Key questions answered in this report
Who are the key players manufacturing endodontic devices?
What are the latest market trends existing in the endodontic devices market?
What is the disease etiology of tooth decay, cavities and plaque?
What are the reasons for increasing demand of nickel-titanium instruments?
How does dental consumables provide appealing dental aesthetics?
What is the CAGR and market size of North America regional segment in global endodontic devices market?