Endometrial ablation devices market accounted for a market value of US$ 985.8 Mn in 2017 and projected to grow at a CAGR of 5.3% during the forecast period from 2018 to 2026. Abnormal uterine bleeding is one of the most prevalent gynaecological diseases observed in last decade and if remained untreated may lead to low red blood cells count and anaemia. Endometrial ablation treatment is considered the most effective treatment for patients suffering from abnormal uterine bleeding. According to several research studies, the prevalence of menorrhagia in a range of 9% to 14% specifically in research studies that analysed menstrual blood loss by measuring it. However, a few studies based on subjective assessment suggested that the prevalence of menorrhagia is much higher than that in a range from 20% to 52%.
Market Synopsis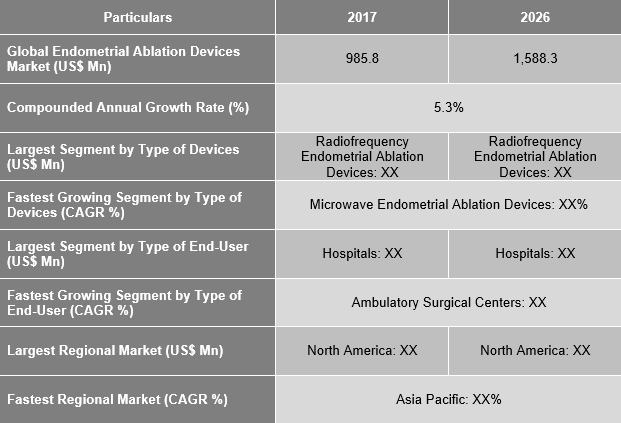 Get a sample copy for more information
Radiofrequency endometrial ablation devices will maintain its dominance throughout the forecast period due to supportive reimbursement policies, high preference & support received from medical practitioners and cost-effective for patients from developing & underdeveloped countries. The increasing prevalence of gynecological disorders is also one of the key reasons responsible for the growth of the endometrial ablation devices market. According to the Department of Epidemiology and Preventive Medicine, a population-based survey carried out in the United States of women aged 18 to 50 years suggested that an annual prevalence rate of abdominal uterine bleeding is 53 per 1000 women.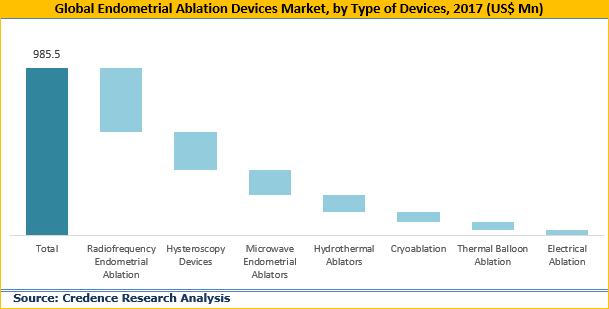 Get a sample copy for more information
"With rising prevalence of abnormal uterine bleeding and supportive reimbursement policies for endometrial ablation North America identified as the largest market"
North America dominated the overall endometrial devices due to key factors important for driving the market growth such as high prevalence of abnormal uterine bleeding, supportive reimbursement policies, high awareness related to latest endometrial ablation devices, and the increasing number of ambulatory surgery centers. The Asia Pacific is the fastest growing market due to factors such as the mounting prevalence of gynecological disorders due to lack of awareness & hygiene and a huge gap in healthcare services & unmet medical needs of patients from developing countries such as India & China.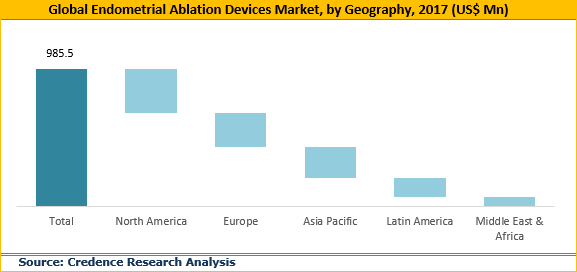 Get a sample copy for more information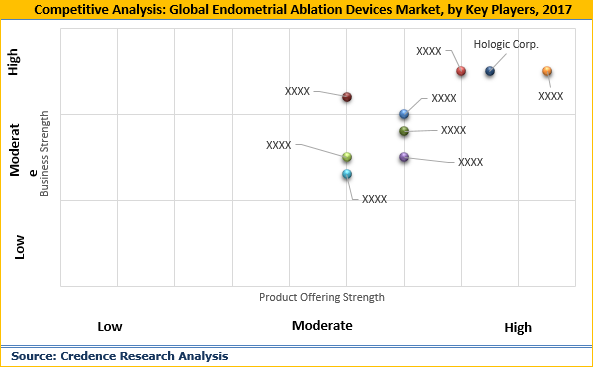 Historical & Forecast Period
The endometrial ablation devices market analyzed considering current market trends for base year 2017 and based on future trends CAGRs calculated for the forecast period from 2018 to 2026.
Report Scope by Segments
This report covers in-depth analysis of endometrial ablation market including statistical and subjective data points along with the key market drivers, opportunities & restraints that have positive or negative effects on the overall global market. An exclusive coverage provided for market drivers, challenges & opportunities for a country-level market in the respective regional segments. This report covers in-depth information associated with global endometrial ablation devices market with segments such as types of devices, end-users, and geography. The report comprises competitive analysis of the key players functioning in endometrial ablation devices market that covers in-depth data related to competitive landscape of the market and the recent strategies & products assisting or affecting the market in the near future.
ATTRIBUTE
DETAILS
Research Period
2016-2026
Base Year
2017
Forecast Period
2018-2026
Historical Year
2016
Unit
USD Million
Segmentation

Type of Devices Segment (2016–2026; US$ Mn)
• Hysteroscopy Devices
• Radiofrequency Endometrial Ablation Devices
• Thermal Balloon Ablation Devices
• Hydrothermal Ablation Devices
• Microwave Endometrial Ablation Devices
• Cryoablation Devices
• Electrical Ablation Devices

End-User Segment (2016–2026; US$ Mn)
• Hospitals
• Ambulatory Surgical Centers
• Clinics

Geography Segment (2016–2026; US$ Mn)
• North America (United States and Canada)
• Europe (U.K., Germany, Rest of Europe)
• Asia Pacific (China, Japan, Rest of Asia Pacific)
• Latin America (Brazil, Mexico, Rest of Latin America)
• Middle East and Africa (GCC, Rest of MEA)
The major players present in the market analyzed based on financial information, product portfolio, recent market updates, and key market strategies. This report also comprises attractive investment proposition analyzed with the help of exhaustive geographical research based on PESTEL analysis. Key players profiled in the report include Hologic Corporation, Boston Scientific Corporation, KARL STORZ GmbH & Co. KG, Minerva Surgical, Inc., Olympus Corporation, Smith & Nephew plc, The Cooper Companies, Inc., Ethicon, Inc., Medtronic plc, Richard Wolf GmbH, AngioDynamics Inc. among others.
Key questions answered in this report
Which is the trending device type in the market preferred for endometrial ablation & Why?
What are the recent market strategies followed by major players & competitive analysis specific to endometrial ablation devices market?
Which are the major geographical markets (regions and countries) in endometrial ablation devices market?
Which is the largest and fastest growing endometrial ablation devices types globally?
How is the competitive landscape of endometrial devices market and strategies of major players operating in this industry?