"Increasing need to reduce the operational and maintenance cost to fuel the growth of the field device management Market"
Globally, the field device management market is expected to grow with a CAGR of more than 6.7% during the forecast period from 2019 to 2027, starting from US$ 1.22 Bn in 2018. The global field device management market is growing based on factors such as growing importance of industry 4.0 and smart factory, growing demand for filed device management systems, increasing focus on reducing the operational and maintenance cost, and growing investments in development of IoT and automation solutions. In early ages, filed device management was a paper based process which was dependent on manually track smart field devices, however not all traditional asset management systems support the field device management function. To improve this situation, technological advancements are proving to be an asset. Globally, the industries are shifting from traditional technologies to smart and automated systems. Digital transformation is considered to be most appropriate change at the field device level of sensors and actuators with digitally capable devices. This helps the industrial organizations to transform from reactive to predictive maintenance and also enables them to optimize asset management strategies to improve operations and reduce costs. Growing adoption of intelligent field devices management systems also helps to reduce waste, improve safety and increase operational efficiency. However, factors such as lack of skilled workforce and growing concerns with data privacy and cybersecurity are expected to have a negative impact on the growth of field device management market during the forecast period.
Market Synopsis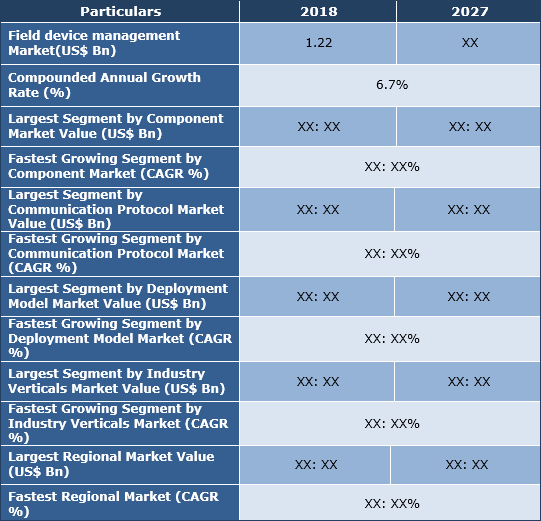 Get a sample copy for more information
"Software segment is expected to dominate the market"
In 2018, the field device management software dominated the global market by holding a largest market share and is expected to grow at a prominent growth rate during the forecast period. The growth of this segment mainly depends upon growing adoption of automation technologies in various industries, Industry 4.0, and the IoT. Field device management software can be used to conduct preventive maintenance and management tasks of the devices. These tools help to classify and manage the information gathered such as inspection memos, inspection schedules, and configuration information of the systems. Moreover, field device management software solutions help to access smart devices remotely and provide field data of the machine, which can be used for predictive maintenance. Such advantages contribute to high utilization of filed devices management software, and thus drives the growth of this market.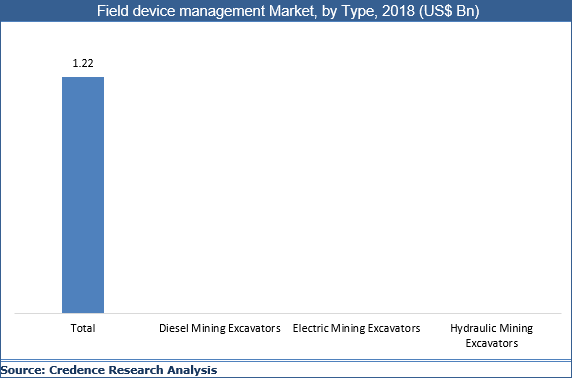 Get a sample copy for more information
"Asia Pacific to Register the Fastest Growth"
North America dominates the field device management market by holding largest market share of nearly 35% of the total revenue generated worldwide. North America, especially US has a major role to play in high market size of field device management system in this region. As the industrial environment is experiencing a technological boom, the adoption of field device management systems is rapidly growth in the US. Moreover, most of the companies operating in this market are based in the US, and have a huge customer base in the local and international markets, which largely contributes to the existing market size in this regional segment. However, based on the opportunities offered by emerging nations in Asia-Pacific and Middle East and Africa, these regions are expected to experience a rapid growth in coming few years. Developments in the industries such as energy & power, oil & gas, and chemicals in the Asia-Pacific region drives the demand for FDM solutions for the continuous monitoring of processes and machinery in these industries. Moreover, expansion of international players in this region also enhances the growth rate of field device management systems in this region.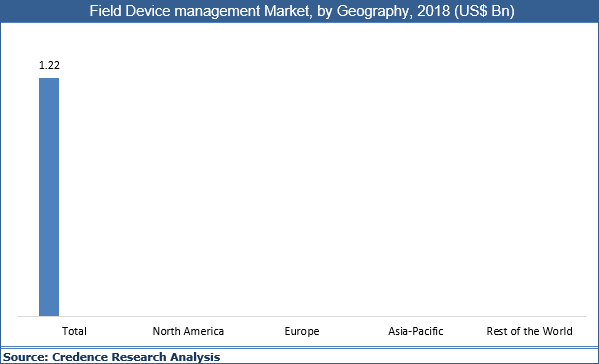 Get a sample copy for more information
Some of the prominent players operating in the field device management market include Honeywell International Inc., Schneider Electric SE, ABB Group, Siemens AG, Rockwell Automation, Emerson Electric Co., Yokogawa, Mitsubishi Electric, Omron Corporation, FANUC Corporation, Valmet Oyj, , Metso Oyj, Hamilton Company, Endress+Hauser, Phoenix Contact, Festo, Hach, Omega Engineering, Azbil Corporation, and Weidmüller, among others.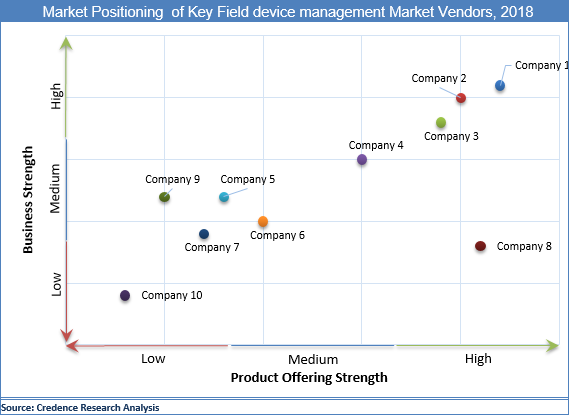 Historical & Forecast Period
This research report presents the analysis of each segment from 2017 to 2027 considering 2018 as the base year for the research. Compounded Annual Growth Rate (CAGR) for each respective segments calculated for the forecast period from 2019 to 2027.
Report Scope by Segments
The field device management market report provides market size and estimates based on market dynamics and key trends observed in the industry. The report provides a holistic view of global field device management market based on component, communication protocol, deployment model, industry verticals, and geography. Key segments covered in the report are as follows:
ATTRIBUTE
DETAILS
Research Period
2017-2027
Base Year
2018
Forecast Period
2019-2027
Historical Year
2017
Unit
USD Billion
Segmentation

Component Segment (2017–2027; US$ Bn)
• Hardware
• Software

Communication Protocol Segment (2017–2027; US$ Bn)
• Foundation Fieldbus & Hart
• Profibus
• Profinet
• Ethernet/IP
• Modbus
• Others

Deployment Model Protocol Segment (2017–2027; US$ Bn)
• Cloud
• On-premise

Industry Verticals Protocol Segment (2017–2027; US$ Bn)
• Process Industries
o Oil & Gas
o Chemicals
o Energy & Power
o Food & Beverages
o Pharmaceuticals
o Metals & Mining
o Other Process Industries
• Discrete Industries
o Automotive
o Manufacturing
o Aerospace & Defense

Geography Segment (2017–2027; US$ Bn)
• North America (U.S., Rest of North America)
• Europe (U.K., Germany, France, Rest of Europe)
• Asia Pacific (China, Japan, India, Rest of Asia Pacific)
• Rest of the World (Middle East & Africa, Latin America)
Key questions answered in this report
What was the market size of field device management in 2018 and forecast up to 2027?
Which is the largest regional market for Software segment?
What are the major trends followed in field device management market across different regions?
Who are the key field device management companies leading the market?
What are the key strategies adopted by the leading field device management companies in market?
Unique data points of this report
Statistics on field device management penetration and spending worldwide
Recent trends across different regions in terms of adoption of field device management for various applications in various industries
Notable developments going on in field device management industry
Attractive investment proposition for segments as well as geography
Comparative scenario for all the segments for years 2018 (actual) and 2027 (forecast)