Overview:
The floating wind turbines market is expected to reach US$ 19.9 Bn in 2027, growing at a CAGR of 30.81% during the forecast period from 2019 to 2027. Offshore wind energy has become one of the best alternatives for clean energy. Where bottom-mounted structures are not feasible, wind turbines are mounted on floating structure in sea water for producing electricity. The world is on the verge of global warming owing to the emission of greenhouse gases at a greater extent. In order to reduce its impact on atmosphere, there has been a crucial need for research and development in renewable and clean energy. Growing concerns about climate change and push from governments for increased use of renewable energy sources across the world are some of the major factors driving the market of floating wind turbines globally.
According to the UN, as of 2017, nearly 2.4 Bn people live within 100 km of the coast that is about 40% of the total world population. This huge concentration of people near the shore have large amount of energy requirements than those living on the interior parts. This demand of energy can be better fulfilled by building offshore floating wind turbines using nearby renewable resources. Floating foundation requires less invasive activities on sea-bed compared to the fixed foundation which saves the ocean floor from degradation. Also, coral reefs can be saved at a greater level as floating wind turbines requires minimum construction material for installation. This, in turn, is making floating wind turbines environment-friendly.
Floating wind turbines allows access to deep water sites where more area is available for large scale foundation. The flow of wind at longer distance away from seashore is faster. A small increase in the speed of the wind yields large amount of electricity. According to American Geoscience Institute, energy generated by turbine from a wind speed of 15 mph is twofold the energy generated from a wind speed of 12 mph. Additionally, there are no obstacles present on the offshore which helps in keeping the flow of wind steady. This steadiness in supply of wind helps in maintaining continuous electricity generation, making floating wind turbines a reliable source of energy. As a result, with the development of new technologies in foundation structure, floating wind turbines are gradually moving towards deeper water where depth is above 50 meters. This, in turn, is projected to facilitate the growth of floating wind turbines market in the years to come.
Market Snapshot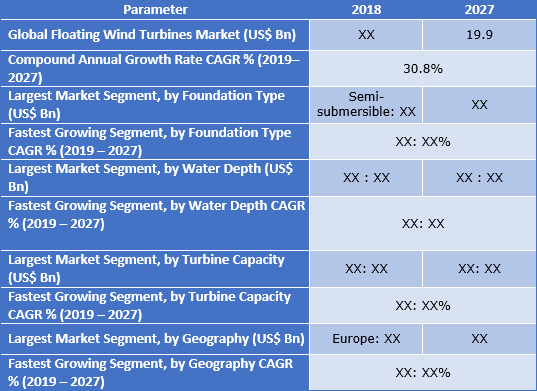 Get a sample copy for more information
"Semi-submersible Foundation accounted for the Largest Market Share in 2018"
In 2018, semi-submersible foundation captured largest market share in floating wind turbines market worldwide. Floating wind turbine with semi-submersible foundation can be assembled on-shore or in a dock. This fully assembled platform including turbine can float in water having a depth of 10 meters while transporting. Conventional tugs are used for transportation of this type of foundation. During maintenance, it can be towed back onshore using tugs. Also, mooring required for stabilization of the structure costs less compared to other foundations. These advantages offered by semi-submersible floating foundation gives huge cost-cutting while assembling and transportation. Hence, it is mostly preferred by manufacturers of floating wind turbines across the world.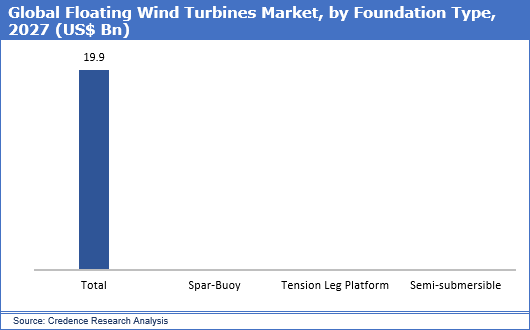 Get a sample copy for more information
"Europe Garnered Largest Market Share in 2018"
Europe has installed largest capacity of floating wind turbines compared to other regions of the world. The region is expected to remain dominant during the forecast period from 2019 to 2027. Europe has stable regulatory framework, with long-term policy for promoting clean energy. Governments across Europe are strongly supporting innovation and training in clean energy technologies. As a result, strong backing from the government has build-up the trust of major players which is ultimately leading to the higher investment in R&D of floating wind turbines. For instance, in February 2019, Equinor ASA has announced their new project Hywind Tampen which will be used for electrification of oil and gas platform at the Snorre and Gullfaks field of Tampen, Norway. This new project will help in reducing carbon dioxide emission, presently it is estimated to be 200,000 tonnes per year. Also, major companies of the market such as Siemens Gamesa Renewable Energy, MHI Vestas Offshore Wind, among others have their presence in Europe. All these factors altogether are responsible for the overall growth of floating wind turbines market in the region.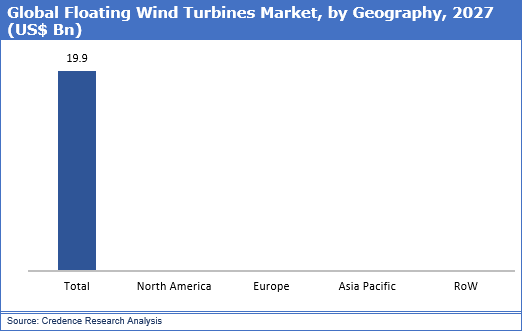 Get a sample copy for more information
Competitive Insights
Major players profiled in floating wind turbines market includes Siemens Gamesa Renewable energy, MHI Vestas offshore wind A/S, Goldwind, Enercon GmbH, Senvion S.A., Nordex SE, General Electric Company, Ideol SA, Equinor ASA, Repsol S.A., CoensHexicon Ltd., etc. These companies are partnering with other companies to gain large share of the market. For instance, in February 2019, South Korea's state-owned company KNOC and Equinor ASA signed a MoU for jointly exploring the chances of developing floating wind turbines in South Korea for commercial purpose. Moreover, in June 2019, Ideol SA partnered with leading Japanese renewable energy company Shizen Energy Inc. for the development of commercial floating wind farm at Kyushu Island, Japan. This upcoming project will be based on patented Damping Pool technology of Ideol SA.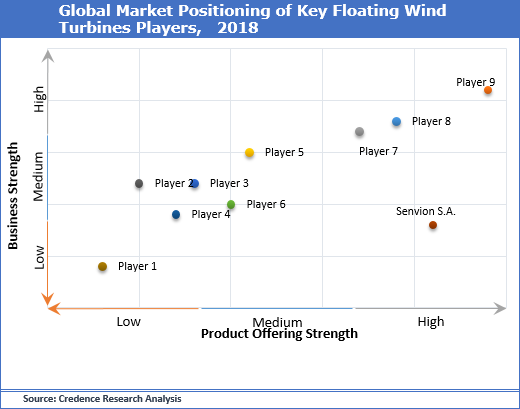 Historical & Forecast Period
The research report presents the analysis of each segment from 2017 to 2027 considering 2018 as the base year for the research. Compounded Annual Growth Rate (CAGR) for each respective segments calculated for the forecast period from 2019 to 2027.
Report Scope by Segments
Floating wind turbines market report provides market size and estimates based on market dynamics and key trends observed in the industry. The report provides a holistic view of global floating wind turbines market based on foundation type, water depth, turbine capacity and geography. Key segments covered in the report are as follows:
ATTRIBUTE
DETAILS
Research Period
2017-2027
Base Year
2018
Forecast Period
2019-2027
Historical Year
2017
Unit
USD Billion
Segmentation

Foundation Type Segment (2017-2027; US$ Bn)
• Spar-buoy
• Tension-leg platform (TLP)
• Semi-submersible

Water Depth Segment (2017-2027; US$ Bn)
• Below 50m
• Above 50m

Turbine Capacity Segment (Bn)
• Less than 5MW
• Greater than 5MW

Geography Segment (2017-2027; US$ Bn)
• North America (U.S., Rest of North America)
• Europe (U.K., Germany, France, Rest of Europe)
• Asia Pacific (Japan, China, India, Rest of APAC)
• Rest of the World (Middle East & Africa, Latin America)
Key questions answered in this report
What was the market size of floating wind turbines market in 2018 and forecast up to 2027?
What are the key factors driving the global floating wind turbines market?
What are the key market trends and high-growth opportunities observed in the floating wind turbines market?
Which is the largest regional market for floating wind turbines market?
Which segment will grow at a faster pace? Why?
Which region will drive the market growth? Why?
Which players are leading the floating wind turbines market?
What are the sustainability strategies adopted by the key players operating in the market?