With rising global trade, goods exchange and people traveling across different countries has increased tremendously in the past few years. Differentmodes of travelingwhich include land, marine, and air transport are used extensively for thetransit of passengers and goods. Air transportation has provided an effective long-distance transportation at relatively less time and comparable cost. Consistent growth in the aviation industry has boosted adjacent industries related to it. New infrastructure projects such as airports, cargo hubs, and infrastructures for aircraft services and maintenance are being developed at a brisk pace. Ground support equipment market is one such relevant and vital part in theoverall aviation and airportmanagement industry. Ground support equipment aids to service aircraft, passengers, and cargo during their scheduled arrival and departure.
The perpetually changing technology and advancements in aviation control system demand a constant monitoring and effective servicesto ensure smooth operations. In addition, other features such as ground locomotion of aircraft, passenger, and cargo also require specific equipment for proper aircraft and airport management. Ground support equipment provides quick response service to all the aforementioned tasks. Ground support equipment is segmented into different categories according to their application such as aircraft, passenger services and cargo handling and management. The system includes a number of equipment dedicated to their individual tasks such as refueling, conveyors, tow trucks and air handling units, among others. The use of ground support equipment has become essential for the quick service of modern day aircraft and effective airport management. This has significantly uplifted the insistence of ground support equipment.
A wide range of ground support equipment are used in order to provide services to passengers, aircrafts and cargo. Equipment such as buses, boarding stairs and bridges, lavatory service vehicle and catering vehicles falls under passenger service equipment. Ground power units, refueler vehicles, hydrant vehicles, pre-conditioned air units and anti-icing vehicles are categorized as aircraft service equipment. Whereas, pushback tugs and tractors, container loader, belt loaders/conveyors, and forklifts are categorized as cargo service equipment.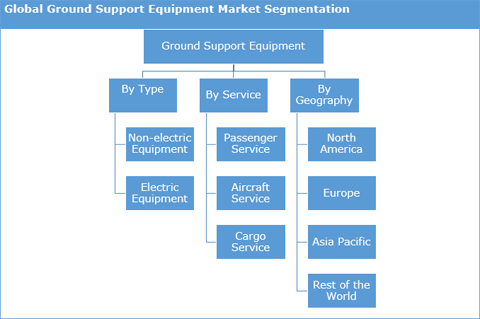 The report titled "Ground Support Equipment Market- Growth, Future Prospects and Competitive Landscape, 2017-2025" offers strategic insights into the global ground support equipment market with afocus on the market size and estimates for the duration 2015 to 2025. The said research study covers in-depth analysis of multiple market segments based on type, service and cross-sectional study across different geographies. The study covers the comparative analysis of different segments for the years 2015& 2025. The report also provides a prolific view on market dynamics such as market drivers, restraints, and opportunities.
In order to help strategic decision makers, the report also includes competitive profiling of the leading ground support equipment manufacturers, their strategies, market positioning and key developments. Some of the major players profiled in the report include AERO Specialties, Inc., Aviapartner, TUG Technologies Corporation, Mallaghan Engineering Ltd., DENGE Airport Equipment, Transtec Overseas Pvt. Ltd., John Bean Technologies Corporation, NEPEAN ENGINEERING & INNOVATION PTY LTD, GATE & GATE GSE, Teleflex Lionel-Dupont (TLD) SA, Cavotec SA.and others. Other in-depth analysis provided in the report includes:
Current and future market trends to justify the forthcoming attractive markets within the aviation industry and ground support equipment market.
Market fullers, market impediments, and their impact on the market growth
In-depth competitive environment analysis
Trailing 2-Year market size data (2015 – 2016)
SRC (Segment-Region-Country) Analysis
Overall, the research study provides a holistic view of the global ground support equipment, offering market size and estimates for the period from 2017 to 2025, keeping in mind the above-mentioned factors.