Industry Outlook
Continuously growing telecommunication sector worldwide is encouraging the demand for grounding bars market and registered global market value of US$ 880.5 Mn in 2016. Further, the market is anticipated to grow with a CAGR of 3.8% from 2017 to 2025. Telecommunications grounding bars play a critical role in ensuring protection of expensive telecommunication equipment installed in various commercial buildings. Lack of effective bonding and grounding in commercial buildings can result in damage to the telecommunication equipment further leading to costly downtime. Thereby, various governments across the world have made it mandatory for commercial buildings to ensure appropriate grounding and bonding within the facility. One of the most common standards followed across the world is the ANSI/TIA-607-B which encompasses various spaces such as data centers and computer rooms within the commercial buildings. Thereby, grounding bars are deployed at numerous establishments such as networked buildings, office parks, banking and financial institutions, educational facilities, hospitals, data transaction centers, retail stores, restaurants, movie theaters, amusement parks and other commercial buildings.
Market Synopsis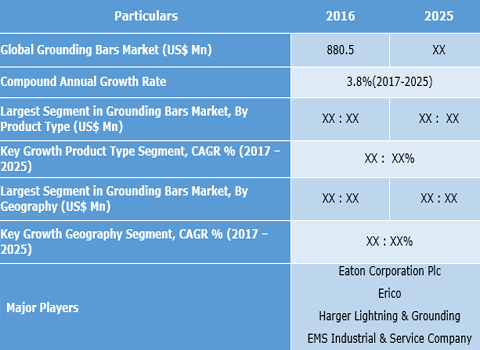 Get a sample copy for more information
"Telecommunications Grounding Bars to hold the majority of market share throughout the forecast period from 2017 to 2025"
In 2016, the global grounding bars market was dominated by the telecommunications grounding bars (TGBs) segment. The segment accounted for around majority of share of the global grounding bars market value in the same year. The trend is expected to continue and the segment is presumed to maintain its dominant position throughout the forecast period from 2017 to 2025. Higher requirements for TGBs as compared to the telecommunication main grounding bars (TMGBs) as per the grounding and bonding architecture has been the primary factor resulting in the higher share of this segment in the overall market. With continued expansion and renovation of telecommunication and commercial facilities across the world, the TGBs segment is expected to witness continued growth in the following years.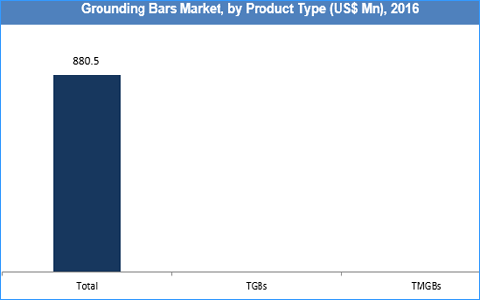 Get a sample copy for more information
"Rapidly developing infrastructure in Asia Pacific to stimulate grounding bars market in the region"
Asia Pacific region attributed to the largest share in the overall grounding bars market across the globe in 2016. The region has large concentration of commercial buildings in numerous countries including China, India, Australia, Japan and South Korea, among others. Moreover, factors such as increasing investment in the commercial sector coupled with economic growth in the region are further expected to drive the demand for grounding bars in the Asia Pacific market. North America and Europe followed the Asia Pacific region in terms of market value in 2016. With continued development of data centers and other commercial buildings, the markets in the regions are expected to witness steady growth during the forecast period from 2017 to 2025. On account of limited existing commercial infrastructure in the MEA and Latin America regions, grounding bars market value in these regions is less in the current scenario. However, due to increasing commercial construction activities in these regions, MEA and Latin America grounding bars markets are set to grow at considerable CAGR throughout the forecast period from 2017 to 2025.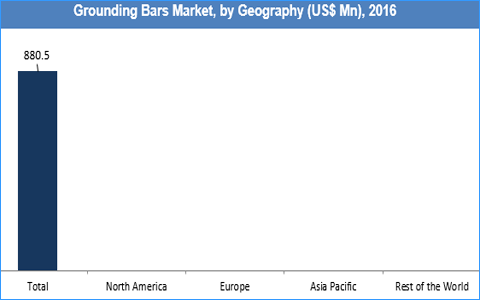 Get a sample copy for more information
ATTRIBUTE
DETAILS
Research Period
2016-2026
Base Year
2017
Forecast Period
2018-2026
Historical Year
2016
Unit
USD Billion
Segmentation

By Product Type (2016–2026; US$ Mn)
• Telecommunications Grounding Bars (TGBs)
• Telecommunications Main Grounding Bars(TMGBs)

Geography Segment (2016–2026; US$ Mn)
• North America (U.S., Canada)
• Europe (U.K., Germany, France, Rest of Europe)
• Asia Pacific (China, Japan, India, Rest of APAC)
• Rest of the World (Latin America, Middle East and Africa)
"Fragmented market offers several roadblocks for grounding bar manufacturers to grow"
Telecommunication grounding bars are simple to manufacture and does not require any special manufacturing processes or machinery. Owing to this factor telecommunication grounding bars market is highly fragmented with several small, medium and established companies contributing to the market. The market offers a highly competitive market with companies striving to claim their part of market share by adopting several business strategies. Majority of grounding bars manufacturers emphasize on enhancing their product availability by strategic alliance with distribution partners. The entry barriers for new entrants are low due to simplicity of product, however, these new entrants have to put additional hard work in order to survive cut-throat competition. Majority of manufacturers are focusing on developing countries of Asia Pacific, Middle East & Africa and Latin America. Growing infrastructure is providing tremendous opportunities for the grounding bars companies to grown and establish their business. Besides, strategies such as acquisitions, strategic alliances, and brand promotions are also extensively used by the companies to maintain their market position.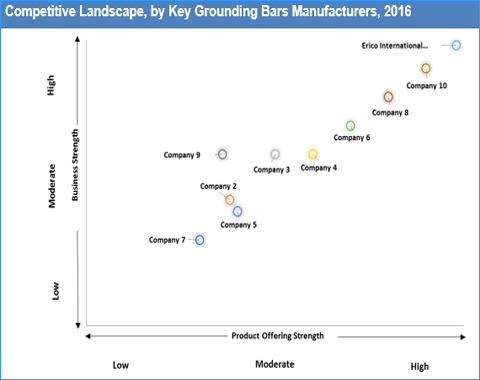 Key questions answered in this report
What are the recent market trends in the grounding bars market and valuable prospects for the players?
How government guidelines and regulatory frameworks affect the global as well as regional grounding bars market?
Which are the major product ranges manufactured by the key grounding bars manufacturers?
Which is the leading and fastest growing segment in terms of product type?
Which are the most rewarding geographical region/ country for overall grounding bars market?
What are the market size and trend in emerging markets such as Asia Pacific, Middle East & Africa and Latin America?