Managed Equipment Services (MES) and Enterprise Compliance and Quality Management (ECQM) refer to solutions used to streamline the huge volumes of data in organizations. MES solutions are typically used by healthcare facilities; whereas ECQM solutions are used organizations operating across life sciences, pharmaceuticals and medical devices sectors. Majority of the ECQM software are based on FDA compliance in the healthcare sector so as to deliver the required information appropriate places.
Maintaining high quality level along with a stringent control and regulatory compliance is the most crucial concern for various verticals such as pharmaceuticals and medical devices sectors. This significantly fuels the penetration of MES & ECQM solutions across different healthcare organizations. The MES & ECQM market is strongly supported by the rising demand for medical devices, pharmaceuticals and research amongst these industries. In addition, growing government regulations over quality control is another major factor contributing to the penetration of these solutions.
The MES & ECQM market is majorly driven by the overall rising expenditure over healthcare IT infrastructure worldwide. With the increasing advancement and demand for healthcare IT integration globally, the MES & ECQM market is expected to witness strong growth during the forecast period. Currently, the market is in premature stage and holds large room for further growth globally. As a result, the MES & ECQM market is estimated enjoy strong demand during the forecast period.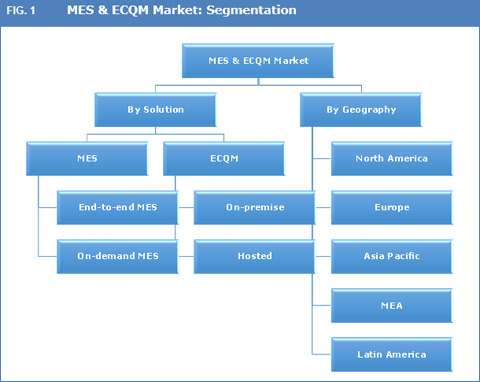 The report titled "Global MES & ECQM Market- Growth, Share, Opportunities and Competitive Analysis, 2016 – 2023" offers strategic insights into the global MES & ECQM market along with the market size and estimates for the duration 2014 to 2023. The said research study covers in-depth analysis of multiple market segments based on solution types and cross-sectional study across different geographies and sub-geographical regions. The study covers the comparative analysis of different segments for the years 2015 & 2023. The report also provides a prolific view on market dynamics such as market drivers, restraints and opportunities.
In order to help strategic decision makers, the report also includes competitive profiling of the leading MES & ECQM vendors, their SCOT (Strength, Challenges, Opportunities and Weaknesses) analysis, market positioning and key developments. Some of the major players profiled in the report are Siemens Healthcare GmbH, GE Healthcare, Sparta Systems, Inc., Pilgrim Quality Solutions, Inc., MetricStream, Inc., Toshiba Medical Systems Europe B.V. and others. Other in-depth analysis provided in the report includes:
Current and future market trends to justify the forthcoming attractive markets within the MES & ECQM industry
Market fuelers, market impediments, and their impact on the market growth
In-depth competitive environment analysis
Trailing 2-Year market size data (2014 – 2015)
SRC (Segment-Region-Country) Analysis
Overall, the research study provides a holistic view of the global MES & ECQM market, offering market size and estimates for the period from 2016 to 2023, keeping in mind the above mentioned factors.