Industrial gases are gaseous materials that are manufactured for use in the industry. The principal industrial gases available are oxygen, nitrogen, helium, acetylene, argon, hydrogen, carbon dioxide and others (krypton, xenon, methane, carbon monoxide, etc.).
The global economy has grown faster in 2016 than it did in the year 2015 and economic experts predict that the trend is expected to continue at least coming few years. Industrial production has been showing positive sings across North America and Europe region and growing in Asia Pacific region. Moreover, growth in the emerging economies will remain the most important driver of global economic trends over the coming years. Demand from applications in energy, the environment, healthcare and electronics industries is expected to stimulate the global industrial gases market growth in the long-term.
On the basis of application, the global industrial gases market is segmented into automotive & aerospace, chemicals and petrochemical, energy and oil & gas, food and beverage industry, medical and pharmaceuticals, metallurgy and metal working industry, mining, transportation and others. Market size and forecast of each application and product type is presented for the period 2015 to 2025 along with respective CAGR % for the forecast period 2017-2025.
Geographically, the global industrial gases market is studied for the following regional markets:
North America
a. U.S.
b. Canada
Europe
a. U.K.
b. Germany
c. France
d. Rest of Europe
Asia Pacific
a. China
b. India
c. Rest of Asia Pacific
Latin America
a. Brazil
b. Mexico
c. Rest of Latin America
Middle East and Africa
a. GCC
b. Rest of Middle East and Africa
The market size and forecast for the period 2015-2025 along with the CAGRs for the period 2017-2025 for the mentioned segments are also presented in this study.
Qualitative information sets such as market dynamics (drivers, challenges and opportunities) and market inclination insights are provided in this market assessment report. Tools such as market competition analysis and attractive investment proposition are also included in this study for assessment of overall market competition. The report concludes with company profiles section that highlights key information about the major market players operating in the global industrial gases market.
Air Liquide S.A., Air Products and Chemicals Inc., Air Water Incorporation, Airgas Inc., BASF SE, Buzwair Industrial Gases Factories, Linde Group, Messer Group, Praxair Inc., Taiyo Nippon Sanso Corporation, Yingde Gases Group Company Limited are among the few key manufacturers in industrial gases market.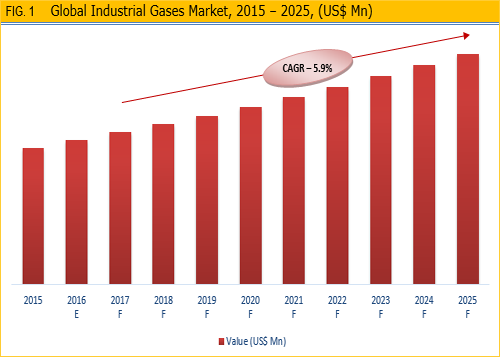 Purpose of the Report
The purpose of this strategic research study titled "Industrial gases Market - Growth, Opportunities, Share & Competitive Analysis, 2017 – 2025" is to offer industry investors, company executives, and industry participants with in-depth insights to enable them make informed strategic decisions related to the opportunities in the industrial gases market.
Target Audience
Industry Investors
Procurement Managers from End-user Companies
Industrial Gases Manufacturers
Distributors
USP and Key Offerings
The report titled "Industrial gases Market - Growth, Opportunities, Share & Competitive Analysis, 2017 – 2025" offers strategic insights into the overall industrial gases market along with the market size, and estimates for the duration 2017 to 2025. The said research study covers in-depth analysis of multiple market segments based on product type, applications and cross-sectional study across different regions.
In order to help strategic decision makers, the report also includes competitive profiling of the leading players in industrial gases market in terms of their product portfolio, financial health and business strategies. Other in-depth analysis provided in the report includes:
Current and future market trends to justify the forthcoming attractive markets within the industrial gases industry
Market drivers, market impediments, and their impact on the market growth
In-depth competitive environment analysis
Historical market size and data (2015 & 2016)
Overall, the research study provides a holistic view of the industrial gases market, offering market size and estimates for the period from 2015 to 2025, keeping in mind the above mentioned factors.