The global infrared detectors market is expected to expand at a CAGR of 8.7% during the forecast period from 2019 to 2027. Infrared detectors are devices used for detecting infrared radiation by forming IR images from temperature and emissive differences. There are three basic types of infrared detectors namely quantum/photon IR detectors, thermal IR detectors and radiation field detectors. Infrared detectors find applications across both military and civil applications. In case of civil applications, these detectors play a major role in fields such as medical thermography, fire detection, and remote sensing among others. IR detectors are extremely efficient for safety and tracking purposes due to their compact size and capacity to detect infrared light from distances, thereby propelling the market growth.
Market Synopsis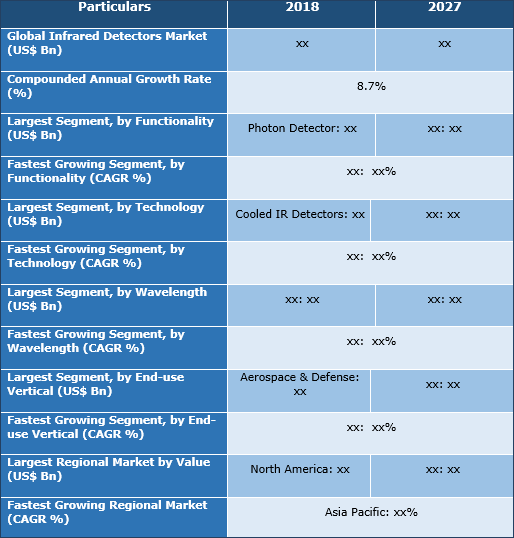 Get a sample copy for more information
Cooled IR Detectors to Dominate; Uncooled IR Detectors to Register Significant Growth throughout the Forecast Period
Based on technology, the global infrared detectors market is categorized into two major categories, namely: Cooled IR Detectors and Uncooled IR Detectors. Infrared thermal imaging using cooled and uncooled detectors are both gaining popularity due to widespread application in security, public safety and transportation, research and development among others. Uncooled infrared detectors technology is projected to register a steady growth rate during the forecast period. In wake of benefits offered by uncooled infrared detectors in terms of cost, size and reliability, big players such as Honeywell International Inc., Nippon Avionics Co. Ltd among others are capitalizing on this technology. Due to which the market for uncooled infrared detectors is gaining momentum. This momentum can also be accredited to microbolometers and its numerous commercial applications in areas such as thermography, surveillance and fire-fighting among others.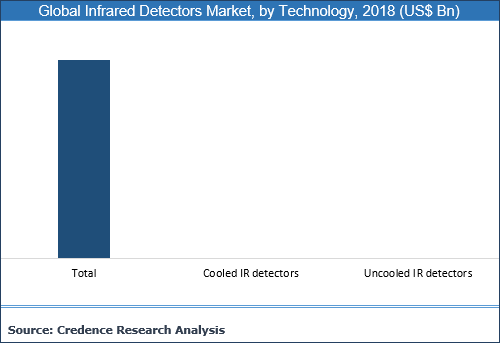 Get a sample copy for more information
North America Dominates; Asia Pacific Set to Register Significant Growth during the Forecast Period
In 2018, North America was the largest value contributing region to the global infrared detectors market followed by Asia Pacific. This growth can be associated with the increased applications of infrared detectors especially in identifying motion that supports in recognizing the object from a distant place and presence of large number manufacturers [A1] [VP2] in the region, especially in the U.S. Thus projected to fuel the North America infrared detectors market, in the coming future. In contrast, Asia Pacific is expected to garner highest growth throughout the forecast period. This is due to strong government support, and adoption of infrared detectors by various end-user industries such as aerospace & defense, government, and commercial applications among others. Thus, encouraging the growth of the Asia Pacific infrared detectors market in the upcoming years.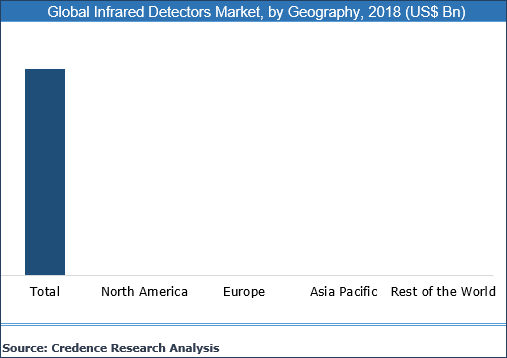 Get a sample copy for more information
Some of the leading manufacturers profiled in the study include Wuhan Guide Infrared Co. Ltd., Honeywell International Inc., Nippon Avionics Co. Ltd, Excelitas Technologies Corp., L-3 Technologies Inc., Infrared Integrated Systems Ltd., General Dynamics Corporation, Texas Instruments Inc., Omron Corporation, Hamamatsu Photonic K.K., Murata Manufacturing Co., Ltd., FLIR Systems Inc., Raytheon Company, and Sofradir among others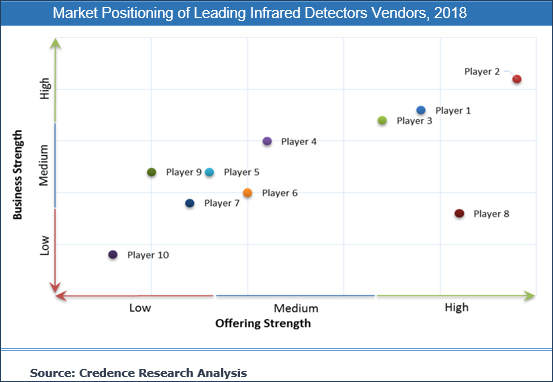 Historical & Forecast Period
This research study provides qualitative as well as quantitative insights for each segment and sub-segment from 2017 to 2027, considering 2018 as the base year for the research. CAGR (Compounded Annual Growth Rate) for each segment and sub-segment is calculated for the forecast period from 2019 to 2027.
Report Scope by Segments
The infrared detectors market report provides market size and estimates based on market dynamics and key trends observed in the industry. The report provides a holistic view of global infrared detectors market based on functionality, technology, wavelength, end-use vertical, and geography. Key segments covered in the report are as follows:
ATTRIBUTE
DETAILS
Research Period
2017-2027
Base Year
2018
Forecast Period
2019-2027
Historical Year
2017
Unit
USD Billion
Segmentation

Functionality Segment (2017–2027; US$ Bn)
• Photon detector
• Thermal detector
• Radiation field detector

Technology Segment (2017–2027; US$ Bn)
• Cooled IR detector
• Uncooled IR detector

Wavelength Segment (2017–2027; US$ Bn)
• Short wave (0.78-3 µm )
• Mediumwave (3-6 µm)
• Longwave (6-15 µm & above)

End-use vertical Segment (2017–2027; US$ Bn)
• Aerospace & Defense
• Healthcare
• Automotive
• Manufacturing
• Commercial Application
• Others (Government, Consumer electronics, etc.)

Geography Segment (2017–2027; US$ Bn)
• North America (U.S. and Rest of North America)
• Europe (U.K., Germany, France, and Rest of Europe)
• Asia Pacific (Japan, China, India, and Rest of Asia Pacific)
• Rest of World (Middle East & Africa (MEA), Latin America)
Key questions answered in this report
Worldwide market value of the infrared detectors market in 2017 and 2018
Estimated forecast and market projections up to 2027
Which is largest regional market for infrared detectors?
Which segment has highest penetration of infrared detectors?
Which are the key trends driving the global infrared detectors market growth?
Who are the leading vendors in the infrared detectors market worldwide?
What are the key strategies adopted by the leading infrared detectors vendors?