Industry Outlook
Hypothyroidism as a syndrome was first recognized in the 1870s, and its treatment with animal-extracted thyroid was achieved in the 1890s. Since 1927, synthetic thyroid hormone replacement therapy has been available, and in recent years, there has been a minor shift in treatment away from levothyroxine. The currently popular treatment forms include the use of liothyronine T3 as monotherapy or even commonly combined with levothyroxine T3/T4. However, there is not the current formulation of T3/T4 that completely replicates the natural hormone pattern released from the human thyroid. Therefore, Levothyroxine formulations have been vastly available across the global market.
Treating hypothyroidism or underactive thyroid disease remains the single largest application of levothyroxine sodium. Treatment goals include correcting catabolic imbalances and reversing clinical progressions. According to the AACE (American Association of Clinical Endocrinologists), nearly 27 million people suffer from various thyroid disorders, most suffering from hypothyroidism—autoimmune thyroiditis and iodine deficiency being the most common causes. In the coming years, an increase in demand for levothyroxine to treat thyroid cancer may drive up sales of levothyroxine sodium products.
Levothyroxine sodium, under the Synthyroid brand name, is a thyroid hormone approved by the Food and Drug Administration. The drug is considered to be as effective as branded versions of the same medication. In addition, the American Thyroid Association (ATA) has found no better alternatives than levothyroxine sodium; therefore, its guidelines confirm that levothyroxine sodium would remain the most preferred treatment choice hypothyroidism. In addition, ATA's task force on thyroid replacement has recommended liothyronine combination therapy or thyroid extract therapy as an alternative to levothyroxine monotherapy, making these treatments less desirable than using levothyroxine alone.
Market Synopsis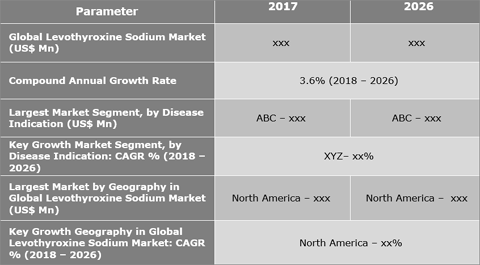 Get a sample copy for more information
"Hypothyroidism to occupy the Largest Revenue Share through the Forecast Period"
Hypothyroidism is a common thyroid disorder observed worldwide. Autoimmune diseases (Hashimoto thyroiditis) and iodine deficiency account for the vast majority of primary hypothyroidism cases. Approximately one-third of the global population is housed in iodine-deficient areas and the consequences of iodine deficiency often reflect through growth disorders and hypothyroidism. Hypothyroidism is ten times more prevalent in women than in men, whereas the prevalence of untreated overt hypothyroidism is significantly low. However, the implementation of new thyroid function testing and low threshold treatment indication for thyroid disorders have resulted in a growth in prescriptions of levothyroxine for hypothyroidism. In Europe, the prevalence of overt hypothyroidism ranged between 0.2% and 5.3%, which is further between 0.3% and 3.7% in the U.S..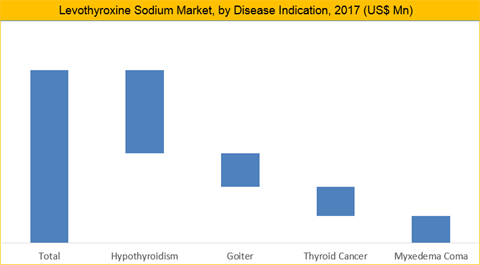 Get a sample copy for more information
"Asia Pacific Set to Become a Prominent Market for Levothyroxine Sodium"
North America remains the largest market for levothyroxine sodium drugs on the global front. The American Thyroid Association reports that approximately 12% of the U.S. population shall develop thyroid conditions during their lifetime, and 20 million Americans have some form of thyroid condition at any given time. The high prevalence of thyroid disorders, better diagnostic regimens, and smaller treatment threshold are the key factors supporting the global dominance of the North American market. Additionally, better reimbursements to levothyroxine drugs regimen both for short and long-term treatments drive the market growth. On the other hand, Asia Pacific will progress at a faster growth rate during the forecast period from 2018 to 2026. Rapidly growing awareness and significant untapped opportunities, along with an evidently large patient population, contribute to the rapid progress of the Asia Pacific market. China and India are the most prominent markets for levothyroxine drugs. The prevalence of subclinical hypothyroidism in China has risen to 3.22%. A large cross-sectional multicity study in India reported high prevalence of hypothyroidism (10%).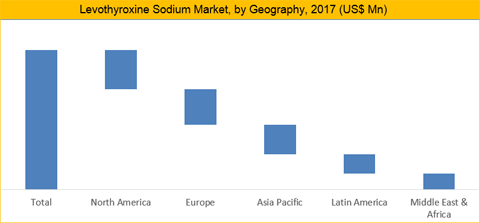 Get a sample copy for more information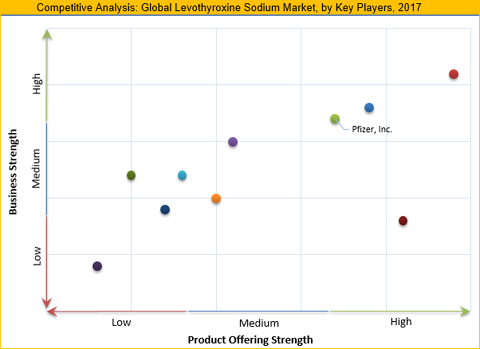 Historical & Forecast Period
This research report presents the analysis of each considered segment from 2016 to 2026, with 2017 as the base year for estimations. In addition, each segment's compounded annual growth rates (CAGRs) are calculated for the forecast period from 2018 to 2026.
Report Scope by Segments
The levothyroxine sodium market report provides a quantitative assessment of the industry in terms of current and forecasted market size while also presenting the market dynamics. This market is segmented based on disease indications and geography.
ATTRIBUTE
DETAILS
Research Period
2016-2026
Base Year
2017
Forecast Period
2018-2026
Historical Year
2016
Unit
USD Million
Segmentation

By Disease Indication (2016–2026; US$ Mn)
• Hypothyroidism
• Goiter
• Thyroid Cancer
• Myxedema Coma

Geography Segment (2016–2026; US$ Mn)
• North America (United States and Canada)
• Europe (U.K., Germany, Rest of Europe)
• Asia Pacific (China, Japan, Rest of Asia Pacific)
• Latin America (Brazil, Mexico, Rest of Latin America)
• Middle East and Africa (GCC, Rest of MEA)
In this report, the in-trend market dynamics of the global levothyroxine sodium are studied to reflect the qualitative and quantitative information pertaining to the industry. Factors such as drivers and challenges are studied in the report to determine the prevalent market trends. Opportunities for new and existing market players are also enumerated in this report. This study also includes profiling key market players in terms of their business overview, financial status, product offering, and key developments. Some of the major players profiled in this report include Mylan Laboratories, Inc., Farmak (Farmak Group N.V.), Goldline Laboratories, Inc., IBSA Institut Biochimique SA, Fresenius Kabi USA Llc, Piramal Critical Care Ltd., Cediprof, Inc., King Pharmaceuticals Research And Development Llc, Abbvie, Inc., Takeda Pharmaceutical Company Ltd., Merck KGaA, Jerome, Stevens Pharmaceuticals, Inc., Pfizer, Inc., Teva Pharmaceuticals, Abbott Laboratories, Inc., Sandoz (Novartis International AG), and Lloyd, Inc.
Key questions answered in this report
What is the current and future status of the global levothyroxine sodium market in terms of market size?
At which CAGR will the global levothyroxine sodium market progress during the forecast period from 2018 to 2026?
What are the major market opportunities present in the market?
Which are the major drivers and restraints shaping the trends in the global levothyroxine sodium market?
Why is hypothyroidism the largest disease condition for levothyroxine sodium?
Will the rapidly progressing Asia Pacific market challenge the prominence of North America?