Smoke ingredients are available in three forms namely oil, powder and aqueous. Liquid smoke refers to artificial smoke ingredient, which is used across several cuisines to impart the smoky flavor and fragrance to the food. It is generally available in yellow and red color. It is widely utilized to enhance shelf life of food products without roasting or grilling the food. Liquid smokes are majorly produced by the method of pyrolysis. Wood smoke is condensed by igniting the wood chips under limited oxygen content, which is further purified and subsequently fractionated to form oil and dry powder. The refining involved in liquid smoke eliminates the formation of unwanted polycyclic aromatic hydrocarbons (PAH) which might act as a barrier in imparting the flavor and color of liquid smoke. Refined liquid smokes offer multiple advantages over wood smoke, such as inhibition of PAH emissions, superior product homogeneity, ease to store and minimum environmental pollution. The commercial production of liquid smoke is also beneficial for controlling the growth of pathogenic microorganisms.
The market is witnessing significant growth owing to rising consumer preference for smoked food products such as salmons and smoked sausages. Rising preference for liquid smoke as browning agents, color preservatives, as well as antimicrobial additives is a key trend adopted by manufacturers for product differentiation. Liquid smokes with higher composition of carbonyl-containing compounds are witnessing rapid adoption among food industries as browning agent. However, refined liquid smokes with reduced levels of flavor and color are applied as preservatives in raw tuna and salmon. The acidic and phenolic content of liquid smoke imparts flavor, color, microbial stability and texture to food which is exhibited as a major factor for its increasing market prominence. Rise in pet ownership and processed food plants are some other factors boosting the market growth. Growing applications of liquid smoke to impart flavors to hard-boiled candy is a recent trend posing lucrative opportunities for market growth.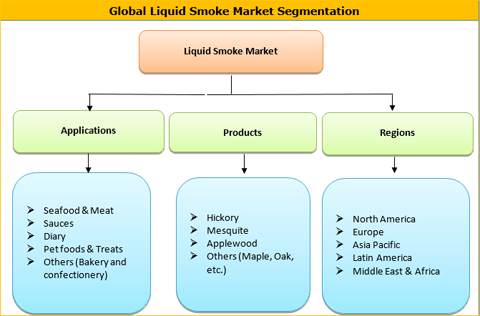 In 2016, North America dominated the market due to massive adoption of liquid smoke among seafood and processed meat applications in this region. Growing consumer preference for barbeque flavors and sauces is also driving the market of pet food and treats, which in turn is expected to augment the market. In addition to it, multinational North American companies are keen on strengthening partnerships with food manufacturers and distributors across the globe, thus acting as one of the prime factors for market growth. Apart from this, growing consumption of dairy products in Asian countries such as India is also escalating the market demand.
Some of the key players profiled in the market include Red Arrow International LLC, Besmoke Ltd., Redbrook Ingredient Services Ltd., MSK Ingredients Ltd., Kerry Group Plc, Ruitenberg Ingredients BV, B&G Foods Inc., Baumer Food Inc., Frutarom Savory Solutions Gmbh, Colgin and Azelis SA.