Marine actuators and valves are the components installed in the marine vessels for their proper control and smooth working. Actuators are the devices which are used to convert different forms of energy into mechanical motion. These motions are used to actuate different control system within a marine vessel. Similarly, valves are the devices which are used to restrict or regulate the flow of fluid related to different operations in the marine vessel. Various control systems of marine vessels such as navigation systems, safety systems, and auxiliary systems are operated with the help of actuators and valves. According to the working condition, mode of actuation, and applications a variety of actuators and valves are available for marine vessels. These components ensure highly precise control over different systems within the marine vessel.
A significant rise is marine transportation has been observed in the past few decades. Consistent rise is cruises, ships and cargo vessels have boosted the overall marine actuators and valves market. Marine vessel manufacturers are coming up with improved designs in order to increase their load-carrying capacity, reduce traveling time and cost, and most importantly the safety of the passengers and cargo. In order to achieve effective operational efficiency, manufacturers are also turning towards new and improved designs for actuators and valves. Consequently, the demand for marine actuators and valves has been uplifted significantly with the rise in demand for new marine vessels.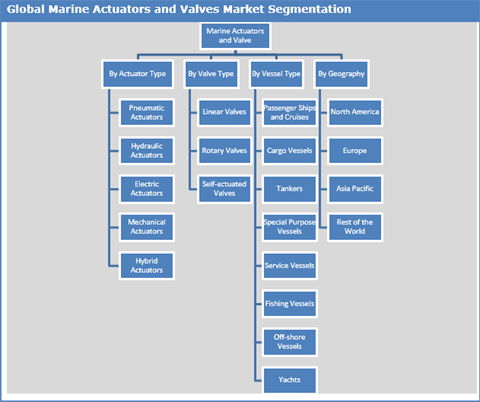 The report titled "Marine Actuators and Valves Market- Growth, Future Prospects, and Competitive Landscape, 2017-2025 offers strategic insights into the global marine actuators and valves market with a focus on the market size and estimates for the duration 2017 to 2025. The said research study covers in-depth analysis of multiple market segments based on actuator type, valve types, vessel type, and cross-sectional study across different geographies. The study covers the comparative analysis of different segments for the years 2015 & 2025. The report also provides a prolific view on market dynamics such as market drivers, restraints, and opportunities.
In order to help strategic decision makers, the report also includes competitive profiling of the leading marine actuator and valve manufacturers, their strategies, market positioning and key developments. Some of the major players profiled in the report include, AVK Holding A/S, Flowserve Corporation, KITZ Corporation, Honeywell International Inc., Rotork Plc, Watts Water Technologies, Inc., Burkert Fluid Control Systems, AUMA Industry & Marine GmbH, Emerson Electric Co., Lenco Marine and Bray International. Other in-depth analysis provided in the report includes:
Current and future market trends to justify the forthcoming attractive markets within the marine actuator and valve market
Market fullers, market impediments, and their impact on the market growth
In-depth competitive environment analysis
Trailing 2-Year market size data (2015 – 2016)
SRC (Segment-Region-Country) Analysis
Overall, the research study provides a holistic view of the global marine actuator and valve market, offering market size and estimates for the period from 2017 to 2025, keeping in mind the above-mentioned factors.