The Marzipan Market is expected to cross market value of USD 1708.5 million in 2027 from USD 1408.2 million in 2020. It is expected to grow at a CAGR of over 2.6% during the forecast period.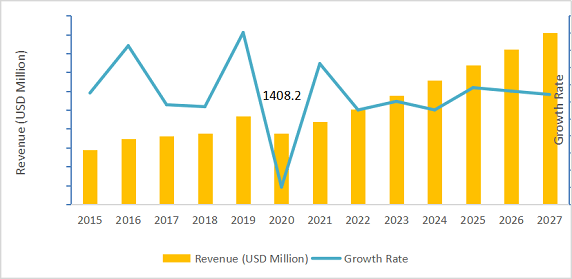 Key Market Drivers and Restraints
Increasing demand of marzipan among consumers due to rising popularity of to-go cake products is one of the factors expected to drive the growth of the global market in the near future. Rising demand for protein-enrichment and sweets with organic colors and growing consumer's inclination for multivariate confectionery products are expected to fuel the growth of the global market. Growing demand for custom cakes such as wedding cakes, Christmas cakes, and innovative-decorated cakes for occasions is expected to drive the growth of the global market. Increasing number of celiac patients coupled with growing health consciousness among consumer there in increasing demand for gluten-free food in the market.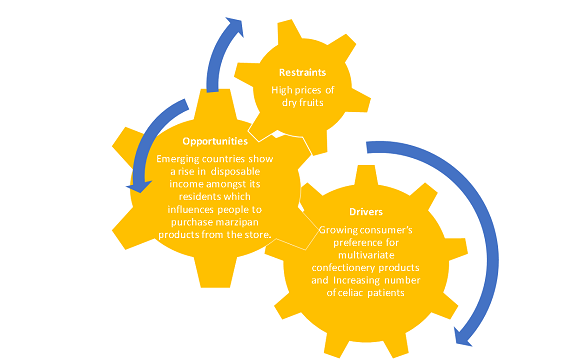 However, high prices of dry fruits, including walnuts, almonds, and pistachios are restraints that may hamper the growth of the global marzipan market.
Impact of COVID 19
The marzipan market will show considerable growth on the back of the global pandemic. As a result of the COVID-19 outburst, manufacturing and advertising companies of marzipan are facing issues in the production function. Because of COVID-19, the supply chain is disrupted, factories are shut down, and companies are facing complexity about the accessibility of the raw material and lack of resources and staff in the corona virus outbreak which has slow down the marzipan market at the global level.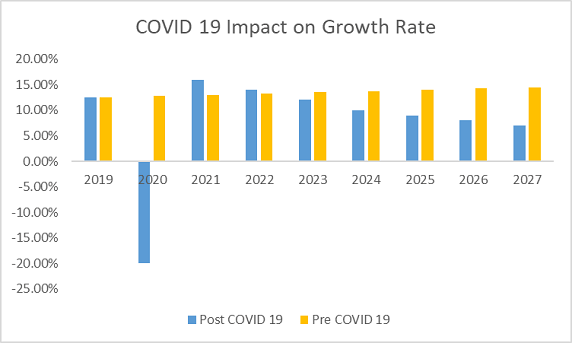 North America to Dominate the global Marzipan Market
The global Marzipan Market covers the six regions, namely Europe, North America, Asia Pacific, Latin America (LATAM), Middle East and Africa, including all the key economies in these regions. North America market is dominated the global market and accounted for more than 58.0% of the total market. This is attributed to the popularity of marzipan and its products and vast amounts of in disposable income.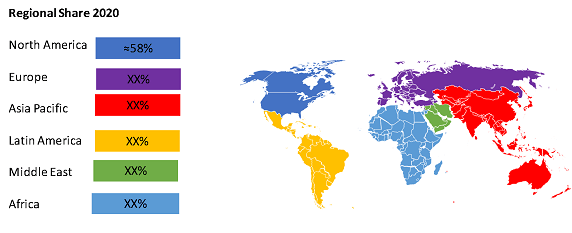 Global Marzipan Market is led by the Direct
Direct, cake, and others are the key Application in the Marzipan Market. In 2020, direct segment is accounted for the largest share of Marzipan Market. However, cake segment is anticipated to grow at the fastest CAGR during the forecast period.
Finished product would continue to dominate the global marzipan Market in terms of Product Type
Finished product, Semi-finished product are some of the major types of Product Type. Finished product segment accounted for the largest share in 2020 of the Marzipan Market in 2020. Increasing demand for finished product due to their consumer and functional properties of marzipan pastes.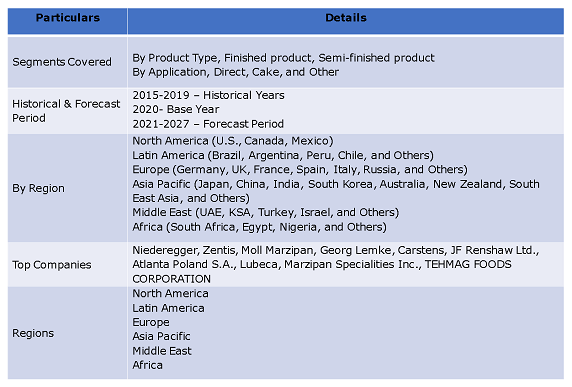 Frequently asked questions about global Marzipan Market
What are the consequences of COVID 19 on global Marzipan?
Ans: Marzipan manufacturing and selling companies are facing issues in production function
Which are the key Product Types through Marzipan?
Ans: Finished product and Semi-finished product are the most frequently through Marzipan
Which is the key Application through which Marzipan occurs?
Ans: Direct is the most Application in Marzipan
Who are the key players in the global Marzipan?
Ans: Niederegger, Zentis, Moll Marzipan, Georg Lemke, Carstens, JF Renshaw Ltd., Atlanta Poland S.A., Lubeca, Marzipan Specialities Inc., TEHMAG FOODS CORPORATION are key players operating in this market
Which is the leading regional market for global Marzipan?
Ans: North America has the largest share owing to the popularity of marzipan and its products. Vast amounts of in disposable income also accounts for the sales of marzipan in this region.
What will be the CAGR (2021 - 2027) of in global Marzipan?
Ans: The market is anticipated to grow at a CAGR of 2.6% throughout the forecast period
Which are the major factors driving the growth of global Marzipan?
Ans: Increasing demand for marzipan across the globe and the sales of marzipan rises considerably during the holiday season, requiring manufacturers to increase production. The ease of accessibility is also one of the factors that aid in the steady expansion of the global marzipan market