Mining chemicals market is witnessing growth owing to increased complexity of ores and low mineral concentration. Moreover, increasing investments in mining projected in emerging economies is another factor stimulating the market growth.
In terms of product type, in 2016, grinding aids accounted for over 35% share of the market in terms of revenue and projected to maintain their hold during the forecast period of 2017 to 2025. However, flocculants is projected to be the fastest growing segment. Collectors is another important product segment of mining chemicals market and is projected to witness moderate growth rate during the forecast period.
By application type, explosives and drilling and waste & water treatment application accounted for the largest share in the global market, representing more than 60.0% share collectively in 2016 in terms of revenue. However, growth is projected to be highest from the water treatment application segment which is projected to grow at a CAGR of over 7.0% during the forecast period of 2017 to 2025.
Of the global mining chemicals market, in 2016, Asia Pacific accounted for the largest share of 47.15% in terms of value. It is also projected to grow at a highest CAGR of over 7.0% during the forecast period of 2017 to 2025. This growth is attributed to the favorable government policies, increased urbanization and industrialization and increasing mining activities. In addition, rising foreign investment in the region is also contributing towards the market growth. Asia Pacific was followed by North America and Europe. Increasing merger and acquisition activities for mineral extraction and production in Latin America and Middle East and Africa is projected to augment market growth.
Chinese players are manufacturing and exporting floating mining chemicals in large volumes from domestic facilities. But, most of the Chinese made floating mining chemicals are not sold directly by manufacturers however, almost exclusively through distributors. In order to strengthen their market position player's needed to adopt various strategies such as expand their production capacity and develop new products using advanced technologies. Some of the key players present in this market are BASF, Clariant, Cytec, SNF FloMin, Beijing Hengju chemical Group Corporation and Kemira among others.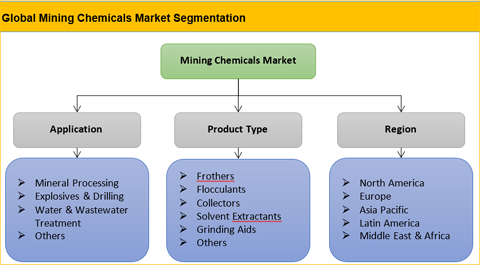 The report titled "Global Mining Chemicals Market - Growth, Future Prospects, and Competitive Analysis, 2017 – 2025" offers strategic insights into the global mining chemicals market along with the market size and estimates for the duration 2015 to 2025. The said research study covers in-depth analysis of multiple market segments based on product type, application and cross-sectional study across different geographies. The study covers the comparative analysis of different segments for the years 2016 & 2025. The report also provides a prolific view on market dynamics such as market drivers, restraints and opportunities.
In order to help the strategic decision makers, the report also includes profiles of the leading mining chemicals manufacturers, along with their, product portfolio and key developments. Other in-depth analysis provided in the report includes:
Current and future market trends to justify the forthcoming attractive markets within the mining chemicals industry
Market fuelers, market impediments, and their impact on the market growth
In-depth competitive environment analysis
Trailing 2-Year market size data (2015 – 2016)
SRC (Segment-Region-Country) Analysis
Overall, the research study provides a holistic view of the global mining chemicals market, offering market size and estimates for the period from 2017 to 2025, keeping in mind the above mentioned factors.