Key Market Insights
Growing popularity of 5G & IoT technology will spur the market growth
The global mixed reality market is growing competently, and accounted for US$ 75 Mn in 2018 and is expected to grow to US$ 3417.64 Mn in 2027 at a CAGR of 53.9% throughout the forecast period 2019 to 2027.
Mixed reality is an interdisciplinary field involving computer graphics, signal processing, computer apparition, user interfaces, mobile computing, wearable computing, information visualization, and the design of displays and sensors. Mixed reality concepts are increasingly being adopted by various industries including automotive, healthcare, and office environments.
The growing popularity of 5G technology, IoT technology and availability of low-cost hardware among others have an encouraging impact on the growth of mixed reality market. However, new business products are counting profoundly on the customer market but in the upcoming years, Bring Your Own Device (BYOD) trend is expected to gain more popularity within the mixed reality market.
Market Synopsis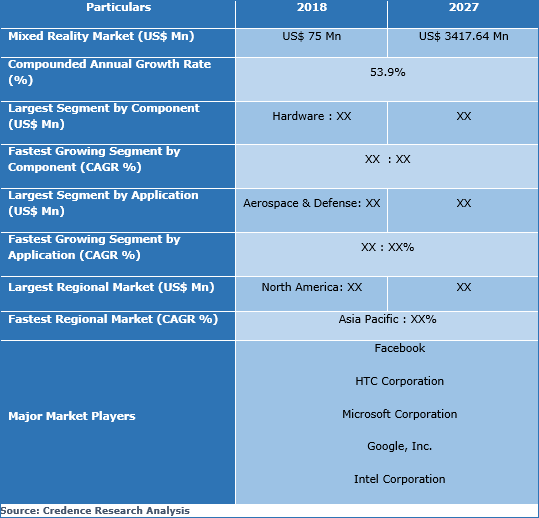 Get a sample copy for more information
Component Analysis
Increased investment flows by major players will shoot revenue growth during the forecast period
The hardware segment is the highest revenue contributing segment, accounting for more than 50% of the total market revenue generated worldwide. This is due to the development of advanced mixed reality hardware components such as sensors, processors, and displays among others. Companies such as HTC, Microsoft and Facebook among others are investing heavily in this technology.
In contrast, Software is expected to register the fastest growth during the forecast period. The growing inclination towards augmented reality, virtual reality and internet of things technology and their adoption in various enterprises are acting as a major driving force. For Instance, The WaveVR has developed a virtual reality concert platform which allows customers to watch musical performances when paired with the HTC Vive, it allows them to DJ their own set in a virtual venue.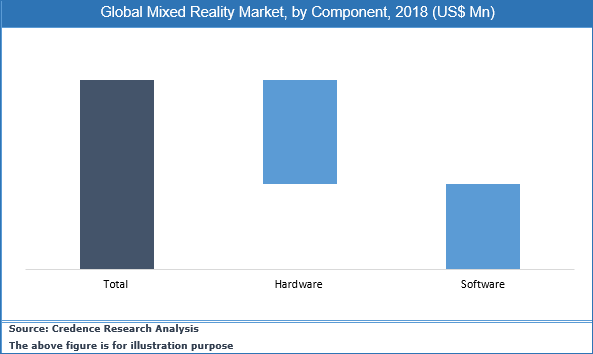 Get a sample copy for more information
Regional Analysis
Increasing adoption of technologically advanced solutions, the growing emphasis on digitalization and artificial intelligence holds the U.S. in dominant position
In 2018, North America appeared to be the largest contributing region in the mixed reality market accounting for more than 1/3rd of the global revenue. North America expected to continue its dominance throughout the forecast period trailed by Europe. This is due to an increase in technology adoption of mixed reality devices, 5G technology and artificial intelligence.
In contrast, the Asia Pacific region is expected to register the highest growth throughout the forecast period. Owing to a surge in adoption of advanced technology, increase in application areas and proliferation of smartphone devices in the emerging economies such as China and India. In addition, the penetration of mixed reality in education technology is expected to further boost the mixed reality market growth.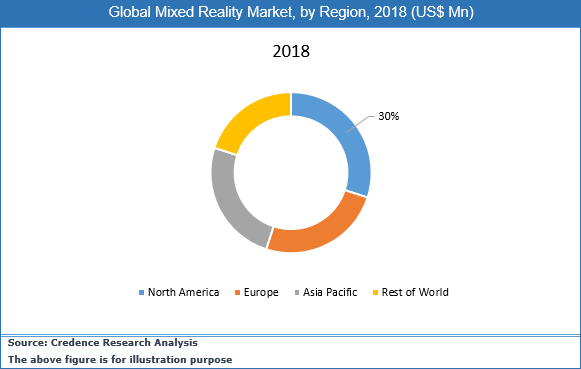 Get a sample copy for more information
Increased research and development with strong product portfolio in the developed regions
Top manufacturers are focusing on developing advanced products for application in various industries. The developers are entering new partnership agreements, product development, mergers and acquisitions, and improved R&D. This in turn, will increase the expansion of the mixed reality market in the emerging nations in the near future.
List of Companies Covered:
HTC Corporation
Microsoft Corporation
Facebook, Inc.
Apple, Inc.
Google, Inc.
Intel Corporation
Accenture
Dell Technologies
Magic Leap, Inc.
Amber Garage, Inc.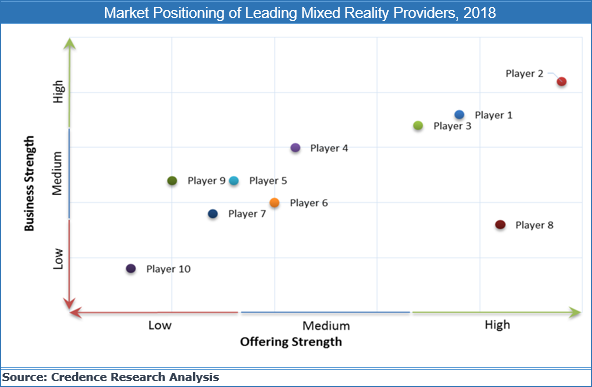 Key Industry Development:
In April 2016, BMW Group launched a mixed reality system integrated with their automobile design which has been developed wholly using the equipment from the computer gaming industry. This system promises noteworthy benefits over the virtual reality systems that have existed to date, thereby delivering virtual reality on developer workstations.
Historical & Forecast Period
This research study provides qualitative as well as quantitative insights for each segment and sub-segment from 2017 to 2027, considering 2018 as the base year for the research. CAGR (Compounded Annual Growth Rate) for each segment and sub-segment is calculated for the forecast period from 2019 to 2027.
Market Segmentation
ATTRIBUTE
DETAILS
Research Period
2017-2027
Base Year
2018
Forecast Period
2019-2027
Historical Year
2017
Unit
USD Million
Segmentation

Component Segment (2017–2027; US$ Mn)
• Hardware
• Software

Application Segment (2017–2027; US$ Mn)
• Healthcare
• Aerospace & Defense
• Entertainment
• Automotive
• Others (E-commerce & Retail)

Geography Segment (2017–2027; US$ Mn)
• North America (U.S., Rest of North America)
• Europe (U.K., Germany, Russia, Rest of Europe)
• Asia Pacific (Japan, China, India, Rest of Asia Pacific)
• Rest of the World (Middle East & Africa, Latin America)
The current report also comprehends qualitative and qualitative market valuation factors such as key market drivers, market trends, restraints and opportunities that gives a better market understanding of the overall spinal fusion market. Additionally, the global report also comprises graphical representation of competitive landscape based on their market initiatives and strategies, product portfolio and business strengths.
Key questions answered in this report
The worldwide market value of the mixed reality market in 2017 and 2018
Estimated forecast and market projections up to 2027
Which is the largest regional market for mixed reality?
Which segment has the highest penetration of mixed reality solutions?
Which are the key trends driving the global mixed reality market growth?
Who are the leading developers in the mixed reality market worldwide?
What are the key strategies adopted by the leading mixed reality developers?