"Environment Protection Regulations to Dictate the Growth of Odor Control Systems Market"
Odor control systems market value expected to hit US$ 4,070.5 Mn by 2026, expanding with a CAGR of 3.6% during the forecast period from 2018 to 2026. Principally governed by Asia Pacific, odor control systems market majorly driven by rising regulations for environmental protection by several governing bodies. Following numerous instances of escalating complaints pertaining to impact of unwanted odor on human health, number of central bodies started imposing regulations on emission from industrial sectors. In July 2017, overall, 3,416 cases associating various violations of environmental laws and regulations found and punished in China, accounting for an increment of 20% compared to 2016. Rising regulations have stimulated industrial sectors to adopt pollution-controlling techniques, thereby driving the odor control systems market. Further, in urban areas, inadequate handling of public amenities like toilets of cinema halls, bus or railway stations, hospitals, shopping complexes generate pungent odor, which affects the users as well as neighborhood residents. Growing hygiene concern worldwide, further driving the odor control systems market with adoption of odor controlling equipment by several municipal corporations.
Market Synopsis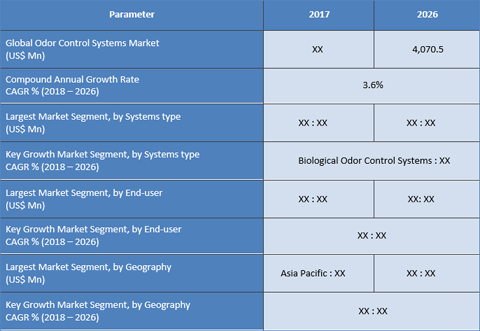 Get a sample copy for more information
"Biological Odor Control Systems to Witness Swift Adoption across End-users"
Biological odor control systems marked as low-cost, environmental friendly odor abatement method. Vital benefit of biological treatment over activated carbon treatment and chemical method is that the process does not require use of chemicals and operates at normal temperatures from 10°C to 40°C. Biological odor control method is economical, easy to operate and ecologically clean as compared to other odor treatment techniques; as the process of microbial degradation are generally oxidative in nature. Similarly, end-products of biological process such as carbon dioxide, water, sulfate and nitrate are environmentally sheltered. Considering ecological as well as economic benefits offered by biological odor control systems, demand for such equipment expected to witness promising growth across end-users.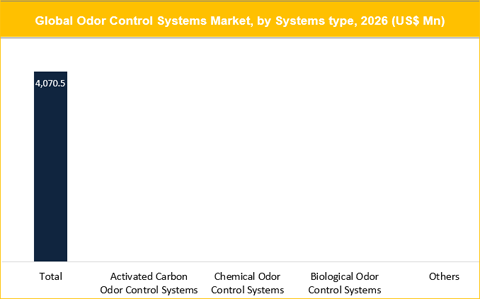 Get a sample copy for more information
"Persistent Development of End-use Industries to Ensure Fastest Growth of Odor Control Systems Market in Asia Pacific"
Currently, Asia Pacific market accounting close to 1/2 of the overall odor control systems market value, worldwide. Region also expected to demonstrate highest market growth throughout the forecast period, primarily due to development of end-use industries. Chemical industry in Asia Pacific witnessing extraordinary growth with China, Japan and India contributing notably in global chemical export. In 2017, China accounted for 6.9% and Japan accounted for 3.8% of global chemical export. Rapidly growing industrialization with growing population have aggravated odor pollution concerns across the region. In 2017, out of the 2.2 Mn odor pollution related demises in this region, 29% were due to heart disease, 27% stroke, 22% chronic obstructive pulmonary disease, 14% lung cancer and 8% pneumonia. Rising human health issues and deaths in the region dictated the governing bodies to impose regulations on emission from industrial sector, thereby driving the demand for odor control systems.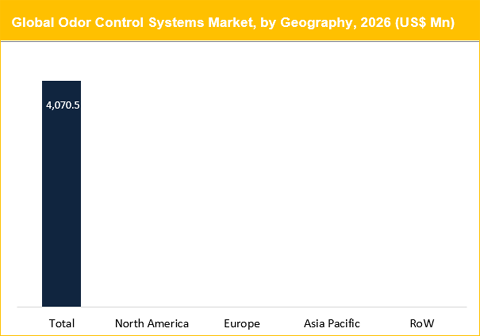 Get a sample copy for more information
"Product Innovation to Remain the Key Strategy to Cater Dynamic Requirements of End-users"
Odor control system manufacturers are aiming to cater strong customer base from various end-uses by offering specialized systems to cater dynamic customer requirements. Reduction in capital investment for odor controlling process is the key element for end-users as the process have minimal effect on overall productivity. Considering such factors, major industry players are concentrating on constant product development to offer economic solution by ensuring advanced functionality. In 2018, Evoqua Water Technologies LLC offered odor control system with 99% Hydrogen Sulphide removal capacity. Manufacturer also highlighted economic offering as well as quite operation feature of the system. Several players in the industry are offering Engineering, Procurement and Construction (EPC) services that offers distinct advantages such as single point responsibility, certainty of price as well as fast track to completion of project. Further, number of players are also offering maintenance services to enrich customer delight in the market. Key players of global odor control systems market includes Siemens AG, Evoqua Water Technologies LLC, KCH Services Inc., Romtec Utilities, Inc., Integrity Municipal Systems, LLC, Tholander Ablufftechnik GmbH, Environmental Integrated Solutions, IPEC NV, Bulbeck Group, ECS Environmental Systems, BioAir Solutions, LLC, Purafil, Inc., Ecolab Inc., Combined Seperation Systems Pty Ltd., ERG (Air Pollution Control) Ltd., Tri-tech Holding Inc., Aarcon Odour Control and others.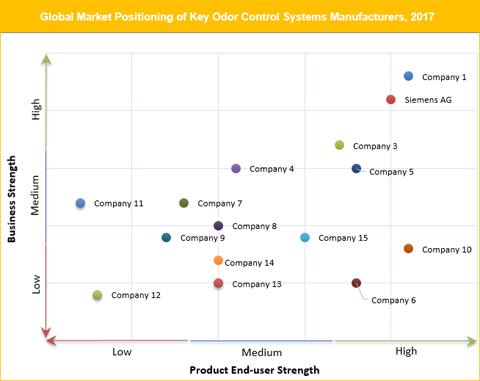 Historical & Forecast Period
This research report presents the analysis of each segment from 2016 to 2026 considering 2017 as the base year for the research. Compounded Annual Growth Rate (CAGR) for each respective segments calculated for the forecast period from 2018 to 2026.
Report Scope by Segments
Odor control systems market report provides market size and estimates based on market dynamics and key trends observed in the industry. The report provides a holistic view of global odor control systems market based on systems type, end-user and geography. Key segments covered in the report are as follows:
ATTRIBUTE
DETAILS
Research Period
2016-2026
Base Year
2017
Forecast Period
2018-2026
Historical Year
2016
Unit
USD Million
Segmentation

Systems type Segment (2016–2026; US$ Mn)
• Chemical Odor Control Systems
• Activated Carbon Odor Control Systems
• Biological Odor Control Systems
• Others (Water Scrubber, Incineration, Ozonation, Deodorant Sprinkling etc.)

End-user Segment (2016–2026; US$ Mn)
• Chemical Industry
• Oil Refineries & Petrochemical Industry
• Waste Treatment Facilities
• Food & Beverages
• Pulp & Paper Industry
• Manufacturing
• Others (Residential, Livestock, Agriculture, Healthcare Industry, etc.)

Geography Segment (2016–2026; US$ Mn)
• North America (U.S. and Rest of North America)
• Europe (U.K., Germany, France, and Rest of Europe)
• Asia Pacific (Japan, China, India, and Rest of Asia Pacific)
• Rest of World (Middle East & Africa (MEA), Latin America)
Key questions answered in this report
What was the market size of odor control systems in 2017 and forecast up to 2026?
Which is largest regional market for odor control systems?
What are the key market trends observed in the odor control systems market and outlook for waste treatment facilities?
Which is the most promising systems type and end-user in odor control systems market?
Who are the key players leading the market?
What are the key strategies adopted by the leading players in market?
What are the key pollution regulating trends across different geographies and sub-geographies?