Omega 3 fatty acids are a type of fat that are considered essential for overall health of humans. A lot of health experts recommend the same and a lot of research has went into discovering the many health benefits of omega-3 fatty acids.
Omega 3 fatty acids come in three major forms eicosapentaenoic acid (EPA), alpha-linoleic acid (ALA) and docosahexaenoic acid (DHA). EPA and DHA are mostly found in marine animals like fatty fish and krill and are majorly promoted for their benefit to the heart. While ALA is found in plant seed oils such as walnuts, flaxseed, hemp. Out of the two the animal based variety i.e. EPA and DHA is promoted more as most health benefits are linked to it.
EPA and DHA can help to reduce several cardiovascular disease risk factors and many experts recommend the consumption of omega-3s to support heart health. DHA is considered to be important for visual and neurological development in infants. Research has also demonstrated that poor memory is associated with low levels of DHA and DHA supplements support brain health in ageing brains. It also supports health of the eyes, as DHA is the raw material that help to prevent retinal cell damage.
In recent years due to increased focus on omega 3 fatty acids health benefits it has become a multibillion-dollar business, with Americans alone spending more than 2 billion dollars on foods fortified with omega-3 fats. As research and awareness continues to increase, the consumption of omega 3 fatty acids is expected to rise. Also, the global omega-3 nutrition gap is far from covered. Cardiovascular health benefits is the major driver and supplements providing this are projected to have a market value of about 8 billion dollars by 2018. The opportunity for supplements aiming brain and vision improvement is valued more than $500 million by 2018. Supplements is not the only form in which omega-3 fatty acids are available, in fact in recent years packaged food and drinks rich in omega-3 fatty acids have had a higher growth rate than supplements.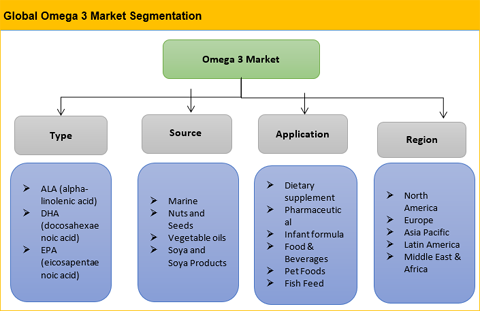 The report titled "Global Omega 3 Market - Growth, Future Prospects, and Competitive Analysis, 2017 – 2025" offers strategic insights into the global omega 3 market along with the market size and estimates for the duration 2015 to 2025. The said research study covers in-depth analysis of multiple market segments based on type, source, application and cross-sectional study across different geographies. The study covers the comparative analysis of different segments for the years 2016 & 2025. The report also provides a prolific view on market dynamics such as market drivers, restraints and opportunities.
In order to help the strategic decision makers, the report also includes profiles of the leading omega 3 manufacturers, along with their, product portfolio and key developments. Other in-depth analysis provided in the report includes:
Current and future market trends to justify the forthcoming attractive markets within the Omega 3 materials industry
Market fuelers, market impediments, and their impact on the market growth
In-depth competitive environment analysis
Trailing 2-Year market size data (2015 – 2016)
SRC (Segment-Region-Country) Analysis
Overall, the research study provides a holistic view of the global omega 3 market, offering market size and estimates for the period from 2017 to 2025, keeping in mind the above mentioned factors.