A plasticizer is a substance, which added to a material usually a plastic, resin or elastomer, to improve its processability, flexibility and stretchability. Plasticizers is a versatile product providing unique contributions in widely varying applications. Plasticizer can decrease melt viscosity, glass transition temperature and elasticity without changing the basic properties of plasticized material. In general, even small amount of plasticizer have noticeable effect on most plasticized materials. There are basically two types of plasticizers viz., phthalates and non- phthalates. In 2016, phthalates are widely used plasticizer owing to its high usage in various end use applications such as flooring & wall, film & sheet coverings, wires & cables, coated fabrics, consumer goods and others (medical, sports, & adhesive & sealants applications). In 2016, the wires and cables segment has a substantial share in global plasticizers market and will continue to dominate the market in upcoming years. Market size and forecast of each product type and application is presented for the period 2015 to 2025 along with respective CAGR % for the forecast period 2017-2025.
Geographically, the global plasticizers market is studied for the following regional markets:
North America
Europe

U.K.
France
Germany
Rest of Europe

Asia Pacific

China
India
Japan
Rest of Asia Pacific

Latin America

Brazil
Mexico
Rest of Latin America

Middle East and Africa

GCC
Rest of Middle East and Africa
The market size and forecast for the period 2015-2025 along with the CAGRs for the period 2017-2025 for the mentioned segments are also presented in this study.
Qualitative information sets such as market dynamics (drivers, challenges and opportunities) and market inclination insights are provided in this market assessment report. Tools such as competition assessment and attractive investment proposition are also included in this study for assessment of market competition. The report concludes with company profiles section that highlights key information about the major market players operating in the global plasticizerss market.
Aekyung Petrochemical Co. Ltd., Arkema S.A., BASF SE, Daelim Industrial Co. Ltd., Dow Chemical Company, Eastman Chemical Company, Evonik Industries AG, ExxonMobil Corporation, Ineos Group, LG Chem Ltd., Nan Ya Plastics Corporation, UPC Group, etc. are few key manufacturers in plasticizers market.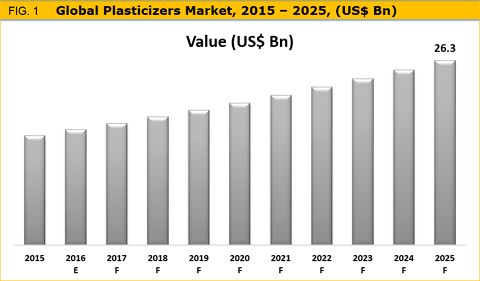 Purpose of the Report
The purpose of this strategic research study titled "Plasticizers Market - Growth, Opportunities, Share & Competitive Analysis, 2017 – 2025" is to offer industry investors, company executives, and industry participants with in-depth insights to enable them make informed strategic decisions related to the opportunities in the plasticizers market.
Target Audience
Industry Investors
Procurement Managers from End-user Companies
Plasticizers Manufacturers
Distributors
USP and Key Offerings
The report titled "Plasticizers Market - Growth, Opportunities, Share & Competitive Analysis, 2017 – 2025" offers strategic insights into the overall plasticizers market along with the market size, and estimates for the duration 2017 to 2025. The said research study covers in-depth analysis of multiple market segments based on applications and cross-sectional study across different regions.
In order to help strategic decision makers, the report also includes competitive profiling of the leading players in plasticizers market in terms of their product portfolio, financial health and business strategies. Other in-depth analysis provided in the report includes:
Current and future market trends to justify the forthcoming attractive markets within the plasticizers industry
Market drivers, market impediments, and their impact on the market growth
In-depth competitive environment analysis
Historical market size and data (2015 & 2016)
Overall, the research study provides a holistic view of the plasticizers market, offering market size and estimates for the period from 2015 to 2025, keeping in mind the above mentioned factors.