Industry Outlook
Interest in investing and developing in proton therapy has exponentially increased over the past few decades, including the clinical advantage of Bragg peak dose as against the conventional high-energy X-ray distribution of photons. This benefit allows higher dose of radiation therapy delivered to the location and the adjacent tissue compared to photon therapy. Additionally, technological evolution has allowed better accuracy and ease of use of proton therapy such as rotation gantry enabling treatment delivery in similar manner to X-ray therapy, better imaging, better treatment planning and improved patient immobilization. The financial investment in proton therapy is high, however, successful proton facility in any organization can enhance the reputation of the radiotherapy department and attract new patients. This will therefore assist in mitigating the high costs incurred in installation and operations.
The global proton therapy market is primarily driven by growing number of facilities, increasing toll of cancer cases and growing volume of investments for establishing advanced radiotherapy units. Increasing funding and investments by manufacturers, private investors and hospitals is a significant growth contributor to this market. Governments across both developed and developing nations are framing their budgets for establishment of such centers. Rapid increase in the cancer patient pool is further anticipated to strengthen the market growth during the forecast period. Varian Medical Systems projects that by 2030, more than 300,000 patients will be treated with proton therapy, therefore anticipating robust market potential.
Better reimbursements in North America and Europe, along with growing cancer treatment expenditure in developing nations will further propel the market growth. Initiatives by hospitals, radiologists, and manufacturers in creating awareness in patients about the advantages of proton therapy over conventional measures will further augment the influx of patients preferring proton therapy. This will in turn augment the potential of reducing overall treatment costs and hospitals opting for setting up proton therapy units in their facilities. Hence, growing awareness and increasing adoption of this treatment will collectively drive the market growth. Conversely, the current high costs of establishing proton therapy units, and uneven reimbursements in emerging nations are at present restraining the market growth.
Market Synopsis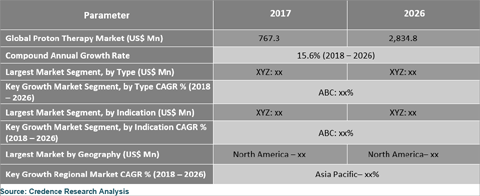 Get a sample copy for more information
Multiple Rooms Systems to Face Significant Competition form Compact Systems Segment
Based on the types of systems, the global proton therapy market is segmented into compact (single room) systems and multiple rooms systems. Between the two, multiple rooms systems are currently in high demand. In these settings, a single system deliver treatment to multiple patients simultaneously; this thereby is viewed as an economic mode of operation. The adoption of multiple rooms systems is observed to be significantly high in developed markets of North America and Western Europe, and particularly in large hospitals. However, the compact systems segment will gain prominent attention in terms of swift adoption through the forecast period. The capital investments in establishing single room systems in hospitals is relatively less. Therefore the demand for these systems shall be high in emerging markets of Asia Pacific, Latin America and Middle East & Africa. Furthermore, the time and space required for installation of these systems is also comparatively less, hence supporting its high demand in emerging regions.
Get a sample copy for more information
Pediatric Cancers to Have Prominent Market Potential
Proton therapy has off late attracted attention as a potential radiotherapy modality for treating pediatric cancer. The dose to normal tissue with proton therapy can be reduced to the minimum to children, therefore minimizing the harmful radiation effects to the normal tissue. Proton therapy also reduced the risk of secondary cancer due to smaller amounts of normal tissue being irradiated. For instance, in Mirabell et al., it is predicted that the incidence of secondary cancer can be reduced to 15 fold with the use of proton therapy in the cerebrospinal region. Such results have urged policy makers to promote proton therapy for pediatric cancers.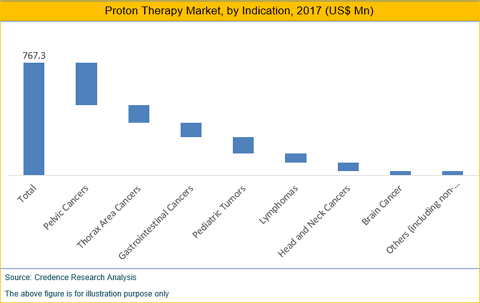 Get a sample copy for more information
North America and Europe to Continue as the Largest Markets for Proton Therapy
Based on al distribution, the global proton therapy market is segmented into North America, Europe, Asia Pacific, Latin America and Middle East & Africa. Europe has the largest share in the global proton therapy market in terms of the number of operational rooms, the number of in-progress facilities is also impressive in the region. Considering the country-level distribution, the largest share in the global market is occupied by North America. Additionally, the volume of multiple-room systems is also high in the U.S. Conversely, the demand for single-room facilities is anticipated to be high throughout the global market, with particular steep growth in emerging markets of Asia Pacific. China and Japan are the most prominent markets for proton therapy systems in Asia Pacific. Japan is observed to be highly developed and well-structured market in the region, where the guidelines and further clinical research activities for exploring avenues for proton therapy are already well-developed and reported.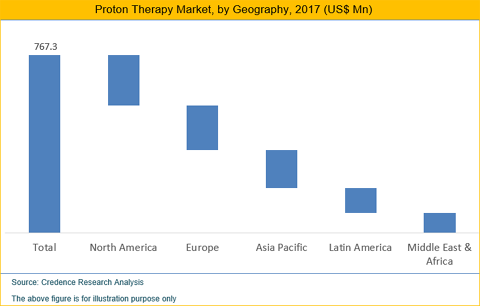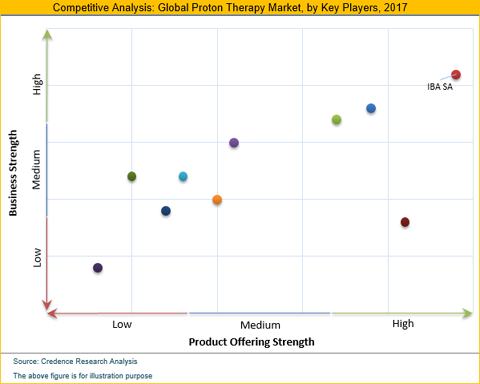 Historical & Forecast Period
This research report presents the analysis of each considered segment for the period from 2016 to 2026, having 2017 as the base year for estimations. Compounded annual growth rates (CAGRs) for each segment are calculated for the forecast period from 2018 to 2026.
Report Scope by Segments
The Proton Therapy Market report provides quantitative assessment of the industry terms of current and forecasted market size, while also presenting the market dynamics. This market is segmented based on type, shape, applications, and geography.
ATTRIBUTE
DETAILS
Research Period
2016-2026
Base Year
2017
Forecast Period
2018-2026
Historical Year
2016
Unit
USD Million
Segmentation

By Type (2016–2026; US$ Mn)
• Compact Systems
• Multiple Rooms Systems

By Indications (2016–2026; US$ Mn)
• Pelvic Cancers
• Thorax Area Cancers
• Gastrointestinal Cancers
• Pediatric Tumors
• Lymphomas
• Head and Neck Cancers
• Brain Cancer
• Others (including non-oncological indications)

Geography Segment (2016–2026; US$ Mn)
• North America (United States and Canada)
• Europe (U.K., Germany, Rest of Europe)
• Asia Pacific (China, Japan, Rest of Asia Pacific)
• Latin America (Brazil, Mexico, Rest of Latin America)
• Middle East and Africa (GCC, Rest of MEA)
This study also includes qualitative information sets such as market dynamics, attractive investment proposition and competitive landscape positioning major market players. Market dynamics such as drivers, challenges and opportunities are assessed in the report for determining the prevalent and anticipated market trends. Additionally, the study also incorporates profiling of key market players based on business overview, financial information, product portfolio and key developments. The major market players profiled in this report include Ion Beam Applications SA, Varian Medical Systems, Hitachi Ltd., ProNova Solutions LLC, Sumitomo Heavy Industries Ltd., Mitsubishi Electric Corporation, ProTom International, Inc., Optivus Proton Therapy, Inc., Mevion Medical Systems and Advanced Oncotherapy.
Key questions answered in this report
What is the projected market size and CAGR of the global proton therapy market through the forecast period 2018 to 2026?
Which are the prime dynamics determining the prevalent trends in the global market?
Between compact and multiple room systems, which segment occupies dominant position, and why?
Which are the key factors supporting high demand for proton therapy systems for the treatment of brain and prostate cancer?
Will the demand for proton therapy systems overtake the position of x-ray beam therapy?
How are the market trends prevalent in the North America market determining the market growth in the rest of the world?