Key Market Insights
"Increased Internet Connectivity has increased the Demand for Remote Browser Market globally"
Globally, the remote browser market had registered a market value of US$ 1838.5 Mn in 2018 and is expected to grow with a CAGR of 17.9% during the forecast period from 2019 to 2027.
Remote browsers are the type of software that are used for browsing the internet that is being hosted on a cloud platform instead of installing on a personal laptop, PC or locally. This type of browsing protects the data of an organization, individuals or enterprises from various cyber threats including ransomware, malware and others. Various companies have started adopting remote browsers to reduce cyber threats.
The rising number of internet connection and increasing usage of the internet to gather critical data is considered as a major factor which is driving the market across the globe. With the rise in internet penetration, there has been an increase in cybercrimes and activities therefore, to reduce the losses caused by rising internet penetration remote browsers are being adopted by the companies.
Market Synopsis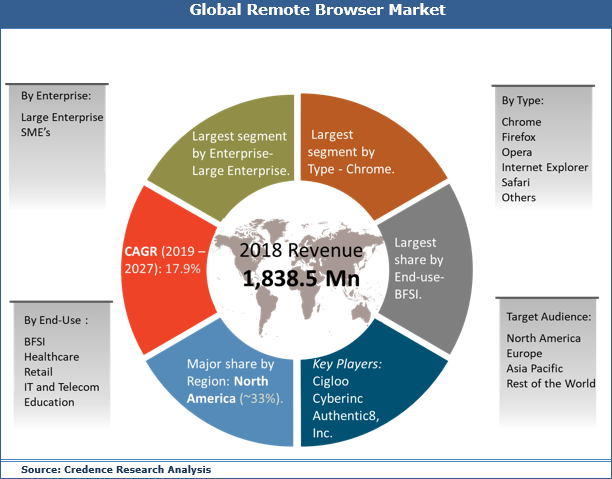 Get a sample copy for more information
Enterprise Analysis
"Increasing investment in cloud based service supports market growth"
In 2018, the overall remote browser market was dominated by the large enterprises segment with a market share more than 65.0% and is expected to grow with a significant CAGR during the forecast period. This is due to increasing investments by the large organization in cloud services and the adoption of a secure environment for the individuals to browse the internet leading to reduce threats from malware and ransomware.
Development of new cloud based services along with various collaboration by service providers enables large enterprise to opt for remote browsers for securing data from malwares. For instance, in December 2018, Symantec Corp. and Fortinet came into partnership agreement. This partnership aims to provide customers most robust security solution by integrating Fortinet's next generation firewall with Symantec's cloud based web security service (WSS).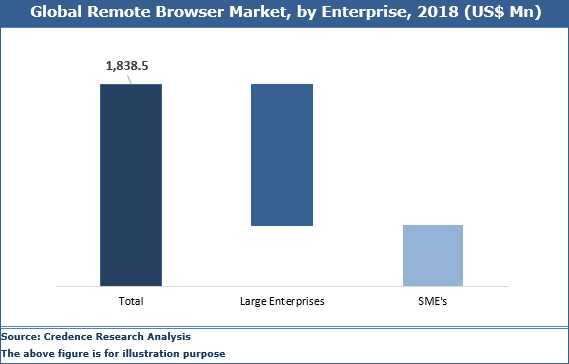 Get a sample copy for more information
Regional Analysis
"North America holds largest share in the global remote browser market"
The global remote browser market was governed by North America with more than 1/3rd of the market share in the year 2018. This is due to the presence of various cloud-based service providers in the country that offer various solutions and packages to large enterprises and SMEs for preventing cyber threats. Additionally, the presence of key players in the region such as Menlo Security, Inc., Symantec Corporation and others that provides remote browsing to the companies and individuals and protect their data from malware and ransomware is one of the factors which is driving the market in the region.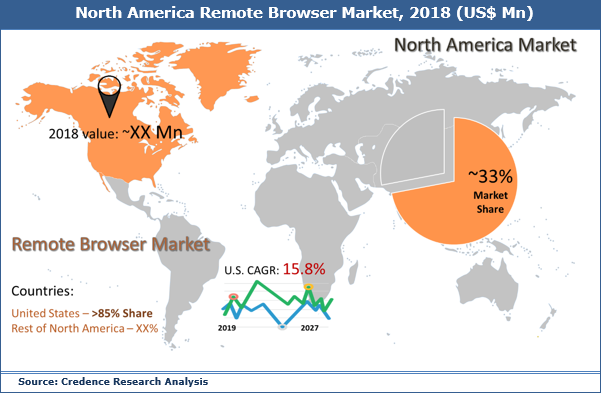 Get a sample copy for more information
"Europe is projected to be among top adopters of remote browsers during the forecast period"
Rising number of data breaching cases in the region supports the growth of remote browsers market in the region. Moreover, increasing awareness of data security coupled with increasing implementation of remote browser solutions by a number of organizations is a key factor for the growth of the market in the Europe region.
List of Companies Covered:
Menlo Security
Symantec Corporation.
TuCloud Federal Inc.
Bromium Inc.
BeyondTrust Corporation.
Cigloo
Citrix Systems, Inc.
Ericom Software
Light Point Security
Cyberinc
Authentic8, Inc.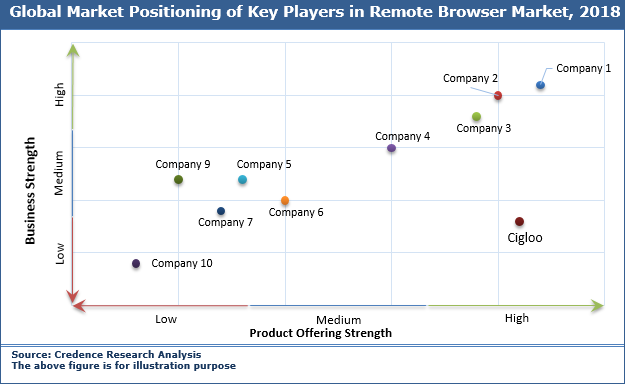 Key Industry Developments:
In February 2020, Cyberinc announced partnership with Tech Data. Tech Data is a leading distributor of IT products, solutions and services. Through this partnership Cyberinc aims to bring the innovative Zero Trust-based Isla isolation platform to Tech Data's product portfolio in the U.S. By addition of remote browser offered by Cyberinc, Tech Data able to offer the premier remote browser isolation solution in the market.
In November 2018, Ericom Software launched a new product. The Ericom Shield is an advanced remote browser isolation (RBI) that aims to protect devices from internet-borne threats such as ransomware and malware.
In February 2020, McAfee entered into an agreement to acquire Light Point Security. This acquisition aims to integrate Light Point Security's browsers isolation technology into its secure web gateway. Moreover, the acquisition.
In February 2017, Symantec Corp. acquired LifeLock, Inc., leading provider for identifying theft protection. The acquisition aims to create one of the most comprehensive consumer digital safety platform to help consumers protect their information and devices.
Historical & Forecast Period
This study report represents analysis for each segment from 2017 to 2027 considering 2018 to be the base year. Compounded Annual Growth Rate (CAGR) for each of the respective segments estimated for the forecast period from 2019 to 2027.
Market Segmentation
ATTRIBUTE
DETAILS
Research Period
2017-2027
Base Year
2018
Forecast Period
2019-2027
Historical Year
2017
Unit
USD Million
Segmentation

Enterprise (2017–2027; US$ Mn)
• Large Enterprises
• SME's

Type Segment (2017–2027; US$ Mn)
• Chrome
• Firefox
• Opera
• Internet Explorer
• Safari
• Others

End-use Industry Segment (2017–2027; US$ Mn)
• BFSI
• Healthcare
• Retail
• IT and Telecom
• Education
• Others

Geography Segment (2017–2027; US$ Mn)
• North America (U.S. and Rest of North America)
• Europe (U.K., Germany, France, and Rest of Europe)
• Asia Pacific (Japan, China, India, and Rest of Asia Pacific)
• Rest of World (Middle East & Africa (MEA), Latin America)
The current report also comprehends qualitative and qualitative market valuation factors such as key market drivers, market trends, restraints and opportunities that give a better market understanding of the overall remote browser market. Additionally, the global report also comprises graphical representation of competitive landscape based on their market initiatives and strategies, product portfolio and business strengths.
Key questions answered in this report
What are the current market trends and dynamics in the remote browser market and valuable opportunities for emerging players?
What is driving remote browser market?
What are the key challenges to market growth?
Which segment accounts for the fastest CAGR during the forecast period?
Which product type segment holds a larger market share and why?
Are low and middle-income economies investing in the remote browser market?
What is the market trend and dynamics in emerging markets such as Asia Pacific, Latin America, and Middle East & Africa?