Industry Outlook
Sinusitis treatment drugs market accounted for a market value of US$ 2,006.9 Mn in 2017 and projected to grow at a CAGR of 3.2% during the forecast period from 2018 to 2026. Sinusitis is an inflammation of the paranasal sinuses caused due to allergy, autoimmune reactions or physical obstructions. According to American Academy of Allergy Asthma & Immunology (AAAAI), sinusitis is of two types acute and chronic where acute sinusitis symptoms lasts for less than four weeks while chronic sinusitis is diagnosed when symptoms last for more than 12 weeks. According to Sinuwave Technologies Corporation, sinusitis affects around 40% of the population in the United States and results around US$ 8.6 Bn in annual treatment expenditure every year. According to medical experts, acute sinusitis is usually of viral etiology and patients are treated with supportive therapies such as nasal irrigation. In case of chronic sinusitis, patients are on multiple regimes of antibiotics, local & systemic corticosteroid therapy, and other drugs. High prevalence of sinusitis and even higher incidence in the urban population are the key factors driving the global sinusitis drugs market. Shift in lifestyle, growing urbanization and industrialization, and similar such factors have led to increased air, water, and soil pollution worldwide. This, as a result, has led to increased exposure to infection-causing virus and bacteria thereby growing the risk of sinusitis. Additionally, evolution in the diagnosis of sinusitis from physical examination to the novel endoscopy and computed tomography imaging techniques have led to increased diagnosis rate of sinusitis. This, in turn, has augmented the potential patient pool and thereby increased the demand for sinusitis treatments.
Market Synopsis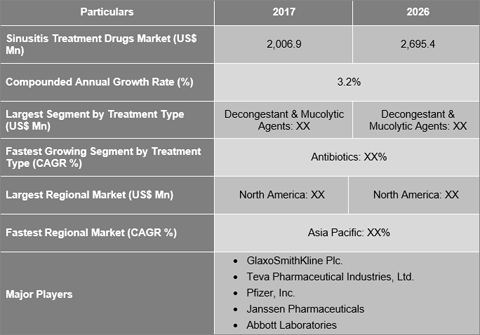 Get a sample copy for more information
"Decongestant & mucolytic agents are the first choice of drug against non-microbial sinusitis that is highly prevalent"
In year 2017, decongestant & mucolytic agents accounted for the largest market share and expected to maintain its dominance throughout the forecast period. The key factors responsible for market growth are first line of action for non-infectious sinusitis, upcoming novel technologies of drug delivery, and increasing patient-awareness has assisted the growth in disease diagnosis rate. During the forecast period from 2018 to 2016, antibiotics observed as fastest growing segment due to key market drivers such as developing diagnostics technologies. As per the latest research quote published by National Institute of Health (NIH), the incidence of acute sinusitis is 15 to 40 episodes in 1000 patients per year. Acute sinusitis is the second most common infectious disease encountered by general practitioners throughout the globe.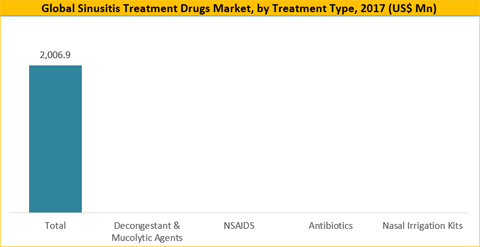 Get a sample copy for more information
"Increasing awareness in the population about the severity of sinusitis and rapid adoption of novel diagnostic techniques Asia Pacific is fastest growing region globally"
North America dominated the sinusitis treatment drugs market due to key factors such as rising prevalence of sinusitis coupled with developed diagnostic technologies, and high disease awareness in patients & medical practitioners. In addition, upcoming novel drug delivery technologies expected to assist the market growth in the near future. During the forecast period from 2018 to 2026, Asia Pacific observed as the fastest growing region due to factors such as rising prevalence of sinusitis along with increasing awareness about the nasal & sinus disorders in patients, and developing healthcare infrastructure with skilled healthcare professionals. In addition, swift urbanization and industrialization in key countries such as China, India, and Indonesia, leading to air pollution in urban areas and increasing the risk of sinusitis. China and India alone house the largest share of the global population, therefore presenting a significant patient pool.
Get a sample copy for more information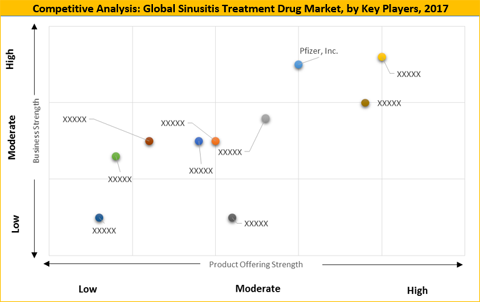 Historical & Forecast Period
The sinusitis treatment market analyzed considering current market trends for base year 2017 and based on future trends CAGRs calculated for the forecast period from 2018 to 2026.
Report Scope by Segments
This report on sinusitis treatment market offers in-depth information related to market dynamics and global trends. The report provides comprehensive summary of the global sinusitis treatment market by segmenting the market based on treatment type, and geography. The objective of publishing this in-depth research report is to assist the industry stakeholders in carrying-out decisions and strategy implementation in the sinusitis treatment market.
ATTRIBUTE
DETAILS
Research Period
2016-2026
Base Year
2017
Forecast Period
2018-2026
Historical Year
2016
Unit
USD Million
Segmentation

Treatment Type Segment (2016–2026; US$ Mn)
• Antibiotics
o Cephalosporin Antibiotics
o Penicillin Antibiotic / Β-lactamase Inhibitor Combinations
o Macrolide Antibiotics
o Quinolone Antibiotics
• NSAIDS
• Decongestant & Mucolytic
o Imidazoline Derivatives
o Antihistamines
o Corticosteroids
o α₁-adrenergic receptor agonist
• Nasal Irrigation Kits

Geography Segment (2016–2026; US$ Mn)
• North America (United States and Canada)
• Europe (U.K., Germany, Rest of Europe)
• Asia Pacific (China, Japan, Rest of Asia Pacific)
• Latin America (Brazil, Mexico, Rest of Latin America)
• Middle East and Africa (GCC, Rest of MEA)
This report further describes the major qualitative assessment factors including key market trends, market drivers & restraints, to assist in better understanding of global sinusitis treatment market. Furthermore, the key players analyzed graphically based on their product offering, market strategies and business strength. The report also provides attractive investment proposition based on the extensive geographical research carried out based on PESTEL analysis. Key players profiled in the report include Pfizer, Inc., Janssen Pharmaceuticals, Abbott Laboratories, GlaxoSmithKline Plc, Sanofi SA, Novartis AG, and Teva Pharmaceutical Industries, Ltd. among others.
Key questions answered in this report
What are sinusitis treatments and their evolving applications?
How route of administration plays key role in sinusitis treatment technology?
What are the recent market trends and growth opportunities for the companies operating in sinusitis treatment industry?
Which are the most attractive markets geographically for sinusitis treatment technology?
Which is the fastest growing application of sinusitis treatment?
What is the competitive landscape of sinusitis treatment drugs market?