Overview:
The combination of rising population, improving standard of living, and rapid urbanization has collectively increased the number of tall building units and sky scrapers. This has consequently triggered demand for safe and convenient vertical mode of transportation. In view of government mandates, elevator manufacturers are continually focusing on building technologically advanced, energy efficient, and safe variants. Smart elevators are enabled with state-of-the-art digital security systems and automated traffic management units which reduce the waiting time of customers and allow faster way to travel between floors of a high-rise or multi-storey building. Thus, the benefits offered by smart elevators in terms of waiting time, elevator traffic control, and security owing to integrated access control features is driving their adoption across residential, commercial, industrial, and institutional end-use segments. On the contrary, high purchase cost and complexities involved in installation are few challenges deterring market growth.
Key Trends Shaping Market Demand:
Revival of the construction industry and rapid growth in urbanization
Improved features offered including reduced waiting time, security,
Focus on Green infrastructure to offer immense growth opportunities
Developments in sensor and security technologies bodes well for market growth
The research study titled "Global Smart Elevator Market – Growth, Future Prospects and Competitive Analysis, 2017 – 2025" offers strategic insights into the global smart elevator industry along with the market size and estimates for the duration 2015 to 2025. The said research study covers in-depth analysis of market segments based on service type, end-use application, and cross-sectional study across different geographies and sub-geographical regions. The study covers the comparative analysis of different segments for the years 2016 & 2025. The report also provides a prolific view on market dynamics such as market drivers, restraints and opportunities. In addition, the report includes a section providing insights on the key trends followed in the market.
In order to help strategic decision makers, the report also includes competitive profiling of the leading smart elevator vendors, their business strategy analysis, market positioning, and key developments. Some of the major players profiled in the report are Bosch Security Systems, Hitachi Ltd., Honeywell International Inc., Otis Elevator Company, Mitsubishi Electric Corporation, Kone Corporation, Hyundai Elevator Co. Ltd., Johnson Controls Inc., Schneider Electric SA, Schindler Group, Fujitec Co., Ltd., and ThyssenKrupp Elevator. Apart from the company profiles, the report includes a section covering the competitive landscape wherein the market positioning of the companies has been discussed. The section also provides a view of key business strategies adopted by the leading market players.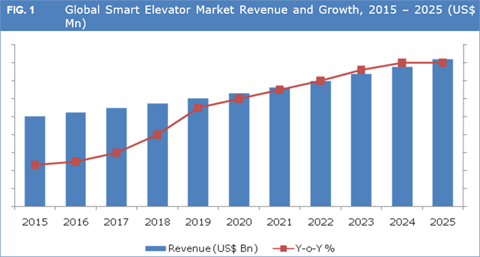 The global smart elevator market is classified into following categories:
By Service Type

New Purchase & Installation
Upgrade (Modernization)
Maintenance

By End-use Application

Residential
Commercial
Healthcare & Institutional
Industrial

By Region

North America

The U.S.
Rest of North America

Europe

The U.K.
Germany
France
Rest of Europe

Asia-Pacific (APAC)

India
China
Japan
Rest of APAC

Rest of the World

Latin America
Middle East and Africa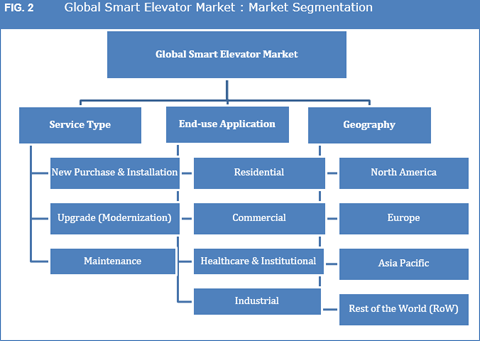 Other in-depth analysis provided in the report includes:
Current and future market trends to justify the forthcoming attractive markets within the global smart elevator industry
Comparative analysis for different segments for the years 2016 & 2025
Market fuelers, market impediments, and their impact on the market growth
In-depth competitive environment analysis including the positioning of market players and their business strategy analysis
Trailing 2-Year market size data (2015 – 2016)
SRC (Segment-Region-Country) Analysis
Overall, the research study provides a holistic view of the global smart elevator market, offering market size and estimates for the period from 2017 to 2025, keeping in mind the above mentioned factors.