Industry Outlook
Smart glass is electronically switchable glass that is also known as switchable glass, privacy glass, electric glass, and intelligent glass. These are technically advanced type of glass which are coming to mainstream product line from being niche product.
Rise in construction activities across the globe, coupled with high investments in smart and green infrastructure along with increase in automotive production are driving the demand for smart glass market. Further, growing renovation and restoration activities in both residential and commercial buildings are boosting the growth of smart glass market worldwide as the existing buildings lack infrastructure, which is energy-efficient. As an alternative to traditional glass, smart glass manufacturers are ready to tap-in the enormous opportunities available in the smart glass market. In 2016, Mercedes-Benz introduced the Suspended Particle Devices technology (SPD technology), which is a switchable glass assembly that offers different range of light to transmit. BMW AG and Daimler AG have also incorporated smart glass in windows and sunroofs in premium cars. LG incorporated the smart glass technology in its latest refrigerator, which features dark glass panel that pops up light as an when it receives an outside stimulus to become transparent to reveal contents of the fridge.
Market Synopsis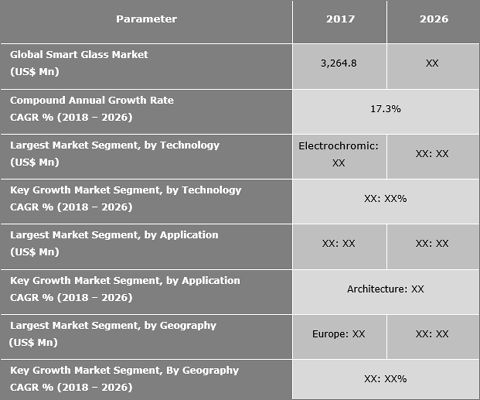 Get a sample copy for more information
Electrochromic expected to dominate the market in upcoming years
By technology, global smart glass market segmented into suspended particle display, electrochromic, liquid crystal, photochromic, thermochromic and micro-blinds among which electrochromic segment held the largest market share in 2017 and expected to dominate the market during the forecasted period of 2018 to 2026. This mainly attributed to increase in usage of smart windows for architectural and transportation applications for which it has earned several investments by the key market players.
Get a sample copy for more information
Architecture expected to be the fastest growing sector for smart glass applications
On basis of application, global smart glass market is segmented into architecture, transportation, power generation plants (solar), consumer electronics and others among which architecture is expected to be the fastest growing sector. Smart glass used for architecture enhances the aesthetic value while reducing cooling, heating, and lighting costs. In the architecture application, smart glasses are used in partitions, windows, doors, elevators and skylights. Different establishments using smart glass are schools and colleges, corporate offices, hospitals, residential buildings, malls supermarkets etc. Hence, higher usage of smart glass in variety of establishments helped in fueling the growth of global smart glass market. Furthermore, increase in use of smart glass in sun roofs, sun visors and rear windows parts in the premium cars along with heavy demand for smart glass from aviation industry is fueling the overall growth of global smart glass market.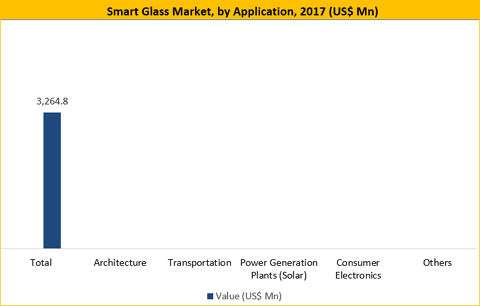 Get a sample copy for more information
Rapid demand for smart glass in Asia Pacific projected to drive the market growth
Based on geography, global smart glass market is segmented into Europe, North America, Latin America, Asia- Pacific and Middle East & Africa. In 2017, Europe dominated the market mainly due to developed manufacturing business in countries such as U.K, France and Germany. In addition to this, government initiatives regarding energy harvesting and green buildings have further fueled the growth of smart glass market in prominently in developed regions. North America followed Europe very closely owing to increasing usage of smart glass in renewable sources such as solar plant. Asia Pacific is considered as the most lucrative region for smart glass market due to rapid economic development of nations such as Japan, China and India. Some developing segments in the region include construction and housing, consumer electronics, transportation and solar energy generation, which are anticipated to boost the demand for smart glass market in the region.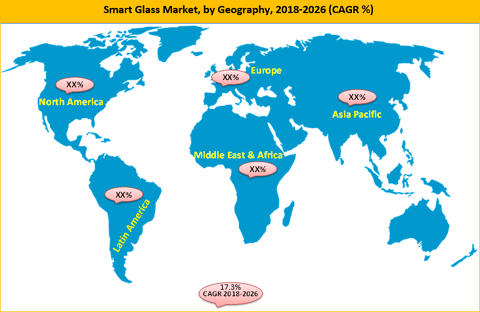 Few major players dominates the global smart glass market
Asahi Glass Company Ltd, Saint Gobain S.A., Corning Incorporated, Pleotint LLC, Polytronix Inc., Ravenbrick LLC, Research Frontiers Inc., Aage electrochromics, Inc., Schott corporation, Smartglass International Ltd. , View Inc. among others are some of the few major players enjoying significant market share in the industry. There is good opportunity for industry consolidation as no single player has expertise in manufacturing all kinds of smart glass technologies that are required by various different end-use industries.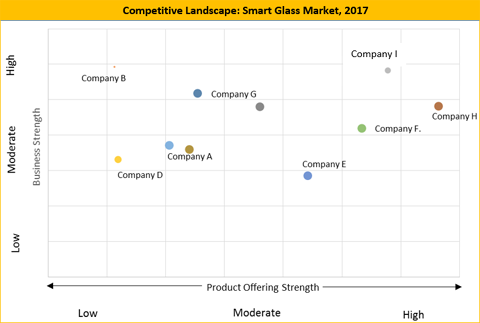 Historical & Forecast Period
Our study analyzed each market segment during the period of 2016 to 2026 with 2017 as the base year. Forecast period of 2018 to 2026 is considered for the CAGR calculation.
Report Scope by Segments
Smart glass market report represents understanding about the current market strategies and dynamics along with quantitative and quantitative analysis of the overall market. The report enlightens the thorough outline of global smart glass market by categorizing the market in terms of technology, application and geography. Our interest of publishing this broad research report is to aid the smart glass professionals and market stakeholders in assisting decisions and strategic initiatives in the smart glass market.
ATTRIBUTE
DETAILS
Research Period
2016-2026
Base Year
2017
Forecast Period
2018-2026
Historical Year
2016
Unit
USD Million
Segmentation

Technology Segment (2016–2026, US$ Mn)
• Suspended Particle Display
• Electrochromic
• Liquid Crystal
• Photochromic
• Thermochromic
• Micro-Blinds

Application Segment (2016–2026, US$ Mn)
• Architecture
• Transportation
• Power Generation Plants (Solar)
• Consumer Electronics
• Others

Geography Segment (2016–2026; US$ Mn)
• North America (United States and Canada)
• Europe (U.K., Germany, France, Rest of Europe)
• Asia Pacific (China, Japan, India, Rest of Asia Pacific)
• Latin America (Brazil, Mexico, Rest of Latin America)
• Middle East and Africa (GCC, Rest of MEA)
This research report describes leading continents and their major countries, along with profiles of key players operating in overall market and their planned developments. Our report further defines the overall market dynamics such as drivers, challenges, and opportunities prevalent in the market to understand global smart glass market more explicitly. Our in-depth segmentation analysis up to country level highlights revenue pockets and investment opportunities in the market. Key players profiled include Aage Electrochromics, Inc, Asahi glass company Ltd., Hitachi chemicals co., Ltd., Pleotint LLC., Polytronix, Inc., Ravenbrick LLC., Research frontiers, Inc., Schott corporation, Smartglass international Ltd. and View, Inc.
Key questions answered in this report
What are the current market trends in the smart glass market and valuable opportunities for the players?
How the governmental laws affects the global as well as the regional markets?
Which are the prominent technologies and recent innovations in the market?
Which is the most successful business model implemented in the market?
Which is the most lucrative region for investment?
What is the market size and trend in emerging markets such as China, India and Brazil?
Which are the prime applications of smart glass among different geographies?