Social employee recognition systems are developed to recognize and appreciate an employee's contribution to overall growth of an organization. Employee appreciation for involvement and efforts invested at regular intervals is important to boost their morale. In addition to perks and incentives, organizations need to take care of psychological needs of their employees as it has direct impact on employee productivity. Given a healthy work environment, employees go extra mile to set benchmark for their peers, thereby improving competition among peers. This, in turn, helps businesses to improve productivity and profit margins. Thus, social employee recognition systems have become an integral element of human resources in business organizations of almost all sizes.
Proliferation of social media is one of the major factors having positive impact on the overall growth of the social employee recognition systems market. Business organizations are inclined towards using social media platform for employee recognition, thereby giving employees a positive sense of being appreciated on the public forum. These systems are fast gaining grounds across multiple industry verticals such as IT & telecom, retail, healthcare, hospitality, and media among others. In addition, with continual advancements in technology and growing awareness regarding benefits of appreciating employees for their work, demand for social employee recognition systems are expected to witness strong growth in the coming years. The social employee recognition systems market is estimated to grow at a CAGR of 12.5% during the forecast period 2018 – 2026.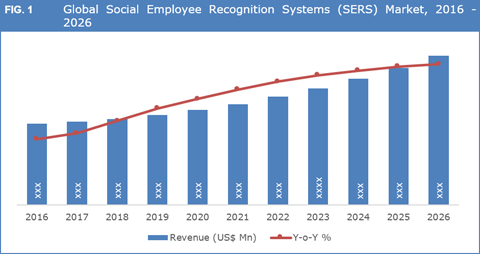 The global social employee recognition systems market is classified into following categories:
By Mode of Deployment

On-premise
Cloud-based/On-demand

By End-use Application

Consumer & Retail
IT & Telecom
Healthcare
Manufacturing
Travel & Hospitality
Others (Media, etc.)

By Region

North America

The U.S.
Rest of North America

Europe

The U.K.
Germany
France
Rest of Europe

Asia-Pacific (APAC)

India
China
Japan
Rest of APAC

Rest of the World

Latin America
Middle East and Africa
The research study titled "Global Social Employee Recognition Systems Market – Growth, Future Prospects and Competitive Analysis, 2018 – 2028" provides qualitative analysis on the global social employee recognition systems market together with the market sizing and forecasts for duration from 2016 - 2026. The research study segments the social employee recognition systems based on mode of deployment, end-use verticals, and cross-sectional analysis for different geographic regions. It provides a holistic view on market drivers, opportunities, and challenges prevailing in the industry. Furthermore, the study provides insights on the key trends prevailing in the market.
To aid strategic decision makers and investors in making decisions, the study covers competitive landscape which includes profiling of leading vendors offering social employee recognition systems, their key business strategies, market positioning, and recent developments. Some of the major manufacturers profiled in the research study include.
Other analysis offered in the report includes:
Relative analysis of different segments for years 2017 and 2026
Historic year market sizing (2016 & 2017)
Segment-Region-Country Analysis
The research study offers a 3600 view of the global social employee recognition systems market, providing market forecasts, keeping in mind the aforementioned factors.