Solar energy industry is witnessing tremendous growth in terms of market value and energy produced in the past few years and the market is not expected to halt anytime soon in coming years. Owing to this associated market such as global solar panel cleaning systems market is also anticipated to grow multifold along with expanding sizes of solar energy harvesting farms. Introduction of advanced robotics and drones for cleaning solar panels are all set to drive the market with a healthy growth rate. The overall solar panel cleaning systems market is expected to reach new heights at the end of forecast period growing with a CAGR of 7.5%.
Market Synopsis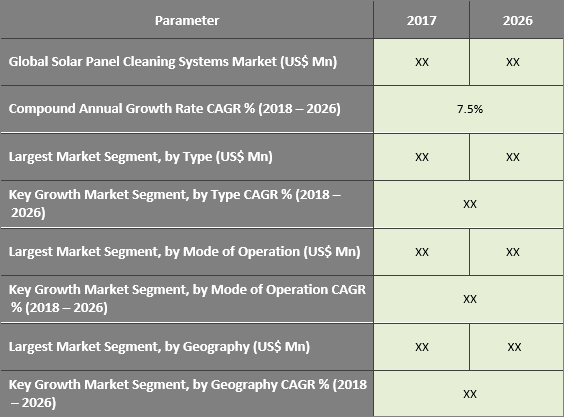 Get a sample copy for more information
"Water Based Cleaning Systems are Making Way for New Generation of Robotic Cleaning Systems"
Solar panel cleaning systems are broadly classified into water-based systems, electrostatic systems, and robotic systems on the basis of type. Among all, water-based cleaning system leads the market considerably in terms of market value. It is considered as one of the most efficient and cost-effective types for cleaning solar panels. However, the system is not as efficient in water scares areas such as solar plants located at deserts. Robotic cleaning systems which also includes drones are the fastest growing cleaning systems amongst all. This particular type of cleaning systems is mostly preferred for large solar plants where manual cleaning proved quite tedious and hence holds tremendous potential to grow along with solar farms.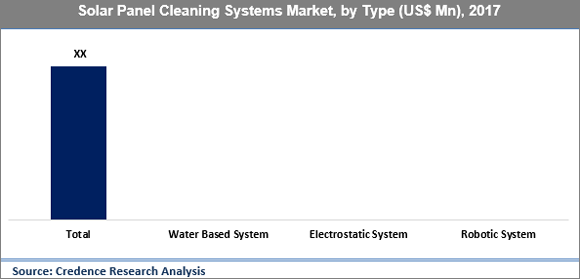 Get a sample copy for more information
"Manual Cleaning Systems Leads the Market But Expected to Lose Market Share to Autonomous Cleaning System"
By mode of operation, solar panel cleaning systems are divided into two major variants, namely manual solar panel cleaning systems, and autonomous solar panel cleaning system. Till 2017, manual cleaning systems are widely used across several small and medium scale solar farms. Manual systems are also extensively used for residential solar panel and hence, manual solar panel cleaning systems are leading the market with a considerable margin. However, with exponential growth and expanding sizes of solar farms are making manual cleaning a tedious and expensive affair. Consequently, autonomous solar panel cleaning equipment is gaining more emphasis over its manual version. In coming years, autonomous cleaning systems powered by robots, drones and mechanical systems are expected to claim significant amount of market share.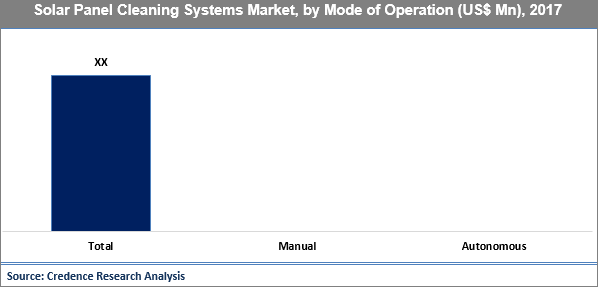 Get a sample copy for more information
"High Utilization of Solar Power in Asia Pacific Countries Helped the Region To Emerge on Top Among Other Regions"
With like of countries such as China, Japan, India, and Australia which are ranked in the top 10 countries in the world for using solar energy, Asia Pacific emerged as the global leader in solar panel cleaning systems market. Asia Pacific have a favorable condition for solar power generation and the energy requirement here is also considerably high. This is one of the major reason for the growth in solar panel cleaning systems market in Asia Pacific. After Asia Pacific, Europe is also a major contributor to the global solar panel cleaning systems market. Positive outlook of Europe towards renewable energy generation allowed solar energy farms to flourish in Europe and consequently, Europe is ranked second in the global solar panel cleaning systems market.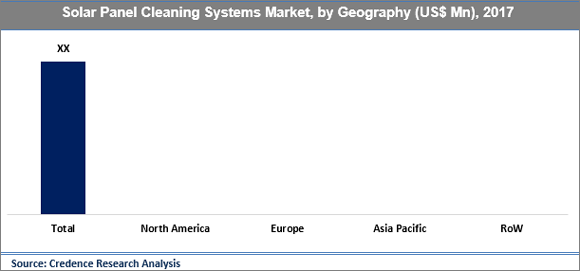 Market Segmentation
ATTRIBUTE
DETAILS
Research Period
2017-2027
Base Year
2018
Forecast Period
2019-2027
Historical Year
2017
Unit
USD Million
Segmentation

by Type (2016–2026; US$ Mn)
• Water Based System
• Electrostatic System
• Robotic System

by Mode of Operation (2016–2026; US$ Mn)
• Manual
• Autonomous

Geography Segment (2016–2026; US$ Mn)
• North America (U.S., Canada)
• Europe (U.K., Germany, France, Rest of Europe)
• Asia Pacific (China, Japan, India, Rest of Asia Pacific)
• Rest of the World (Middle East & Africa, Latin America)
Competitive Landscape
The research study covers some of the leading solar panel cleaning system providers including Heliotex, LLC, Ecoppia, Ecovacs Robotics, Parish Maintenance Supply, Kärcher UK Ltd., BP Metalmeccanica s.r.l., Solar Cleaning Machinery (SCM), Indisolar Products Private Limited, AX System, Vip Clean s.r.l., IPC Eagle, INTEGRA GLOBAL CO., LTD., IDRIS Automation, Unger Germany GmbH, and Enel Green Power S.p.A. Solar panel cleaning market is all set to experience a boom with several new entrants are buckling up to claim their market share. Besides, existing local as well as international players to upgrade and expand their product portfolio in order to meet the radical changing market requirements. Incorporation of innovative technology such as robots and drones for panel cleaning is one of the several important strategies adopted by the companies to maintain their market position.