Industry Outlook
Surgical drills market accounted for a market value of US$ 419.9 Mn in 2017 and projected to grow at a CAGR of 4.6% during the forecast period from 2018 to 2026.
Market Synopsis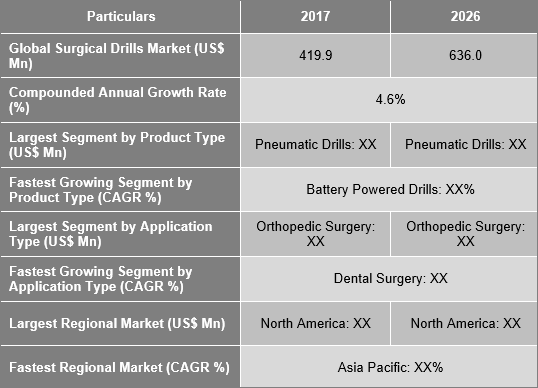 Get a sample copy for more information
"Battery-powered drills will be the fastest growing segment throughout the forecast period due to its high efficiency, user-friendly design & wide range of accessories"
During the forecast period from 2018 to 2026, battery-powered drills will maintain its significant growth due to key factors such as its user-friendly due to its metal alloy body that makes it lightweight, and lithium battery provides superior run times & increased life cycle of the device along with consistent performance. In addition to this, a few market experts suggested that the battery-powered drills exhibited a significant development in the total number of cases operated in the U.S, time spent per case in the operating room and the average waiting time to have surgery has been reduced significantly.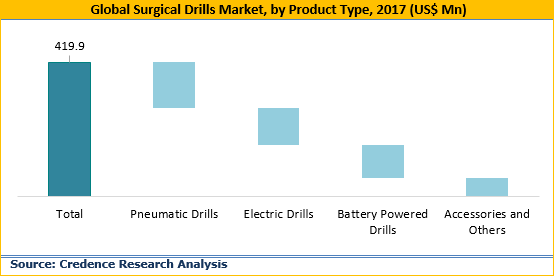 Get a sample copy for more information
"Awareness related to oral/dental health well-being is increasing which is assisting the overall growth of dental surgical drills market"
Dental surgeries segment expected to grow at significant rate throughout the forecast period due to key market driving factors such as increasing prevalence of dental problems due to increasing awareness related to oral/dental problems, and developing overall dental drill technology which makes it highly convenient for users due to design & lightweight. According to the World Health Organization, The Global Burden of Disease Study 2016 suggested that nearly half of the world's population (3.58 billion people) suffered with oral diseases with dental caries in permanent teeth being the most prevalent condition assessed.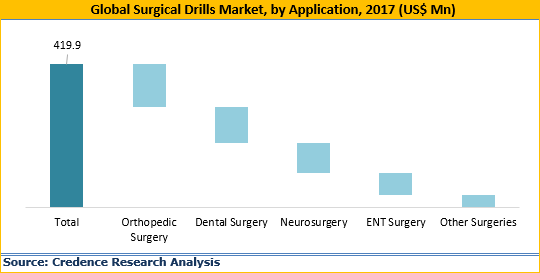 Get a sample copy for more information
"Developing healthcare infrastructure and rising awareness related to chronic diseases diagnosis & treatment in developing countries of Asia Pacific expected to assist overall growth of surgical drills market"
According to a recent study published by World Health Organization, hip & knee replacement procedures carried out in the major Asia-Pacific countries such as Australia, Japan, South Korea, India, and China projected to grow at a 10% CAGR between 2017 and 2024 expected to approach nearly 2.4 million procedures performed by 2024. Thus, the major factors assisting the growth of Asia Pacific surgical drills market are rising prevalence & awareness related to chronic diseases, developing healthcare infrastructure in developing countries, and high accessibility related to modern surgical devices.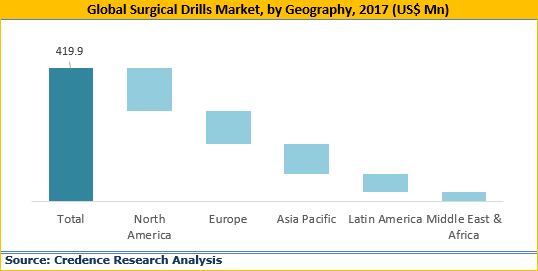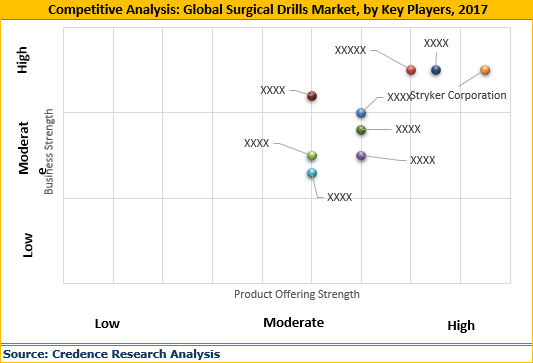 Historical & Forecast Period
The surgical drills market analyzed considering current market trends for base year 2017 and based on future trends CAGRs calculated for the forecast period from 2018 to 2026.
Report Scope by Segments
This report on surgical drills market comprises detailed study including qualitative and quantitative information related to with the key market dynamics (drivers, opportunities & restraints) affecting the market along with regional and country-specific market trends. An in-depth summary of the global surgical drills market given in the report by segmenting the market based on product type, application, and geography. The objective of publishing this exhaustive research report is to aid the industry stakeholders to take decisions and implement strategies in the surgical drills market.
ATTRIBUTE
DETAILS
Research Period
2016-2026
Base Year
2017
Forecast Period
2018-2026
Historical Year
2016
Unit
USD Million
Segmentation

Product Type Segment (2016–2026; US$ Mn)
• Pneumatic Drills
• Electric Drills
• Battery Powered Drills
• Accessories

Application Segment (2016-2026; US$ Mn)
• Orthopedic Surgery
• Neurosurgery
• ENT Surgery
• Dental Surgery
• Other Surgeries

Geography Segment (2016–2026; US$ Mn)
• North America (United States and Canada)
• Europe (U.K., Germany, Rest of Europe)
• Asia Pacific (China, Japan, South Korea, Rest of Asia Pacific)
• Latin America (Brazil, Mexico, Rest of Latin America)
• Middle East and Africa (GCC, Rest of MEA)
This report further includes qualitative information related to aforementioned market segments covering information such as key market trends, market drivers, opportunities, and restraints, to achieve precise understanding of global surgical drills market. In addition to that, the major market players investigated in the report based on key attributes such as product portfolio, business strength, and key market strategies. The report also provides attractive investment proposition based on the exhaustive geographical research carried out based on PESTEL analysis. Key players profiled in the report include Stryker Corporation, Zimmer Biomet Holdings, Inc., Medtronic plc, DePuy Synthes, CONMED Corporation, B.Braun Melsungen AG, and Arthrex, Inc. among others.
Key questions answered in this report
Which is the trending surgical drill type in the market & Why?
What are the recent market strategies adopted and executed by major market players present in surgical drills market?
Which are the most attractive markets (regions and countries) leading and swiftly growing throughout the forecast period in surgical drills market?
Which is the largest and fastest growing surgical drills applications globally?
Which are the major applications contributing in overall growth of surgical drills in the near future?
How is the competitive environment in surgical drills market and strategies of key players present in this industry?