Televisions are among the most prominent sources of home entertainment across the households worldwide. Due to high popularity and penetration of television services across the world, new technologies and the content delivered over television channels have always been warmly welcomed by the consumers. Over the period of time, television industry has evolved from bulky cathode ray tube (CRT) televisions to sleek and advanced flat screen organic LED (OLED) television sets. This has significantly forced the consumers to adopt newer technology thereby driving the overall television and related accessories market. With the ever-rising advancement in television broadcasting technologies as well as internet infrastructure, newer television systems are evolving at a significant pace.
TV mounts refer to brackets manufactured using metallic (steel) or non-metallic materials designed to fix a television onto a wall or other similar space (such as a corner or pole). TV mount is designed to hold a specific range of weight and height of the television which is typically defined by its screen size. Today, TV mounts are available for television sets ranging from screen size of 15 inch to more than 60 inch. Similarly, with the growing demand for flexible solutions, TV mount manufacturers have come up with enhanced products including full motion TV mounts. This chapter discusses major factors driving/restraining the market growth along with an overview of the most attractive segment in the market.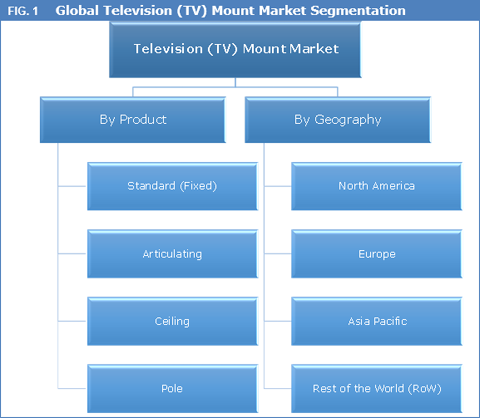 1.1 Report Description
1.1.1 Purpose of the Report
The purpose of this strategic research study titled "Global TV Mount Market- Growth, Share, Opportunities and Competitive Analysis, 2016 – 2023" is to offer industry investors, company executives and industry participants with in-depth insights to enable them make informed strategic decisions related to the opportunities in TV mount industry in the region.
1.1.2 Target Audience
Industry Investors
TV Mount Vendors
Television Manufacturers
Component Suppliers/Manufacturers
Government & Federal Organizations
1.1.3 USP and Key Offerings
The report titled "Global TV Mount Market - Growth, Share, Opportunities and Competitive Analysis, 2016 – 2023" offers strategic insights into the TV mount market along with the market size and estimates for the duration 2013 to 2023. The said research study covers in-depth analysis of multiple market segments based on product type and cross-sectional study across different geographies and sub-geographies. In order to help strategic decision makers, the report also includes competitive profiling of the leading TV mount vendors, their business strategies, market positioning, and key developments. Other in-depth analysis provided in the report includes:
Current and future market trends to justify the forthcoming attractive markets within the TV mount market
Market fuelers, market impediments, and their impact on the market growth
In-depth competitive environment analysis
Porter's Five Forces Analysis
Two Year Trailing Data (2013 – 2015)
SRC (Segment-Region-Country) Analysis
Overall, the research study provides a holistic view of the global TV mount market, offering market size and estimates for the period from 2016 to 2023, keeping in mind the above mentioned factors.