Unmanned underwater vehicles (UUV) are self-propelled vehicles, typically deployed from a surface vessel without any human operator onboard. These vehicles are designed to operate independently (or by a remote controller) for periods ranging from a few hours to several days.UUVs have received significant attention worldwide and increasingly being widely used across numerous applications. Some of the popular applications of UUV include surveillance, reconnaissance, mine countermeasures, ocean floor mapping, pipeline inspection, polar ice research, anti—submarine warfare and several others.
The most prominent factor driving the overall UUV market include consistently rising investment by the defense departments on undersea drones. UUVs are capable of operating in conditions where humans are incapable of reaching. This makes UUVs highly suitable for performing difficult tasks submerged in water. Another major factor fueling the market growth is the growing adoption of these drones from the oil & gas sector. Nevertheless, factors such as limited battery life andunderwater communication barriers pose significant barrier to the market growth.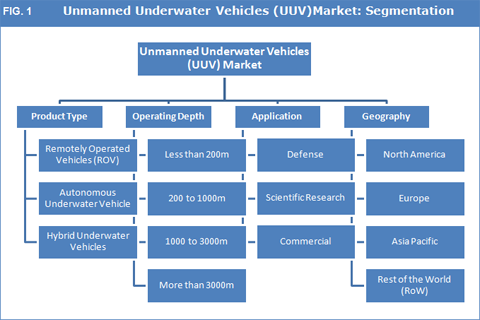 The report titled "GlobalUnmanned Underwater Vehicles (UUV)Market – Growth, Future Prospects and Competitive Analysis, 2017 – 2025" offers strategic insights into the global unmanned underwater vehiclesmarket along with the market size and estimatesfor the duration 2015 to 2025. The said research study covers in-depth analysis of market segments based on producttype, operating depth, applications and cross-sectional study across different geographies and sub-geographical regions. The study covers the comparative analysis of different segments for the years 2016 & 2025. The report also provides a prolific view on market dynamics such as market drivers, restraints and opportunities. In addition, the report includes a section providing insights on the key trends followed in the market.
In order to help strategic decision makers, the report also includes competitive profiling of the leading unmanned underwater vehiclesvendors, their business strategy analysis, market positioning and key developments. Some of the major players profiled in the report are Kongsberg Maritime AS, Boeing Company, Bluefin Robotics Corporation (General Dynamics Corporation), Raytheon Company, Teledyne Technologies, Inc., Lockheed Martin Corporation, Saab Group, Subsea 7 S.A., Thales Group, BAE Systems Plc. and several others.Apart from the company profiles, the report includes a section covering the competitive landscape wherein the market positioning of the companies has been discussed. The section also provides a view of key business strategies adopted by the leading market players. Other in-depth analysis provided in the report includes:
Current and future market trends to justify the forthcoming attractive markets within the unmanned underwater vehiclesindustry
Comparative analysis for different segments for the years 2016 & 2025
Market fuelers, market impediments, and their impact on the market growth
In-depth competitive environment analysis including the positioning of market players and their business strategy analysis
Trailing 2-Year market size data (2015 – 2016)
SRC (Segment-Region-Country) Analysis
Overall, the research study provides a holistic view of the global unmanned underwater vehiclesmarket, offering market size and estimates for the period from 2017 to 2025, keeping in mind the above mentioned factors.